What is a Cricut machine?
I am a newbie to Cricut and their craft machines, I recently got a Cricut Maker, and I have been getting to grips with using it to cut vinyl and use it to create projects. So, what is a Cricut machine? A Cricut machine is a crafter's cutting machine.
This post contains affiliate links and the YouTube video is sponsored by Cricut. As always, all options are my own.
The Cricut cutting machines can cut materials such as vinyl, cardstock, paper and more. Some machine's like the Cricut Maker can cut fabric, wood and leather. If you wondered how crafters were getting perfectly cut vinyl or cardstock, then they were probably using a Cricut machine.
One of the reasons I was intrigued by Cricut was the large craft community that use these machines. Also, you can use these machines to create a small craft business. I love watching Tik Tok videos of people sharing their Cricut workspaces.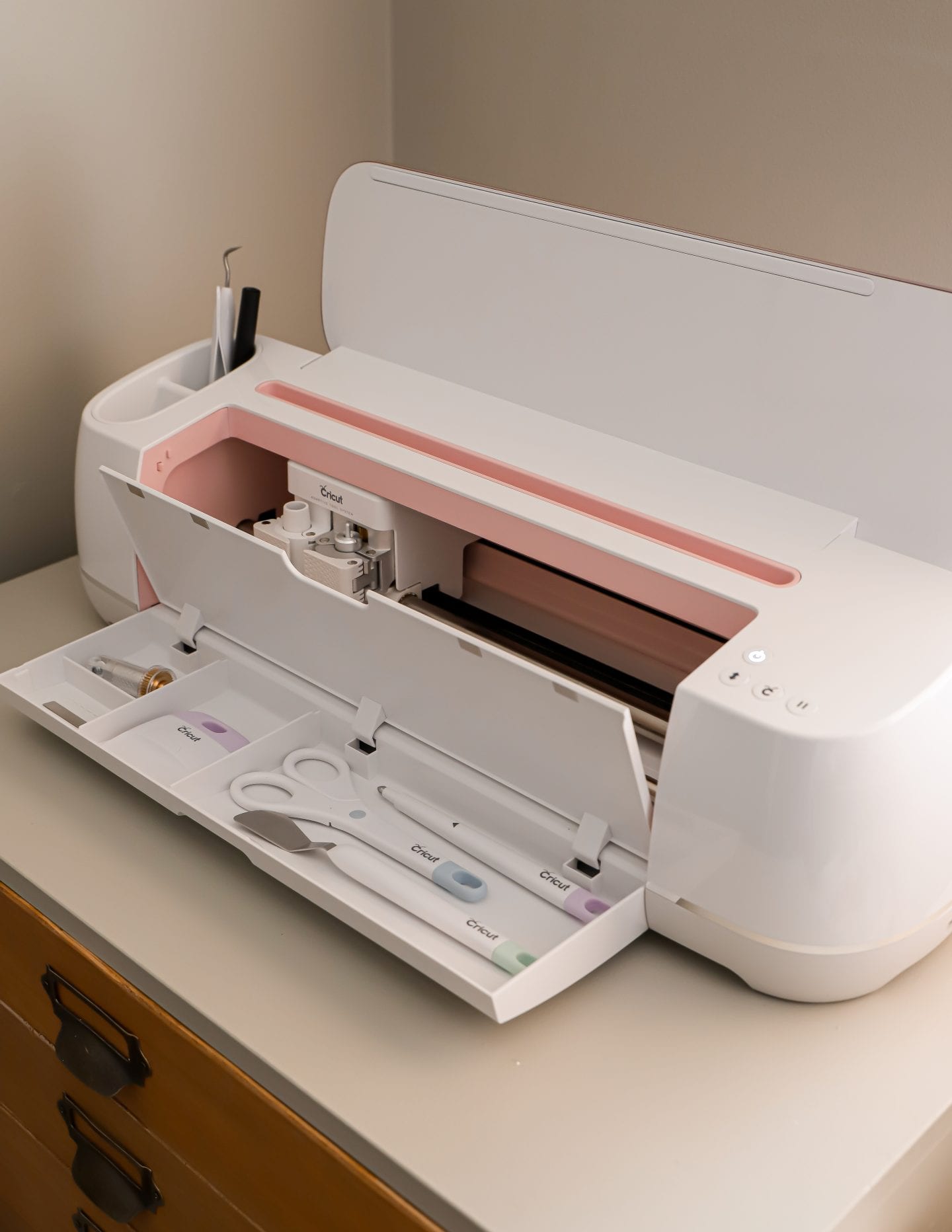 Where can I buy a Cricut in Ireland?
You have a few options. You can check out the Cricut website for stockists information here. Also, Cricut has a store on Amazon, and it might work out better value to purchase in sterling. However, be aware of VAT when purchasing machines from the UK and the US.
I have also seen the Cricut Joy available from Currys and the Cricut Explore Air 2 and Maker from Littlewoods. Littlewoods did seem to be more expensive, so do some research and see where is cheapest for you.
Another option could be to purchase a second-hand machine, take care when buying second-hand and check the blades before purchasing. You can get replacement cutting blades from Amazon.
If you have purchased a Cricut machine in Ireland, please comment below and share your experience with others. There may be smaller independent craft shops selling the Cricut machines in Ireland. Please comment below if you are a craft store and stock these.
Which Cricut machine should I get?
There are currently three Cricut cutting machines. All machines come with Cricuts free design space software. You can also create your own SVG files in Adobe and upload them to the design space if you prefer.
The Cricut Joy
The Cricut Joy is the cheapest machine of the three and the newest on the market. The Cricut Joy cuts over 50 materials and can use two tools for cutting and writing. This machine is great if you are short on space as it is smaller and take up less space in your craft room.
The joy is great if you want to create smaller projects. So, the Cricut Joy can only cut materials up to 5.5 inches wide, but you can purchase material that's up to 20 feet long. Also, you can use Smart Vinyl on your Cricut Joy and don't have to use a cutting mat. Click here for the Cricut Joy
The Cricut Explore Air 2
The Cricut Explore Air2 is the most popular machine of the three. I would have gone for the Cricut Explore Air 2, but I wanted to cut fabric and decided on the Maker. You can cut over 100 materials on the Explore Air 2, and you can use four tools for writing, cutting and scoring.
I can see why this is the most popular machine of them all. The Explore Air 2 is heavier and wider compared to the Cricut Joy. So, do bear that in mind making your decision as you may want a smaller sized machine.
Click here for the Cricut Explore Air 2.
The Cricut Maker
The Cricut Maker is the most expensive machine of them all. You can cut over 300 materials with the Cricut Maker. It does everything the Cricut Explore Air 2 does, but you can cut more delicate materials like fabric, thin wood and leather.
The Cricut Maker is more of a pro machine. This machine is for you if you are running a small craft business or are working with a specific material.
Click here for the Cricut Maker.
Cricut Design Space Upload Restrictions
Thankfully, Cricut has retracted the free upload limit to design space. You can read all about it here, on their blog.
At the moment, if you purchase a Cricut machine, new or second-hand and register it before December 31st, you will avail of an unlimited amount of free uploads to design space. I do not know what will happen to the free upload limit after December 31st. You can purchase a premium design space membership. However, I find I don't need it yet, and I like to use Adobe to create artwork and upload it to design space.
Lots of creators within the community like to use their own SVG files. You can upload these to the design space, resize and adjust before cutting.
Is a Cricut machine hard to use?
In the YouTube video below, I share how to set up a Cricut Maker machine. I found it very user-friendly and easy to set up. You will need a laptop or mobile app to use the design space.
I would recommend using a laptop for using design space, as I find it easier to use. It took me a few goes to get my head around cutting on vinyl. However, the great thing about the Cricut community is the large volume of tutorial videos available online.
In the video below, I have shared an easy sew personalised pouch project. I hope you find it helpful. When I used to do craft fairs a few years ago, I used to get requests for personalised items. I never knew how people where making personalised products, and my life would have been much easier if I had a cutting machine.
Do let me know if you have any other question regarding the Cricut machines and accessories. I will try my best to answer them and update this post for you.
I will pop the YouTube video below where you can learn more about the products. Thanks for reading!