It won't be long until schools are out for Summer, there may be some members of the family that need some extra entertaining. I have a few ideas for Summer crafts and creative projects for kids and teens that they can do over the Summer break.
Please comment if you have any ideas to share with others, as while I am a proud aunty and give a dig out with my niblings child mind, I am no full-time childminder. So, please do share your tips below for keeping kids entertained this Summer.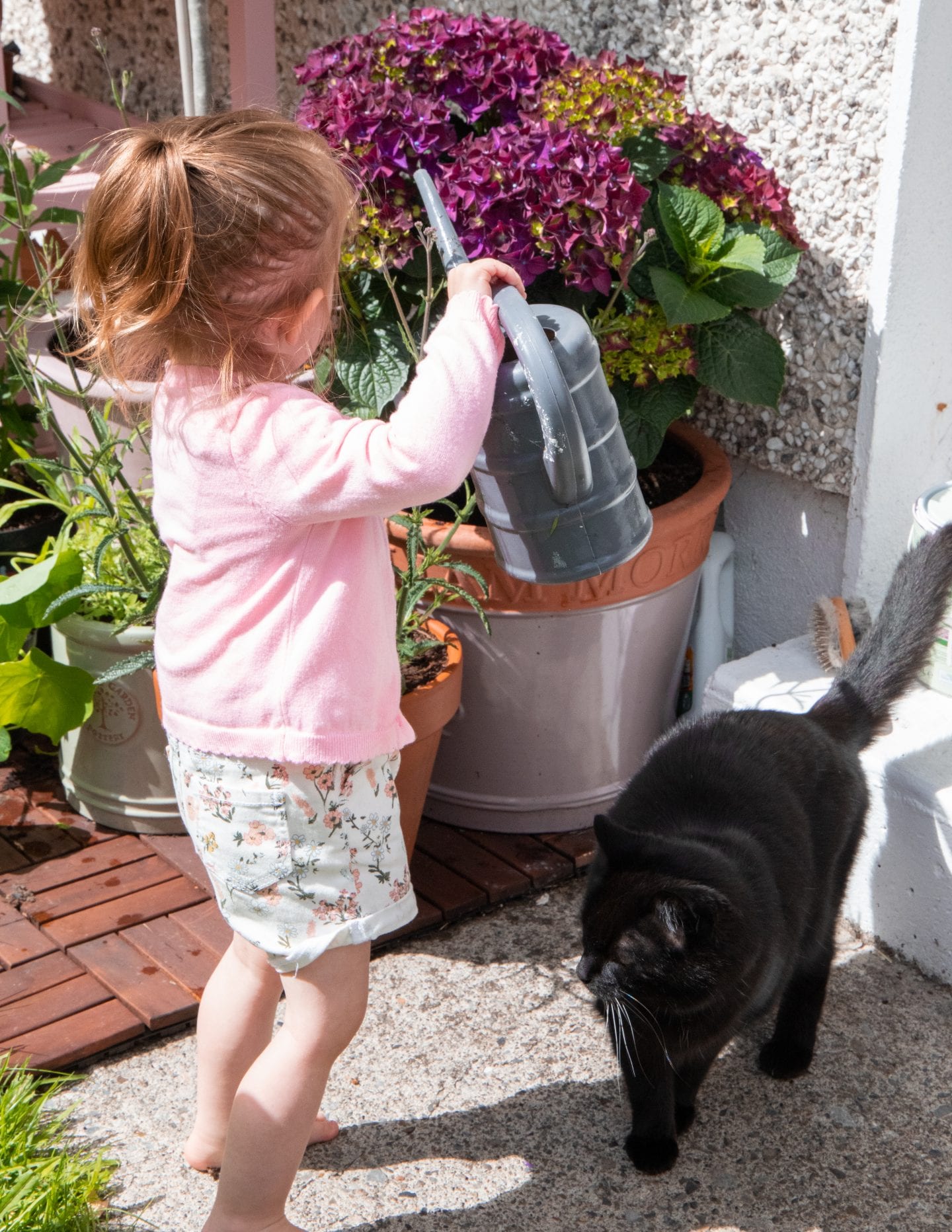 Get the little ones into the garden and get growing
With the weather being mild and sunny ( except for the odd thunderstorm, hello Irish Summer), I always try to get my niece and nephew out into the garden.
It's not too late to grow some veg in the garden, and there are plenty of quick germinating veggies to grow for the impatient gardener.
Cress, lettuce, oriental greens and peas are quick to germinate. However, for the impatient gardener, you can grow from plugs.
You can use eggshells or egg cartons to get your seedlings started before transplanting.
If you are short on window space for seedlings, you can purchase plugs from most nurseries and garden centres. Last month, I planted lettuce plugs, and I have already harvested and ate them.
Strawberries and tomatoes are also really fun to grow and can be easily grown in containers and pots.
Herbs are also fun to grow as some varieties flower. If you are short on space, you can make a mini herb garden like this one.
Gardening teaches patience, as we have to plant the seed and wait, which can be frustrating for toddlers, but older kids will find it rewarding and relaxing.
The joy is in the germination! Gardening doesn't have to only be for Summer, as you can grow some Winter veg and plant bulbs for Spring in Autumn.
Create a wildlife planting area and watch it grow
As my nephew is obsessed with bugs and digging, I decided to create a corner in my garden that encouraged wildlife and was a haven for bugs.
There was a shady spot underneath my tree, so we planted some ferns, heucheras and bee bombs to attract bugs and wildlife.
You can see more of my woodland corner in this video here.
Bug hotels are fun to make, and you can make them from recycled materials. Recently I made this bee hotel. https://www.daintydressdiaries.com/2021/04/diy-bee-house-why-some-shop-bought-ones-can-cause-harm.html
Using recycled containers for planting
Have fun with recycling old items and using turning them into planters.
I recently turned this old filing cabinet drawer into a lettuce patch.
Some tips for upcycling items:
Before upcycling, deep clean your container to remove grime and kill bacteria. I use warm soapy water and rinse the suds away with boiling water to kill the germs.
Only paint the outside of the container and lightly sand before painting.
Whatever paint you use, follow the instructions on the back of your can for the best paint job, and choose the right paint for the surface.
With any planter, it is important to add drainage holes. Good drainage will stop the roots of your plant from rotting and prevent mould. Use a drill to add drainage holes to the underneath of your upcycled planter.
Line the container with recycled plastic. Add holes to the plastic when the drainage holes are, and I like to pull my plastic through the drainage hole.
Lining the planter will give extra protection to the metal frame and prevent it from rusting, or if you upcycled a wooden box, it would help stop the wood from rotting.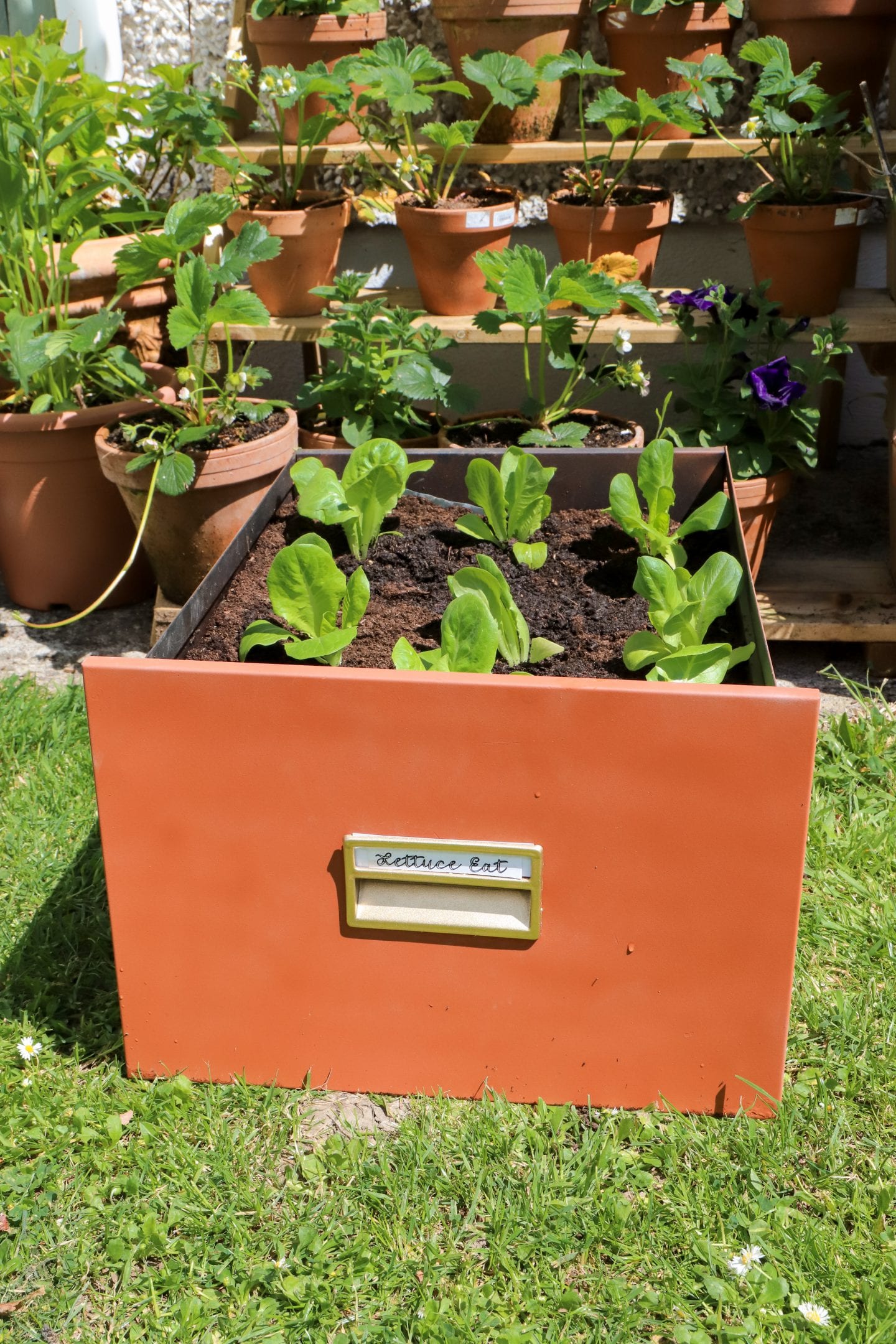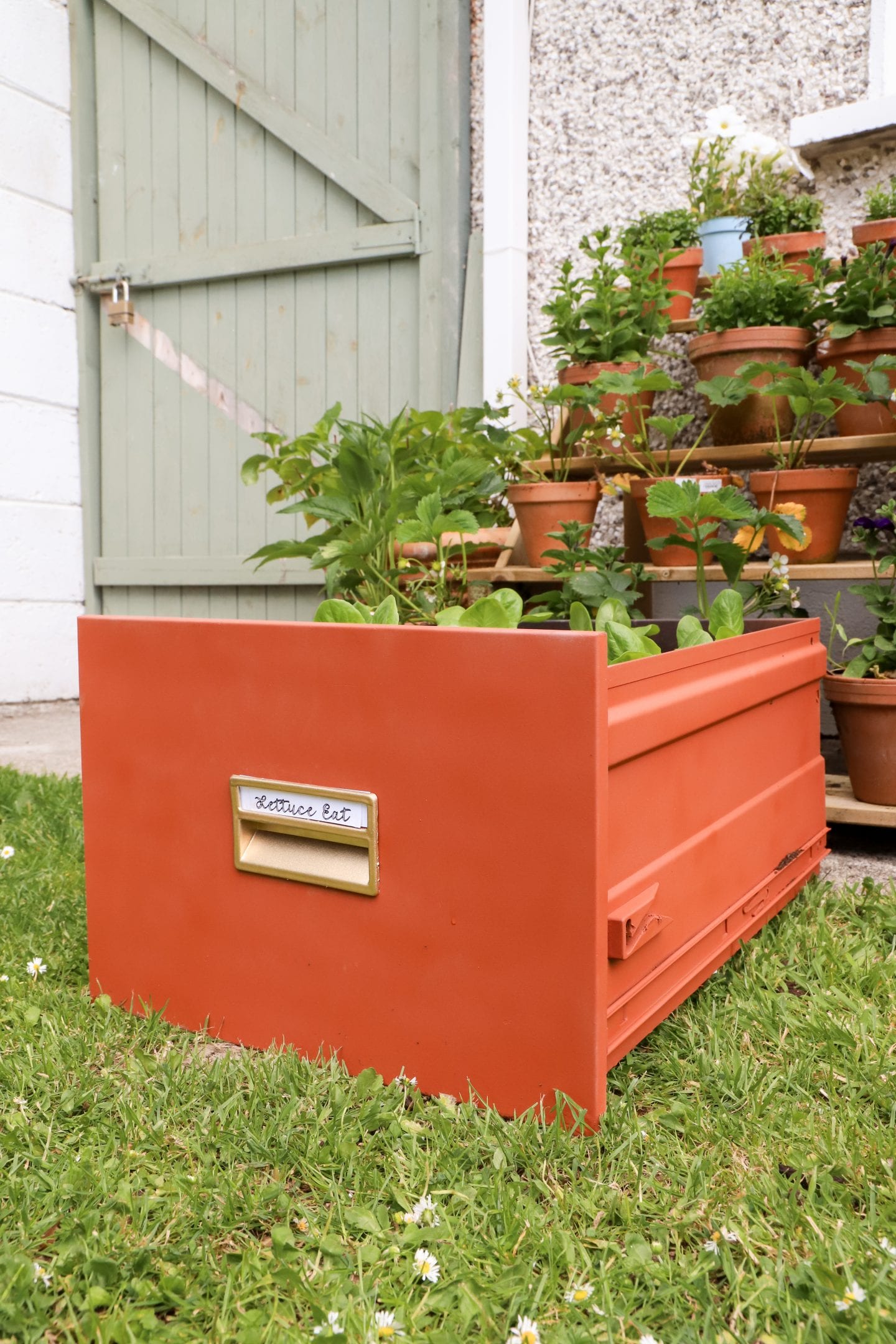 Revamp old kids toys for a new lease of life
With my niece and nephew now off school for the Summer holidays, I will be helping with the childminding, and I don't have any toys in my garden for them. So, I got this second-hand plastic playhouse online for €25.
I gave it an epic makeover and created the cutest wendy house. There are loads of second-hand outdoor toys for kids online. So, save some pennies and revamp some old items.
To read more on how to paint plastic toys, click here.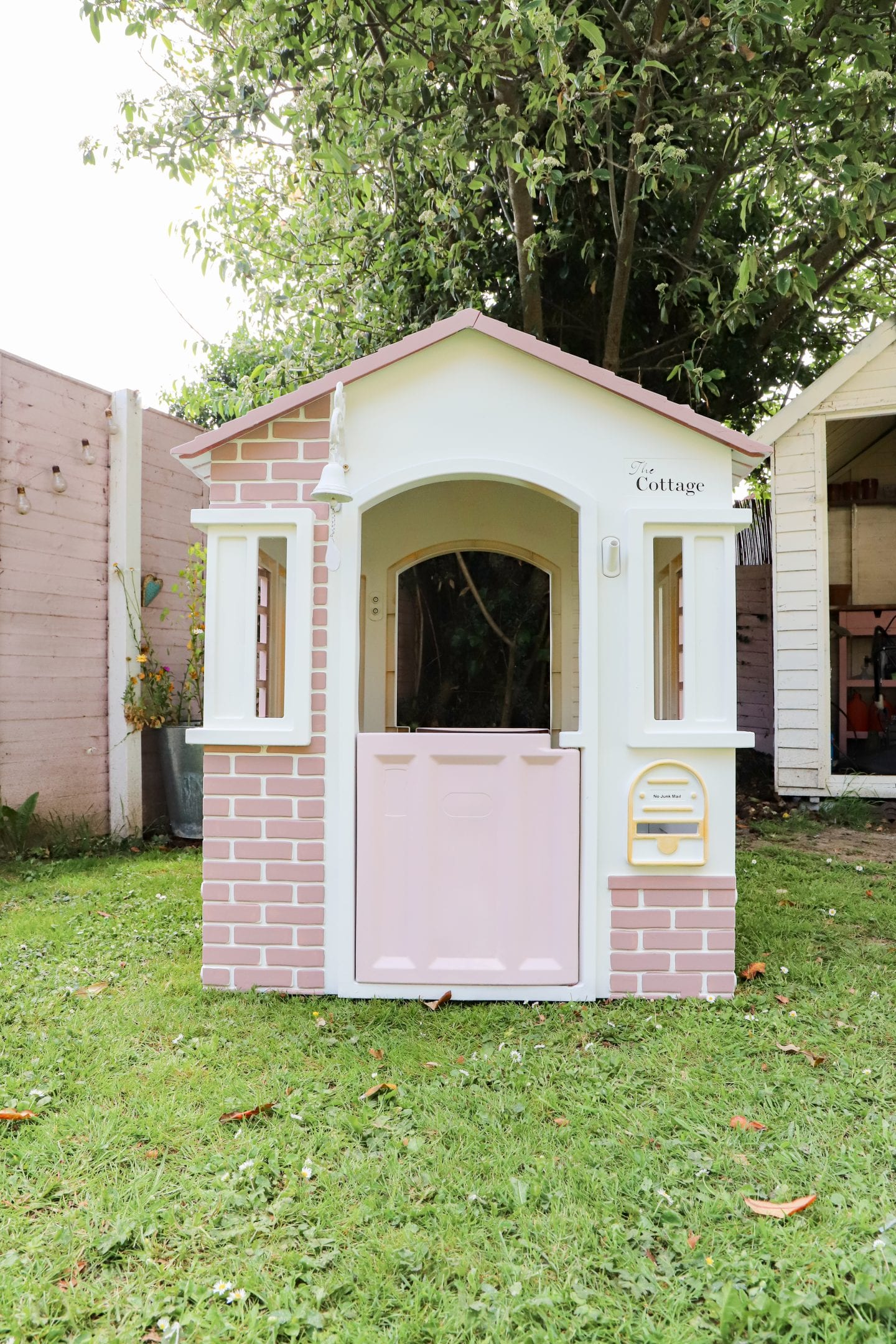 Have a try at microwave flower pressing
My niece loves to collect flowers when we go to the woods or on a ramble, so I had a shot at microwave flower pressing.
I used a DIY microwave flower press gadget from Amazon, and this makes it quick and easy to dry and press flowers. You can frame your pressed flowers and use them for card making.
Here is a link to the flower press I used and the frames.
Get the paint set out ( perfect for a rainy Irish day)
Channel your little ones inner Bob Ross and get the paint set out. Perfect for a rainy day. I use the Ikea art easel, which you can use on both sides for painting, drawing and chalk drawing.
You don't need to spend a fortune on paint and paper, as places like Mr Price and Deals have great value craft sections.
When picking paint for younger kids, make sure to choose kid-friendly paints as they are easy to wash off. I made the mistake of accidentally giving my 4yr old niece my acrylics paint, which resulted in a messy paint removal from my wall.
For older kids and teens, there are thousands of tutorial videos on Youtube, or why not buy a course from Udemy or Skillshare. Or, pop on a Bob Ross episode and follow along. I have done this and found it so relaxing.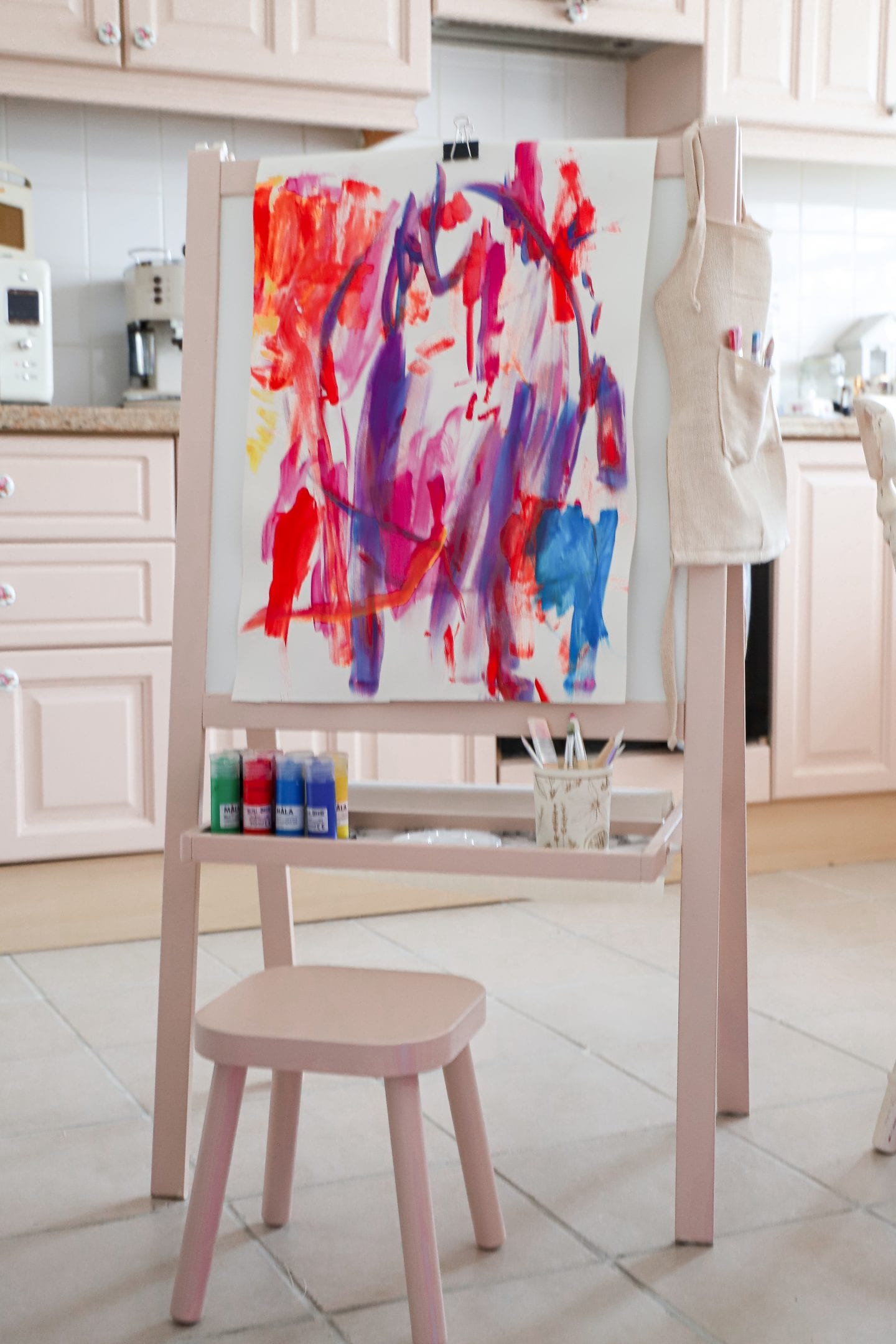 Creative ideas for teenagers this Summer
Teenagers get a hard time being on their phones a lot of the time, but the Tik Tok generation is full of creative ideas. However, the magic is in the making. So, why not use the Summer to learn a new hobby or skill.
Unplug from social media, and use your time to get engrossed in a new hobby. Challenge yourself and become a beginner. I always like to try something new and get the beginners mindset.
With the popularity of the Cottagecore trend and Netflix series like Bridgerton, embroidery and needlework have become popular. There are loads of free Youtube videos where you can self teach yourself these skills.
Sometimes we think creativity is only handcrafting, but things like music, writing, photography and dance are all forms of creative expression.
There may be outdoor workshops that teenagers can attend this Summer. For example, some photography schools are doing outdoor workshops and photo walks in small groups.
I think it's good for teenagers to have a hobby or a skill that they can enjoy. Teenagers have enough pressure from schools and exams etc, so a hobby that is just for the joy of it is a healthy habit.
Digital design is becoming a really creative area, and the likes of Adobe have loads of tutorials and resources for their video editing, photography and graphic design tools.
Please share your creative ideas and projects for kids this Summer
Like I said above, I am no full-time minder, and I have the pleasure of being an aunt and handing them back after a few hours. However, I am always on the hunt for creative ideas to keep them entertained for a few hours.
Comment below with your ideas. Thanks for reading, Catherine.