Around Christmas time, we can end up with lots of excess packaging from gifts and gift sets. Yes, I am also guilty of hanging onto a pretty gift box in the hope of reusing it. Let me share two projects that I hope will inspire you to upcycle your favourite gift boxes into something new.
Earlier in December, I teamed up with L'occitane to share ways to upcycle their gift boxes and packaging into something new.
I put together a YouTube video which you can find here. However, take these ideas and techniques and use them on any gift box.
*This post contains affiliate links, the projects were also part of a sponsored campaign on social media with L'occitane.
DIY jewellery box from an advent calendar
I love a beauty advent calendar, and for this project, I turned this box into a mini jewellery box. This advent calendar had deep drawers, perfect for storing bracelets, rings and general nick-nacks.
Here is what I used to make my mini jewellery box
A gift box that has drawers
Paint & brush ( a tester pot is a plenty)
Furniture transfers ( I already had these in my stash, you could decoupage instead)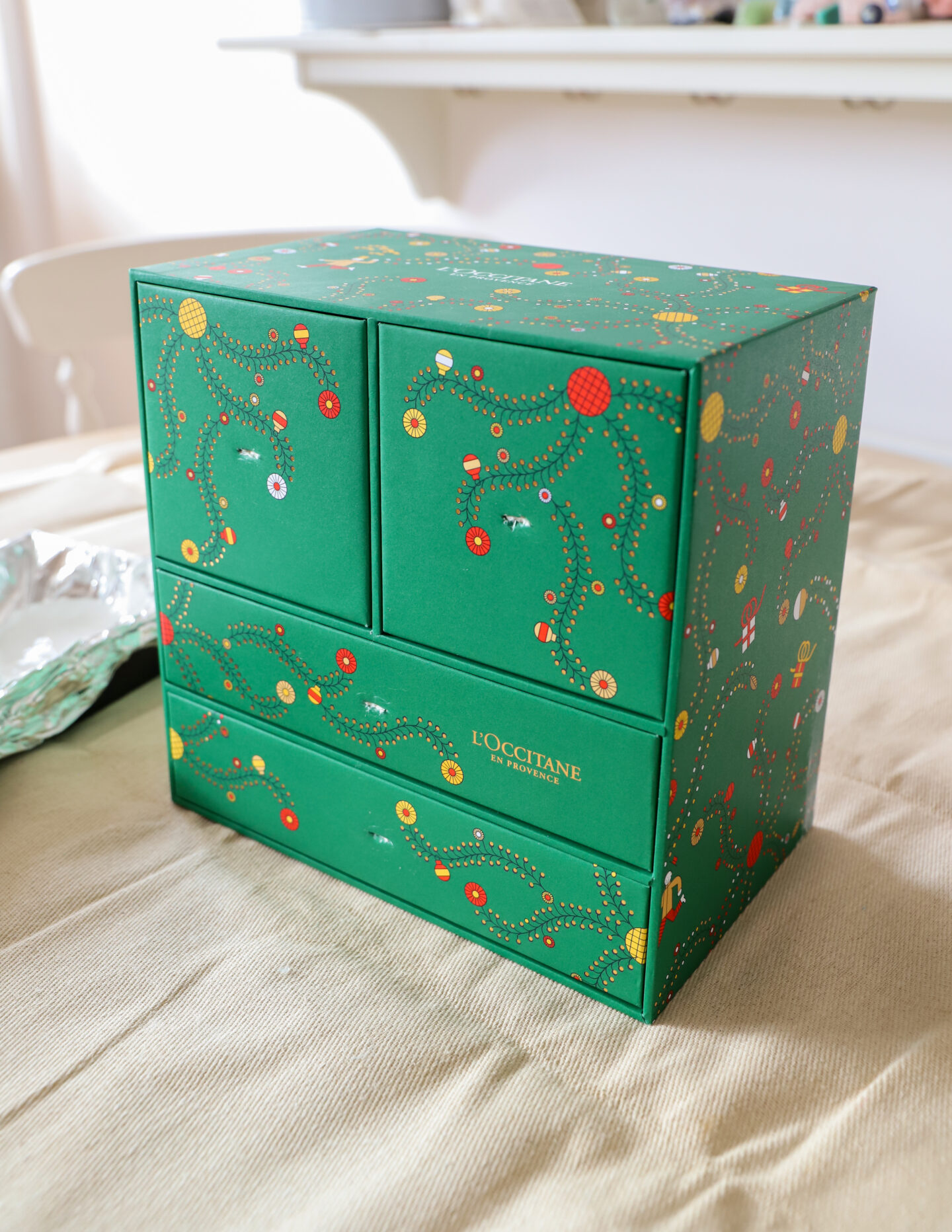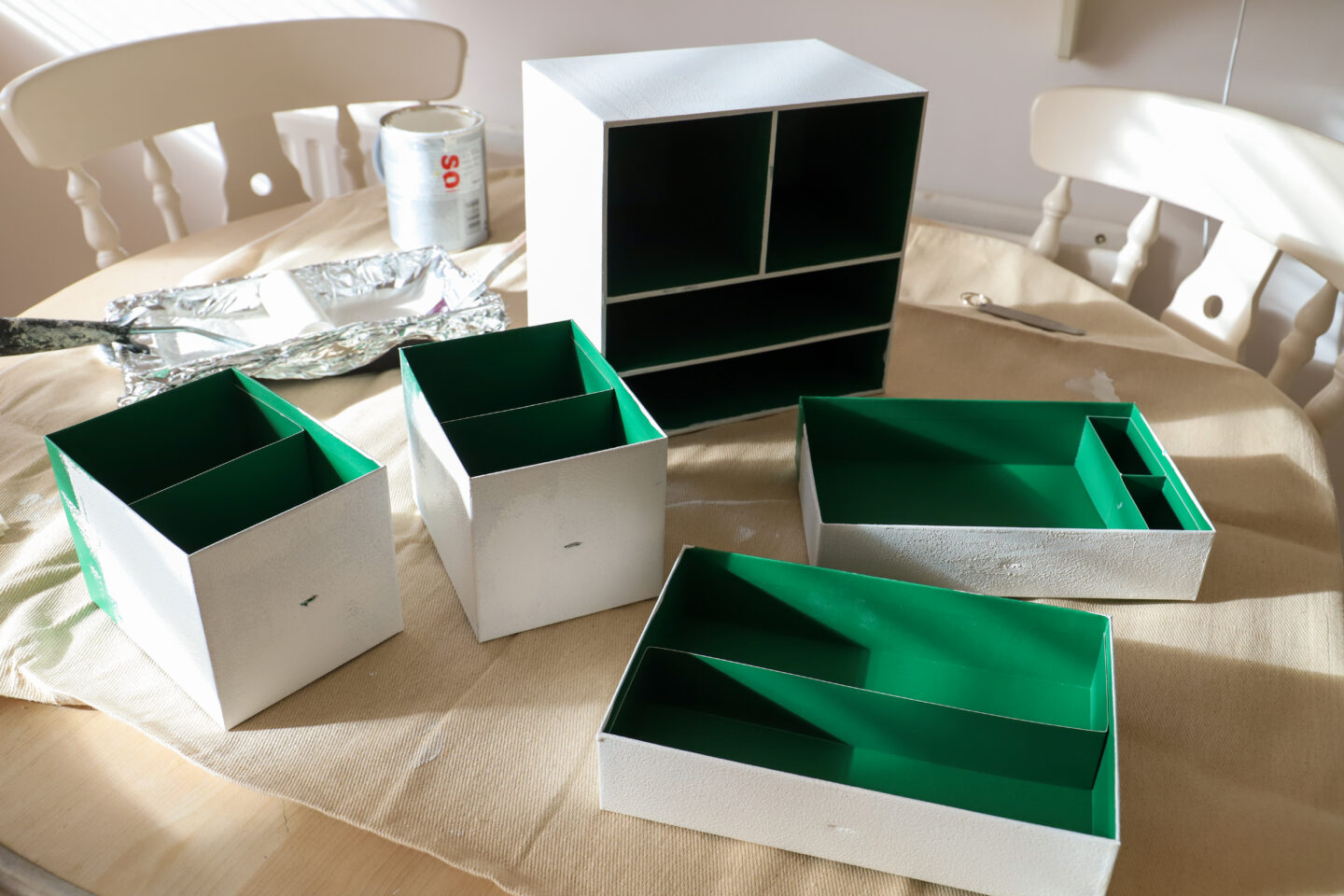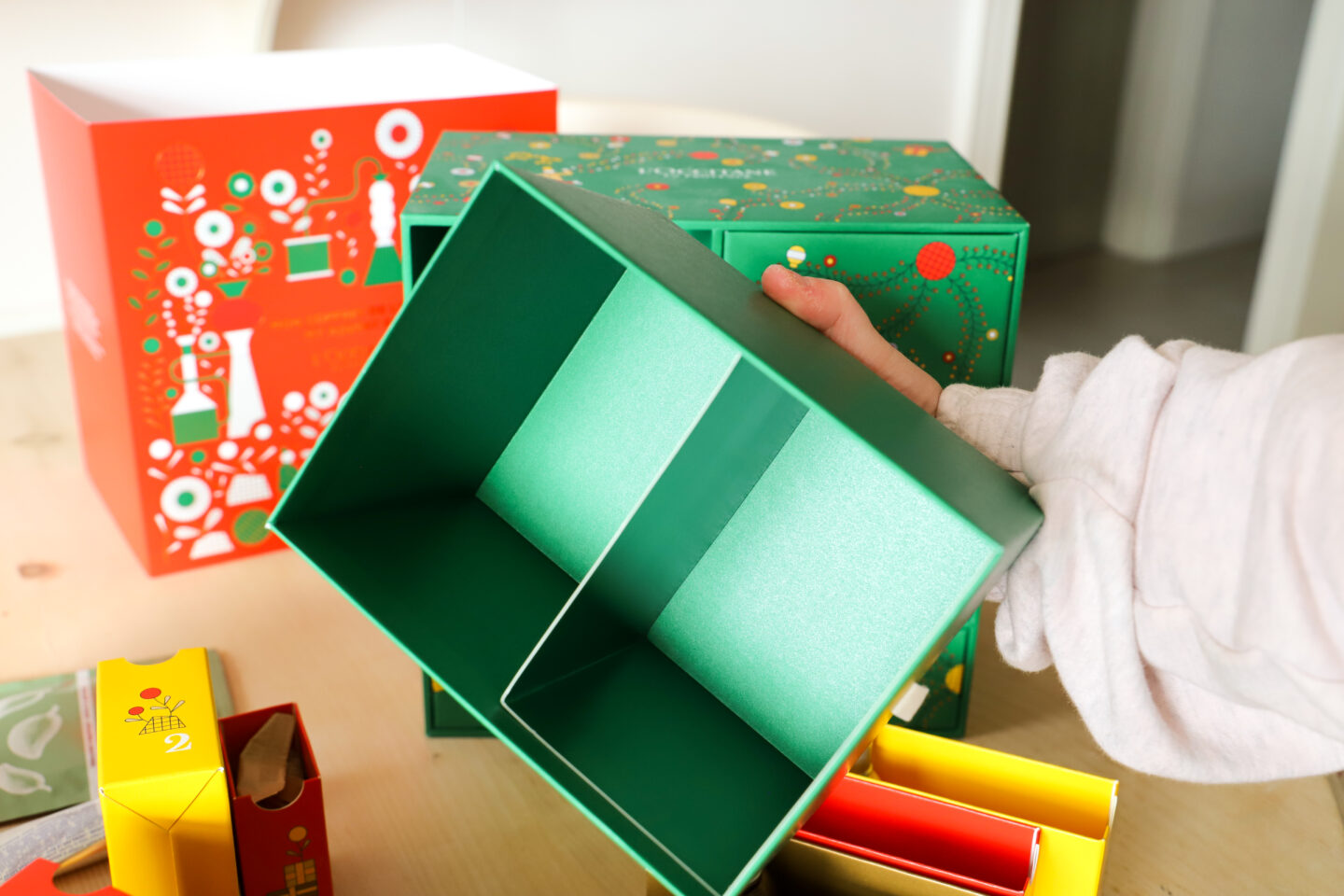 I painted the outside of m jewellery box in white chalk paint and gave it two coats. Once my paint was fully dry, I cut out and applied the furniture transfers to the surface.
I had these furniture decals leftover from this project. They are more suited for applying to wood and stiffer surfaces, but I did manage to get them to stick to the painted cardboard.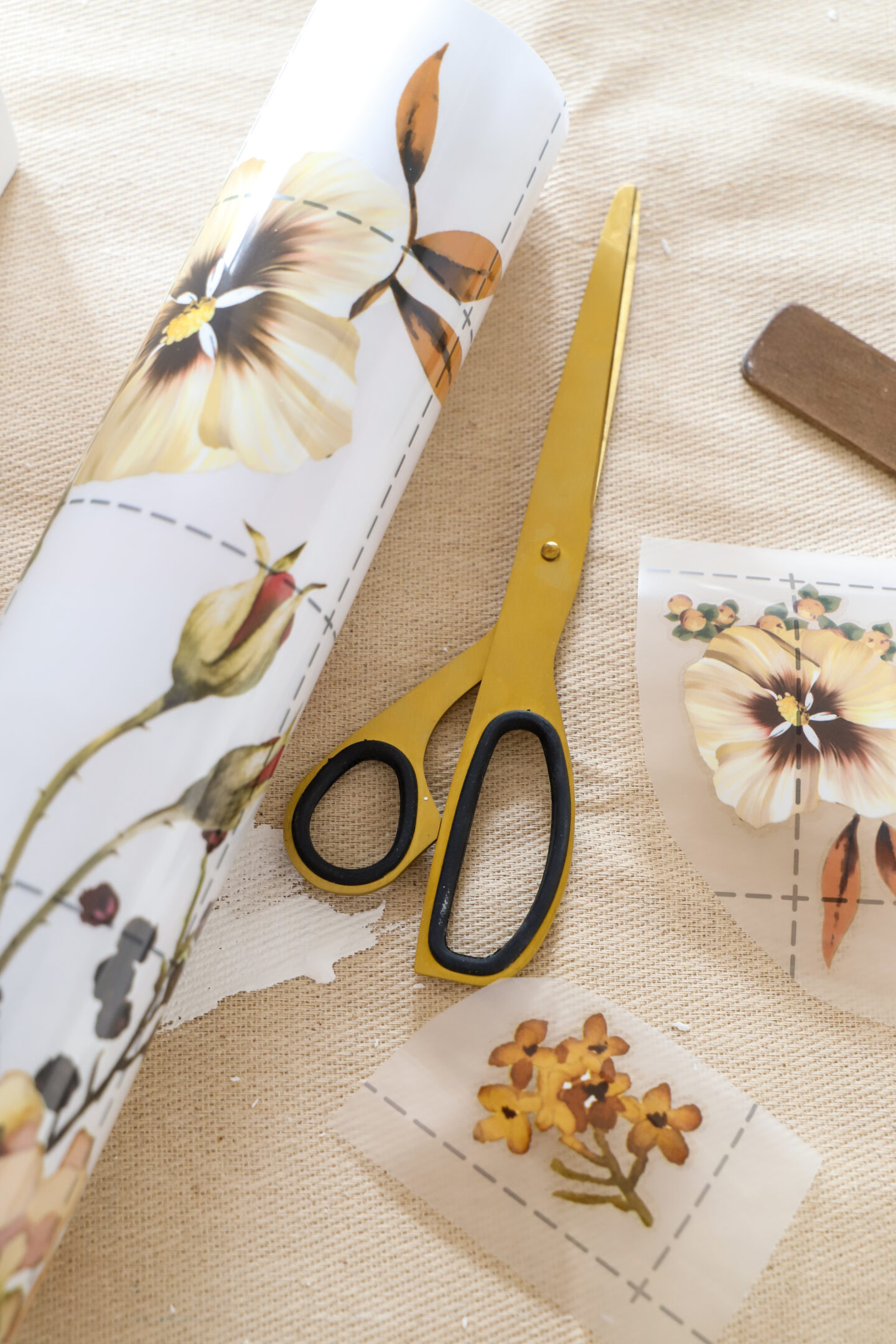 Once my jewellery box had a floral fix, I used my glue gun to apply the knobs to the drawers. I feel like these vintage style handles make it look less like an upcycled cardboard box and more like it was always a jewellery box.
To give it some height, I glued four small wooden knobs to the four corners of the base of the box. However, this is an optional step, as I just had some extra knobs in my stash and decided to use them.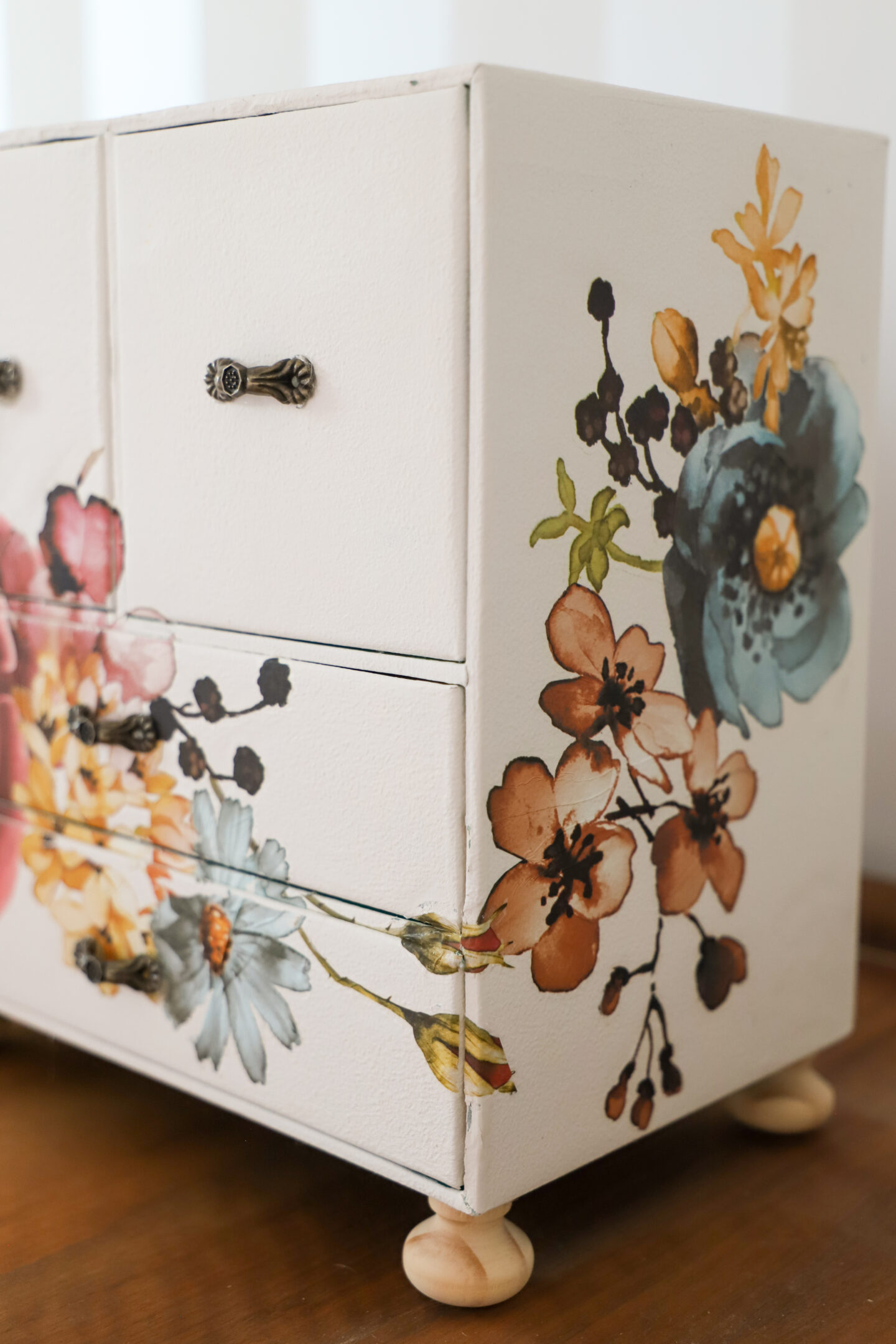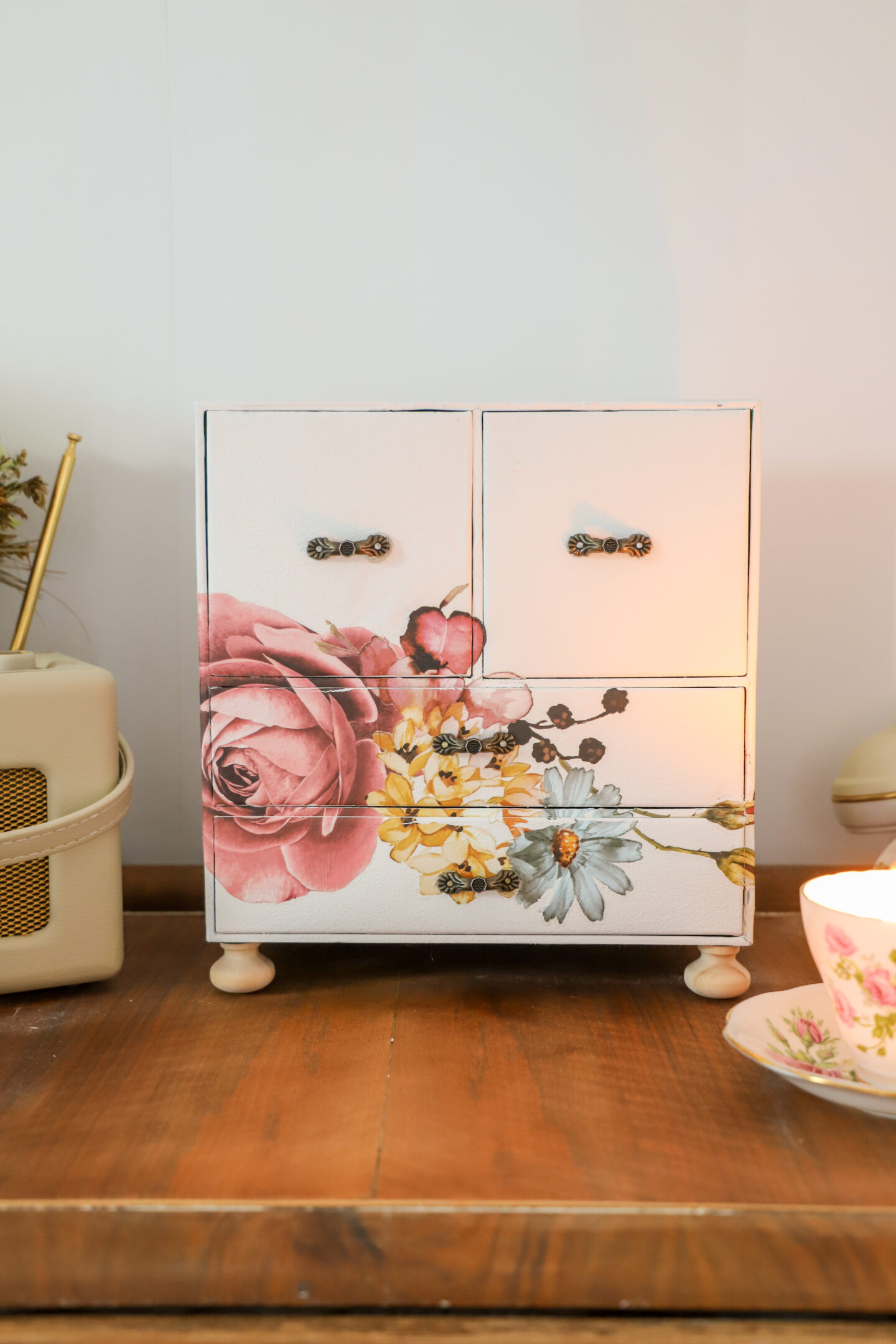 DIY fabric-lined round wooden storage box
I love the trend of adding wooden coffee sticks/skewers to boxes to turn them into pretty wooden storage boxes. So, I decided to try it but add my twist to it.
To make this DIY round wooden storage box, you will need:
A round gift box
A length of wood trim
Sandpaper
Fabric for lining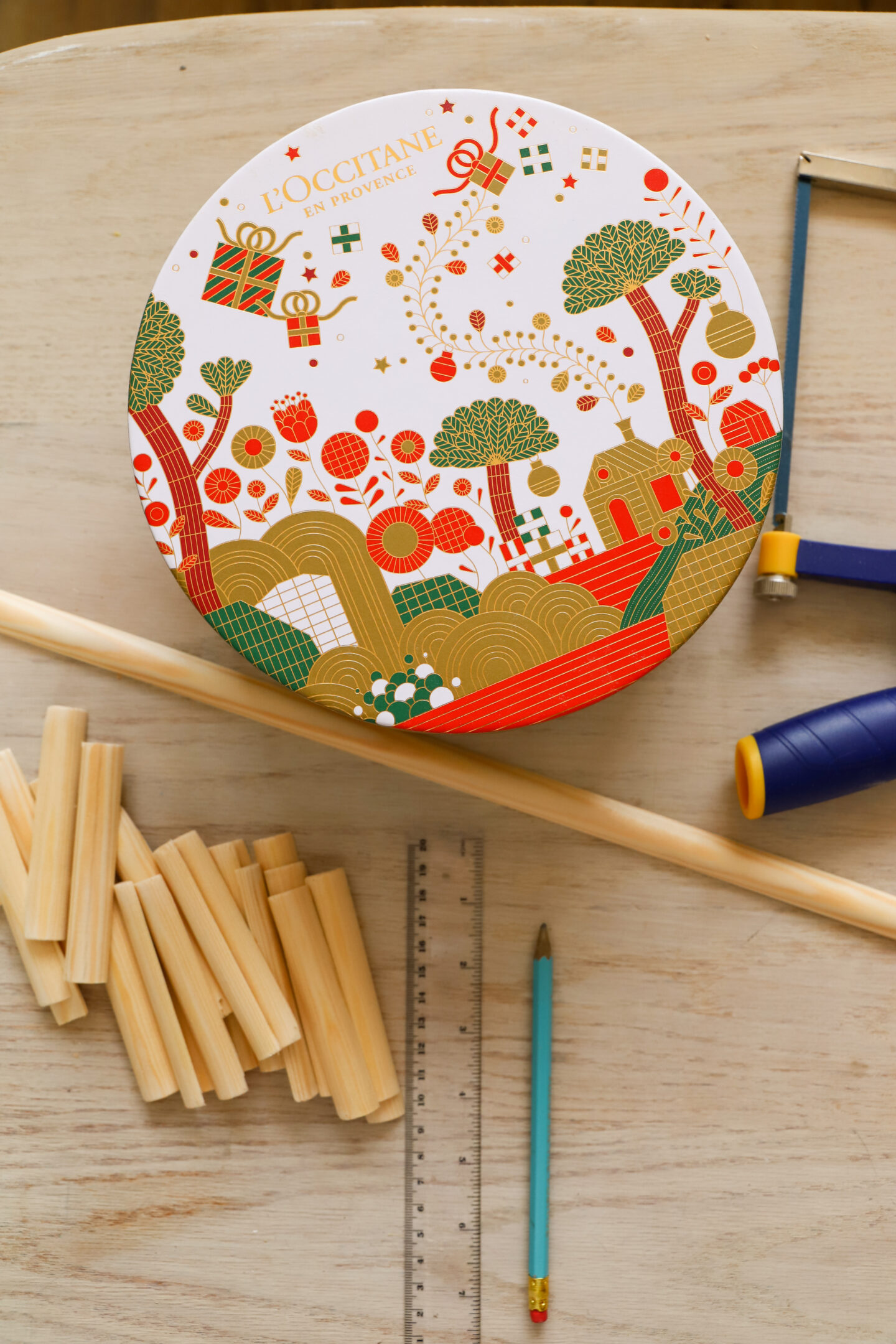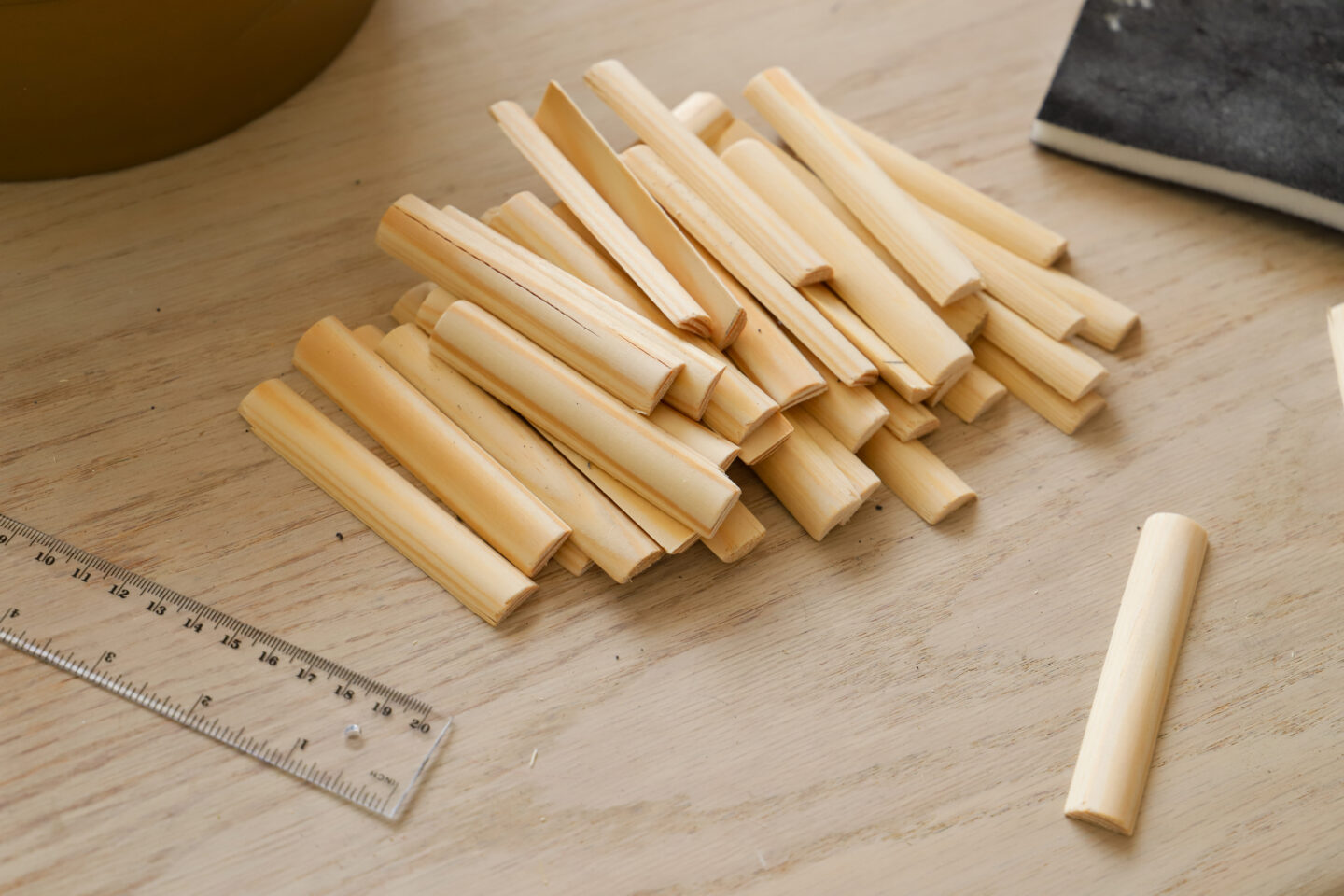 I started by measuring the height of the box. Then I marked out the length on the wood trim and cut lots of pieces to go around the width. I lightly sanded any rough edges with some medium grit sandpaper.
Using my glue gun, I glued each stick to the wall of the box. You can use coffee sticks or skewers, but I find the smaller pieces of wood fiddly to use.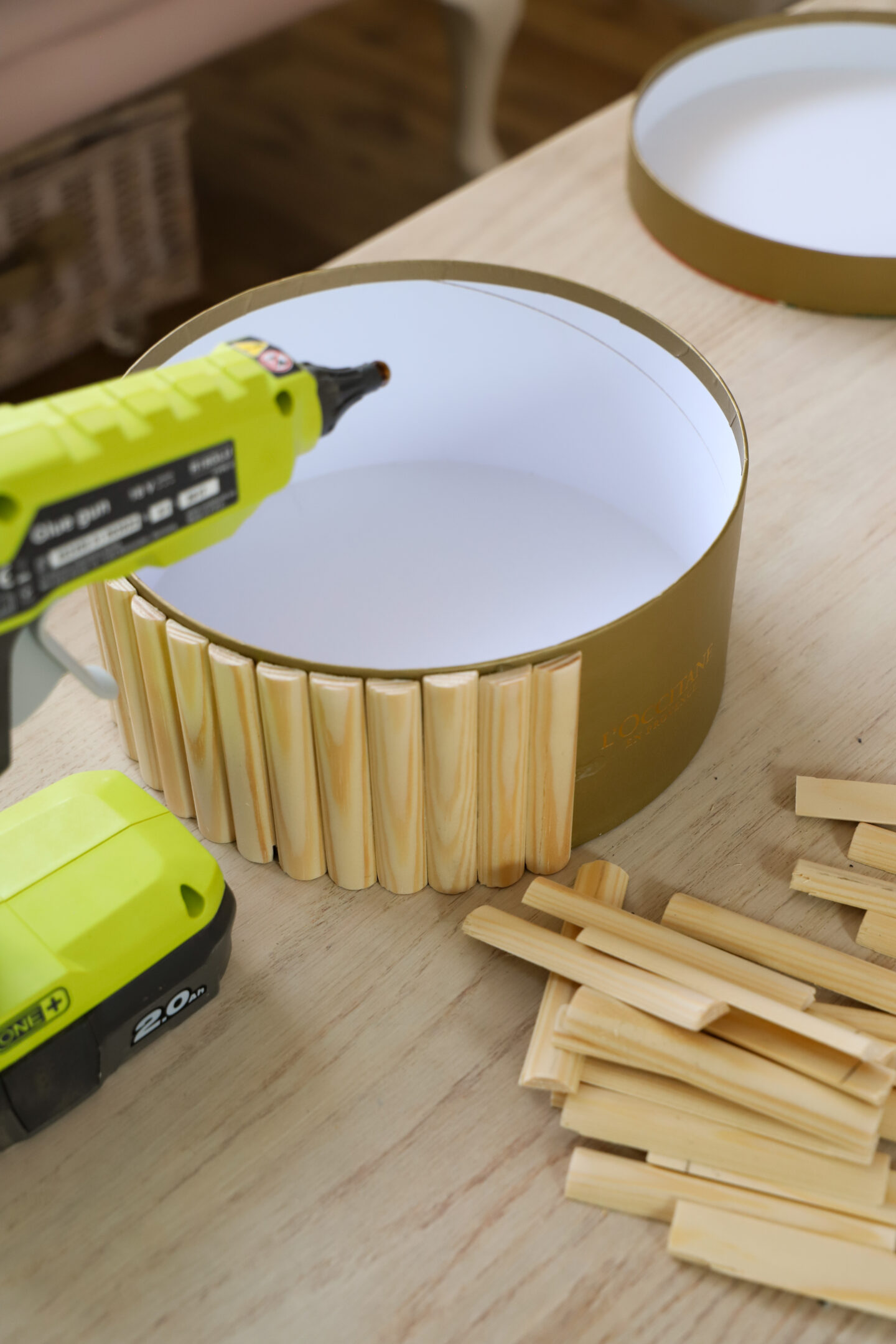 I decided to line the inside of my box with fabric. To make a fabric liner, measure the width and height and cut a strip of material for the sides. Trace around the base and cut a circle of fabric for the bottom. Add an extra half an inch for seam allowance.
It's hard for me to explain how to assemble the liner, but here is a quick video sharing how I made the liner. Skip ahead to 05:03.
Once your liner is complete, you can add it to the inside and pull over the excess fabric.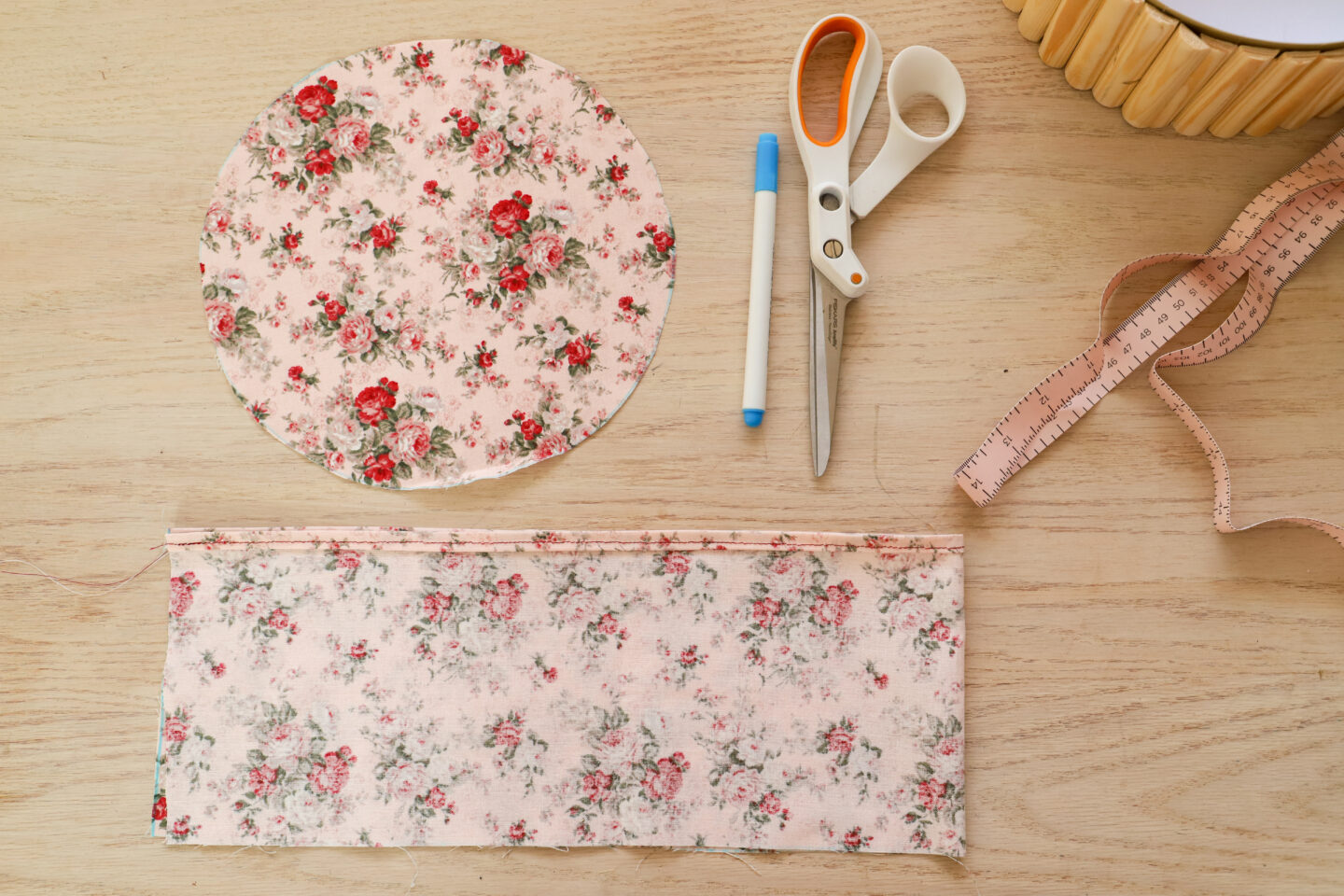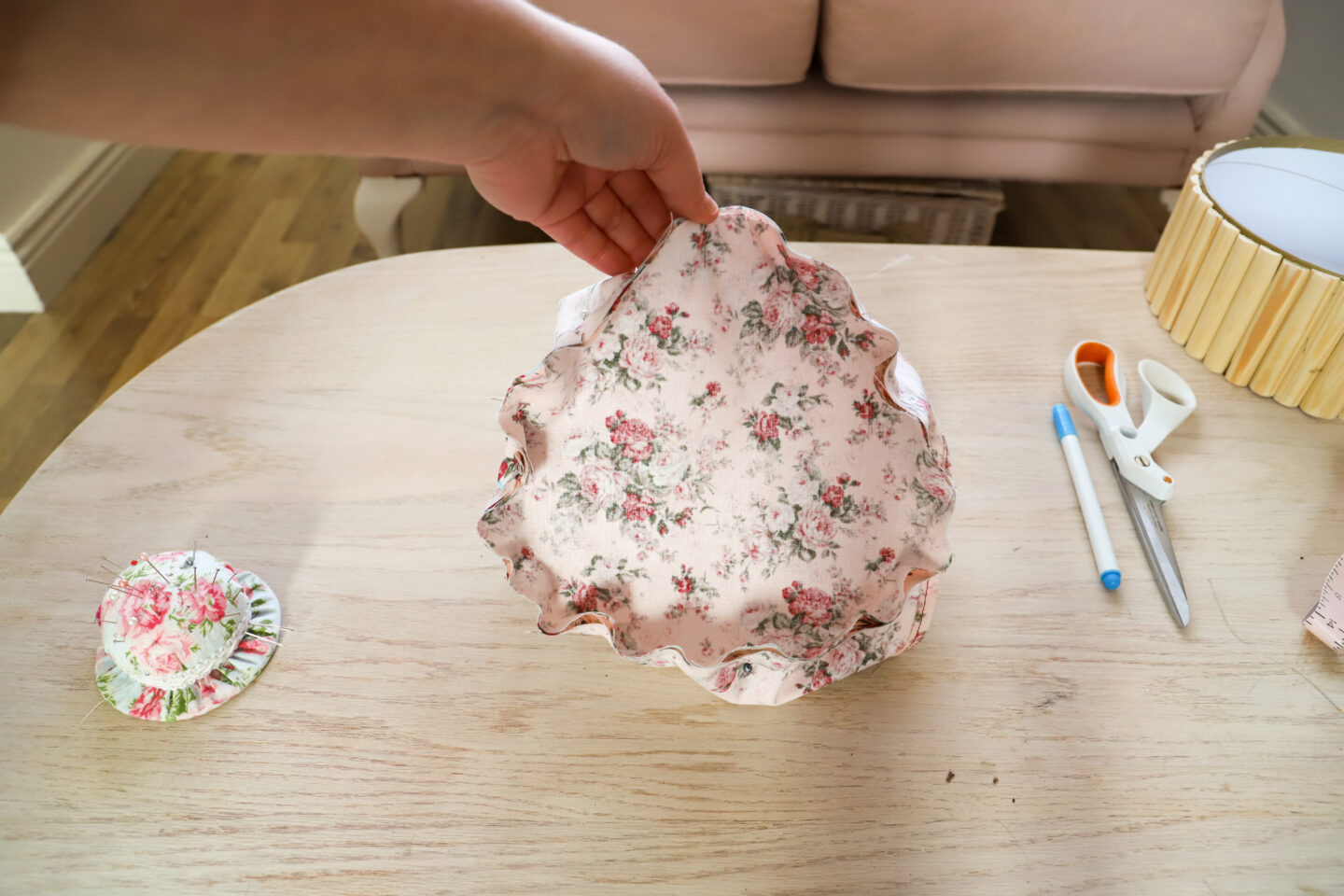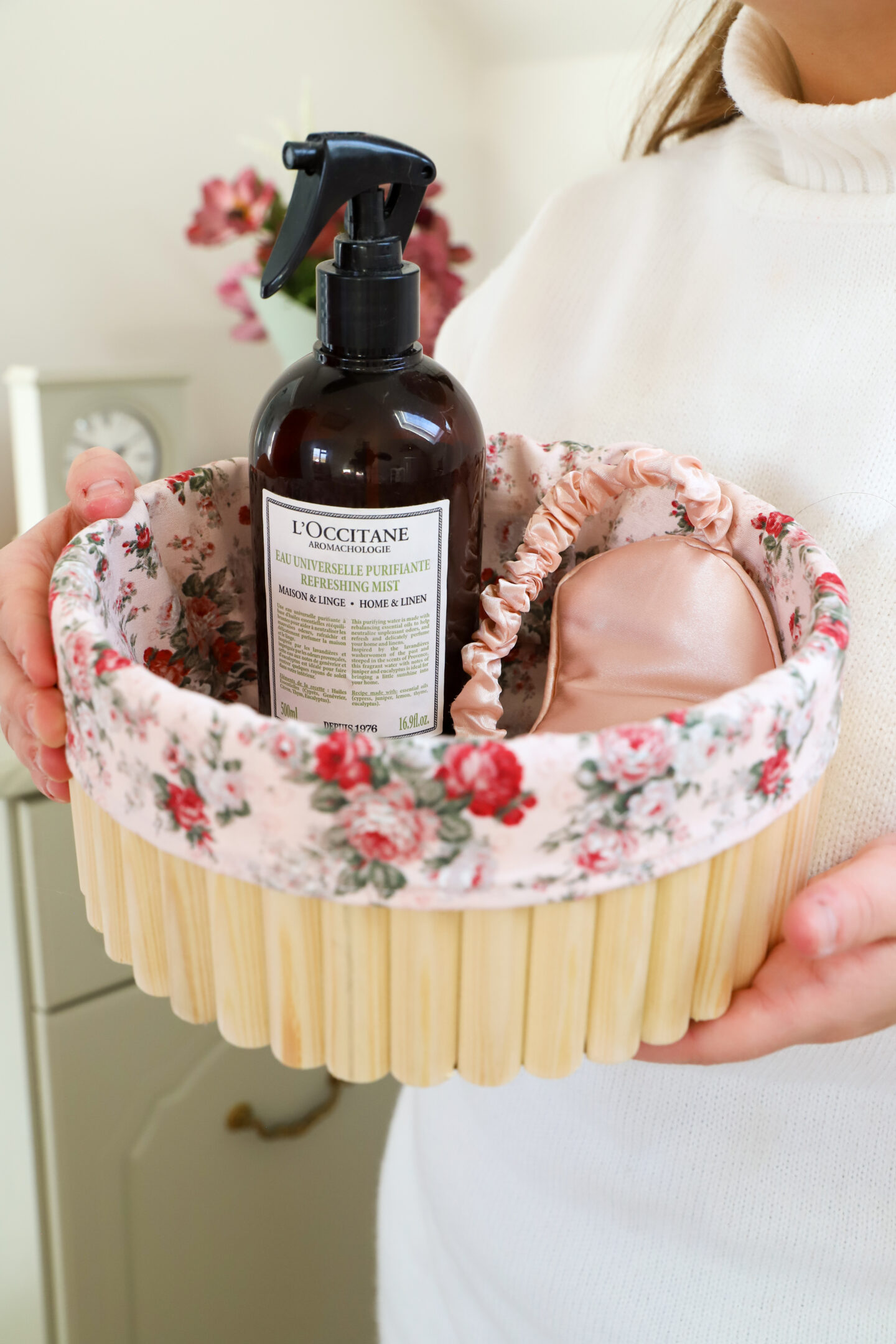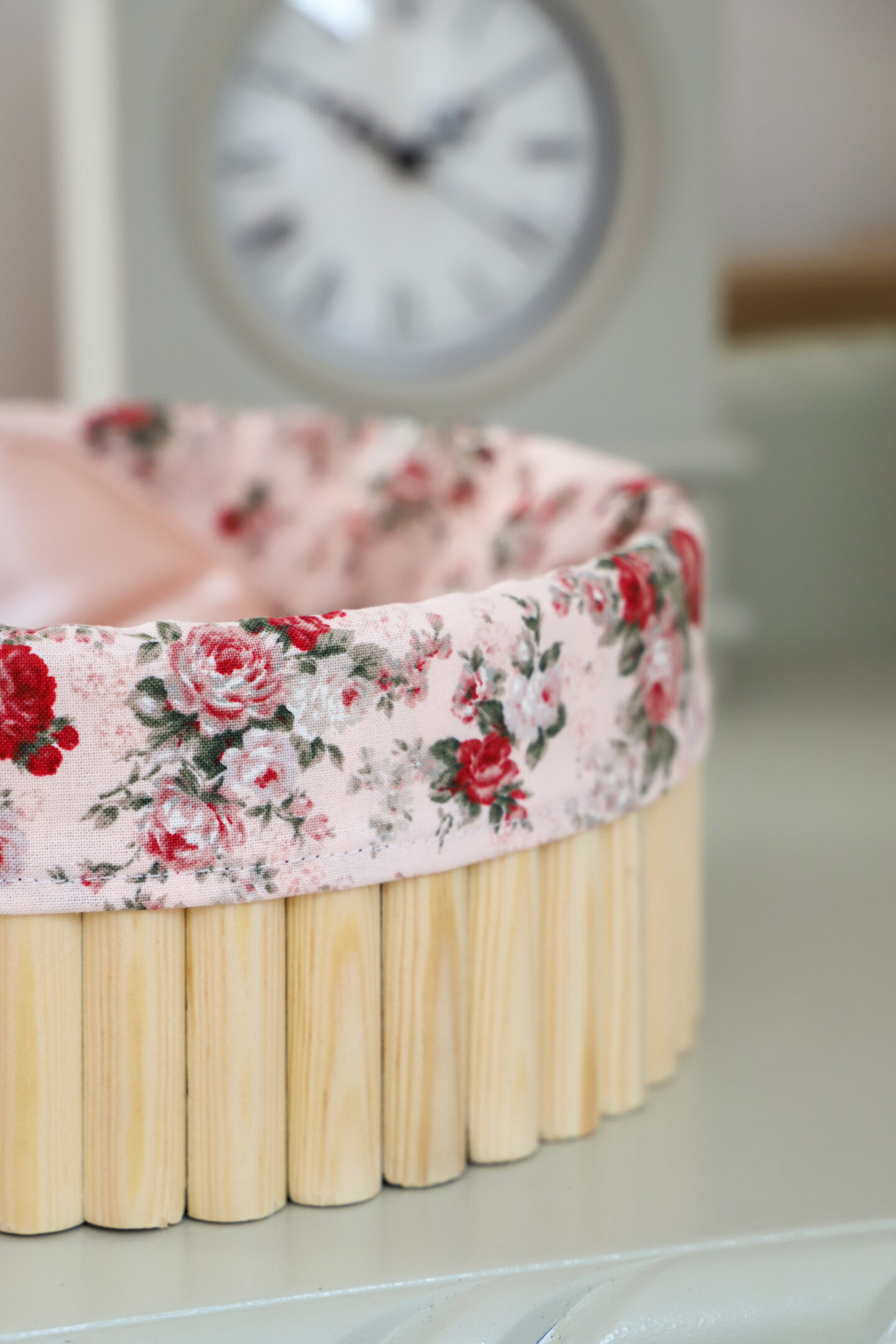 Whether you have a pretty gift box that you can't part with, or you want to have a shot at upcycling a gift box, I hope this post has given you some inspiration.
Like I always say, take the idea and make it your own. Thanks for reading, Chat soon, Catherine.