Do you have an old writing desk lying around that has seen better days? Well, this week, I bought a second-hand old writing bureau, and it needed a little love. So after some sanding, priming, painting and stencilling – I'm going to share how I upcycled this old writing desk.
This upcycling project didn't go to plan, and I had a completely different idea for this piece. However, every mistake is a lesson, and I will chat a little about making mistakes when upcycling.
** This post contains affiliate links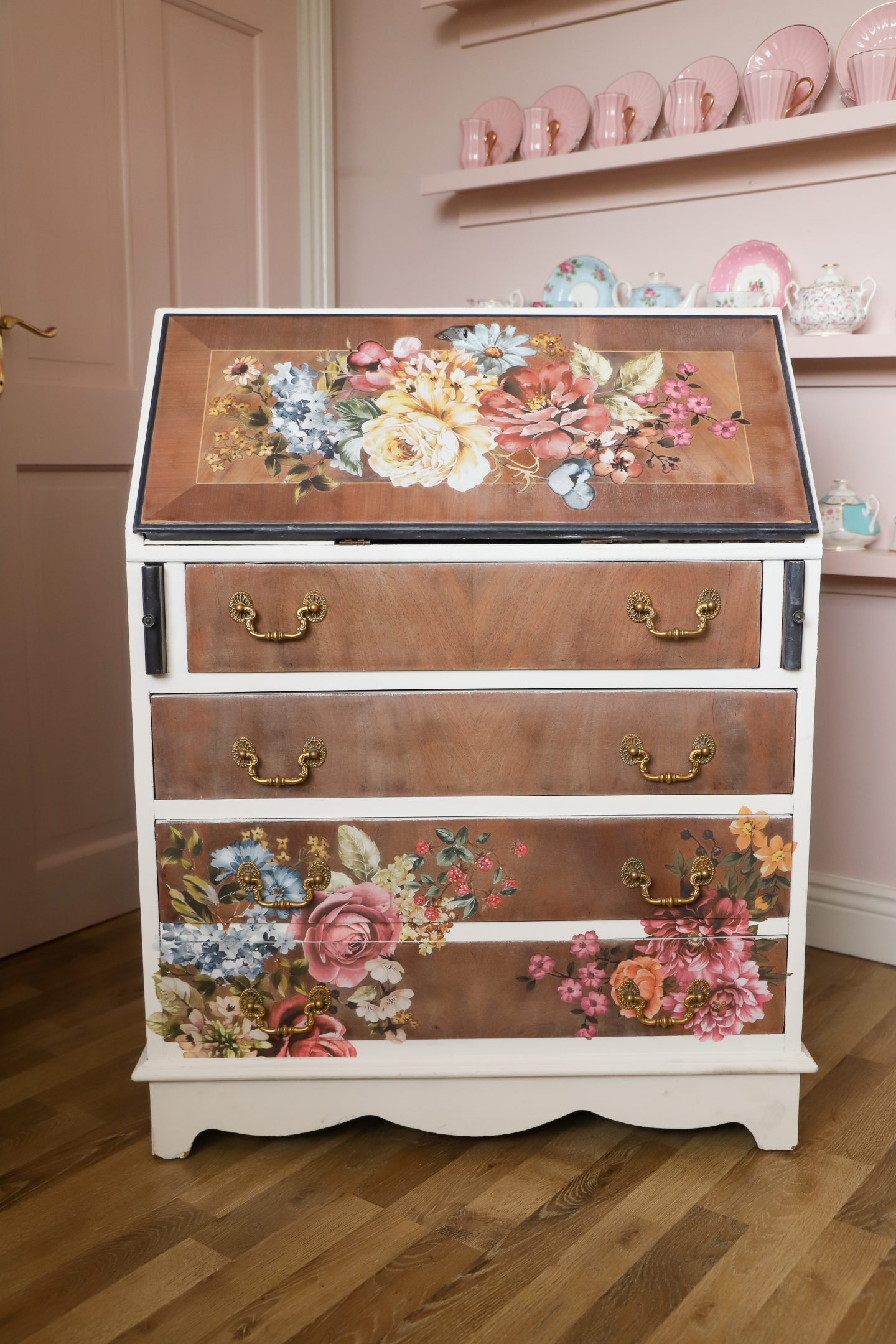 What the writing desk looked like before
This old writing bureau is a reproduction, and while it looks like a solid mahogany piece of wood, the desk is mostly made of chipboard covered in a veneer.
The frame of the piece was solid. However, most of the drawer fronts had damage to the veneer and broken trims.
The drop-down front was also damaged at some stage and repaired with tape.
My original plan for the writing bureau was to do a light farmhouse wood effect. I was thinking of lightening the wood and whitewashing it.
To remove the mahogany stain, I spent a good four hours sanding the piece. I had to be careful as if I scuffed too deep, I would expose the chipboard wood under the veneer.
Then I went wrong, and after spending hours sanding and bleaching the writing desk, I applied wax oil.
I applied a coat of wax oil that had white pigment in it. When the wax oil dried, it was much darker than I wanted and undoing my hours of sanding.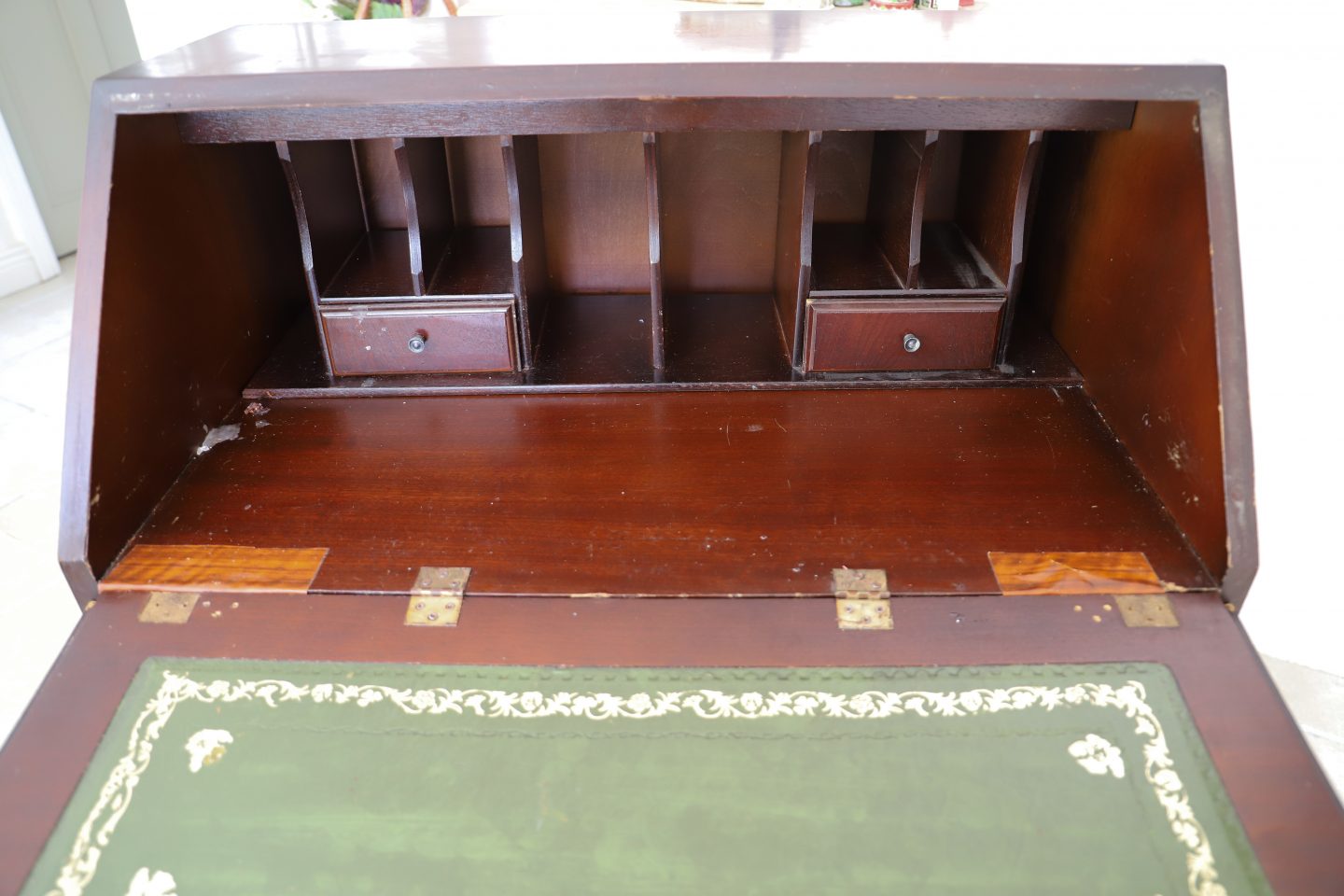 Why upcycle a writing desk?
When looking for furniture for my greenhouse, I imagined an old writing desk, as I use this space for both growing and working. However, the writing desks are large and would block some light.
I use an old Singer sewing table in my bedroom as my makeup table. It's not practical, and it gives me no storage. So, I decided to get a writing desk to use as my vanity and swap them around.
The upcycled writing desk makes for a great vanity, as it has loads of drawers and storage for makeup and hair tools.
If you work from home but lack space, then an old writing desk might offer you a solution for a mini-office. I love that the lid can be lifted and closed and hides any clutter beneath it.
How I fixed my upcycling mistake and had fun with florals
There is magic to be found in the mess, and every mistake is a lesson to learn. I have had many upcycling disasters throughout the years, but each one held a valuable lesson.
When upcycling furniture, there is a lot to take into consideration. The materials, the reaction with the products, and sometimes the piece of furniture just has other plans.
When something isn't going to plan, here is what I try to do.
Step back and sleep on it ( don't be tempted to tinker with it when tired)
Identify what you don't like about a piece.
Can you add trim, colour, pattern to fix the problem?
Have a look online for inspiration, or better yet, get out and ramble and check out furniture shops for inspiration.
When fixing this piece, I painted over the wood that was a different colour from the rest.
I purchased some furniture transfers by Prima online and decided to add patterns to the wood. After sleeping on it, I decided that I liked the tone of the wood, but it needed a little something extra.
You might remember I had used them on this Ikea Ivar makeover. They are similar to decoupage, but the intricate floral pattern is already cut out for you. Much easier to apply compared to decoupage.
Click here for a list of ReDesign by Prima stockists. I purchased mine in Ireland here, and you can buy them here too.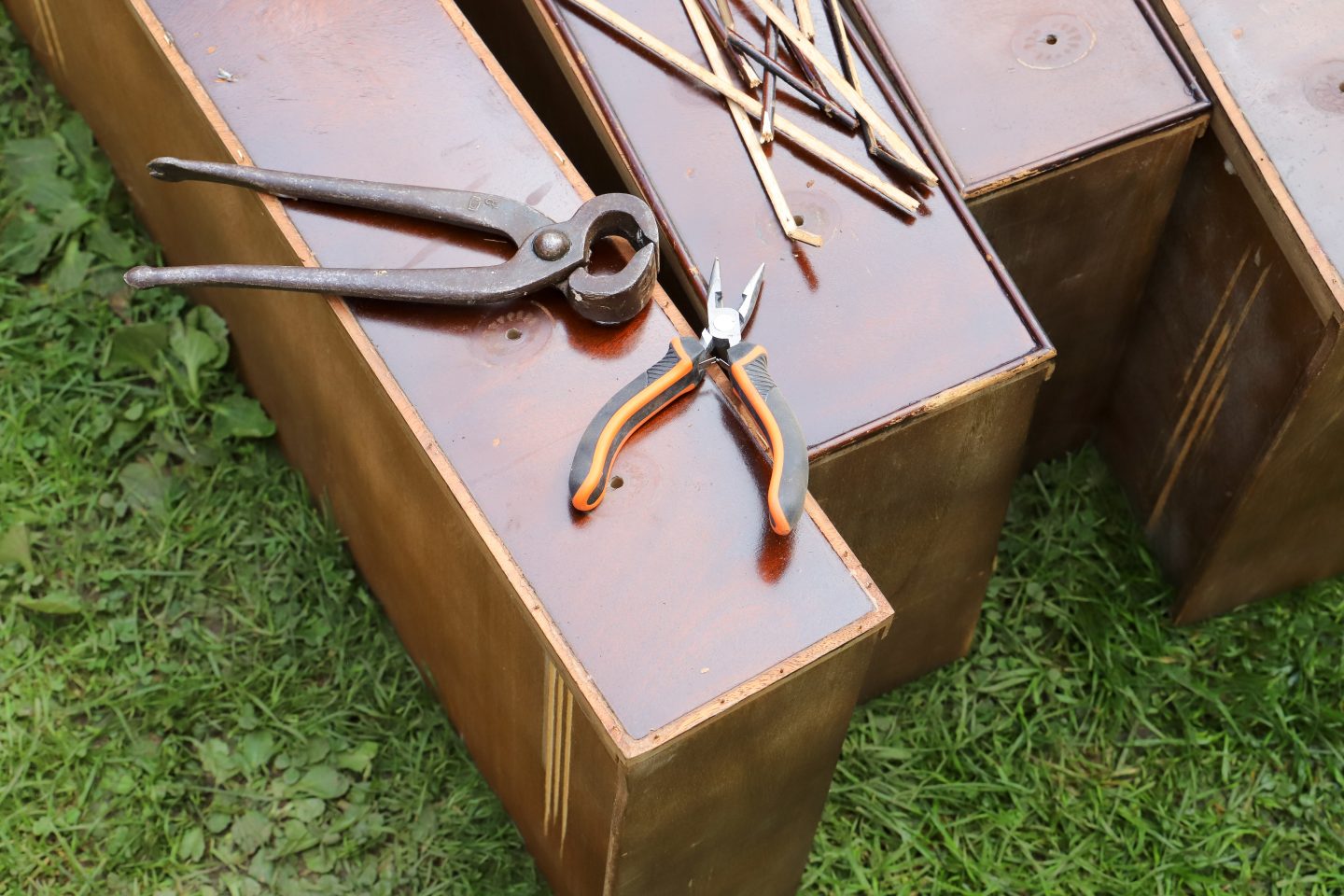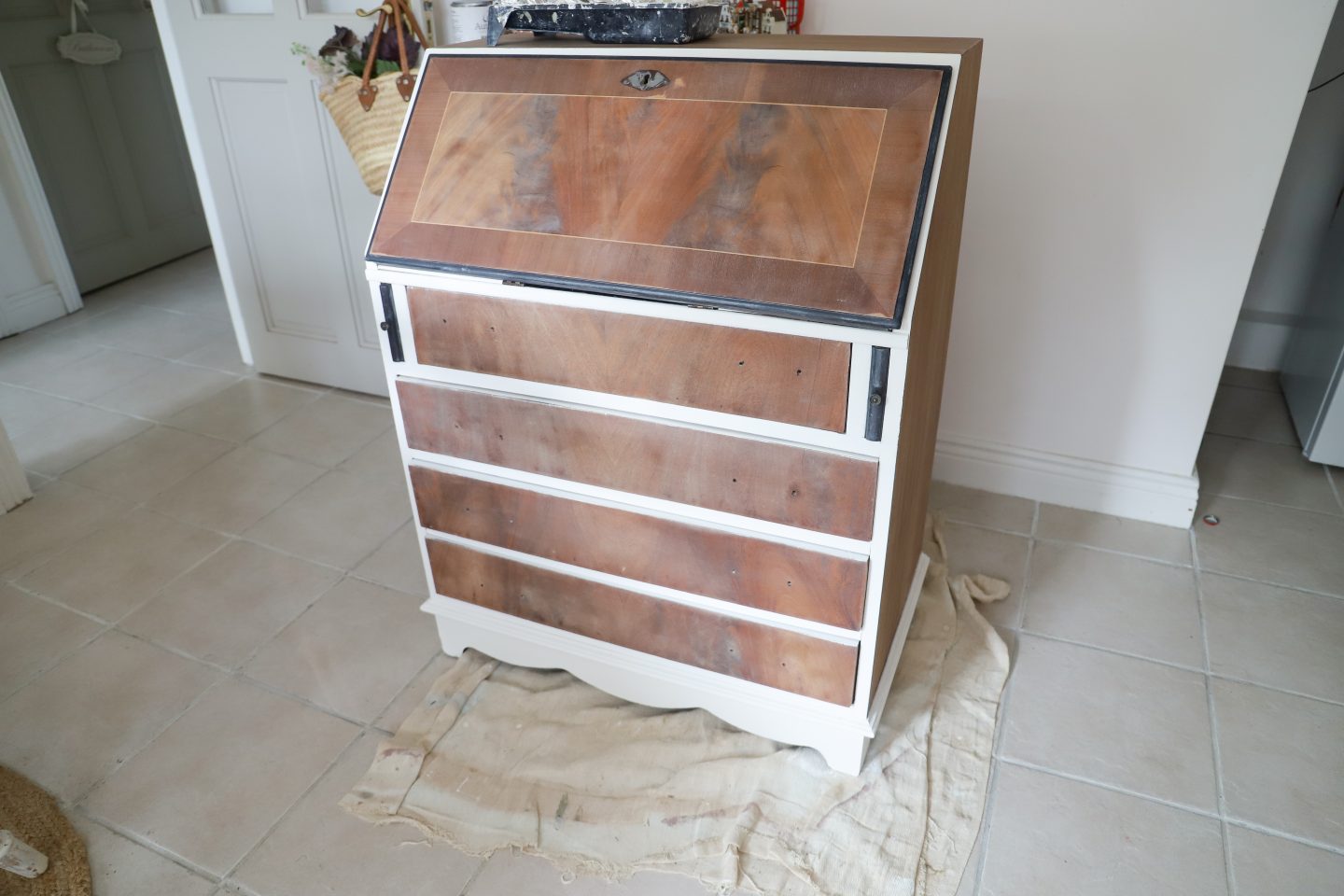 The finished look
After applying paint to the parts I didn't like and adding my floral transfers. I started to fall in love with it.
To finish it off, I cleaned the old hardware with some wire wool and gave them one coat of Rub N Buff in antique gold.
I love how the gold wax makes these old handles come back to life. The gold pops out against the wood and floral background.
I used some clear lacquer to seal in the furniture transfers and protect them from damage.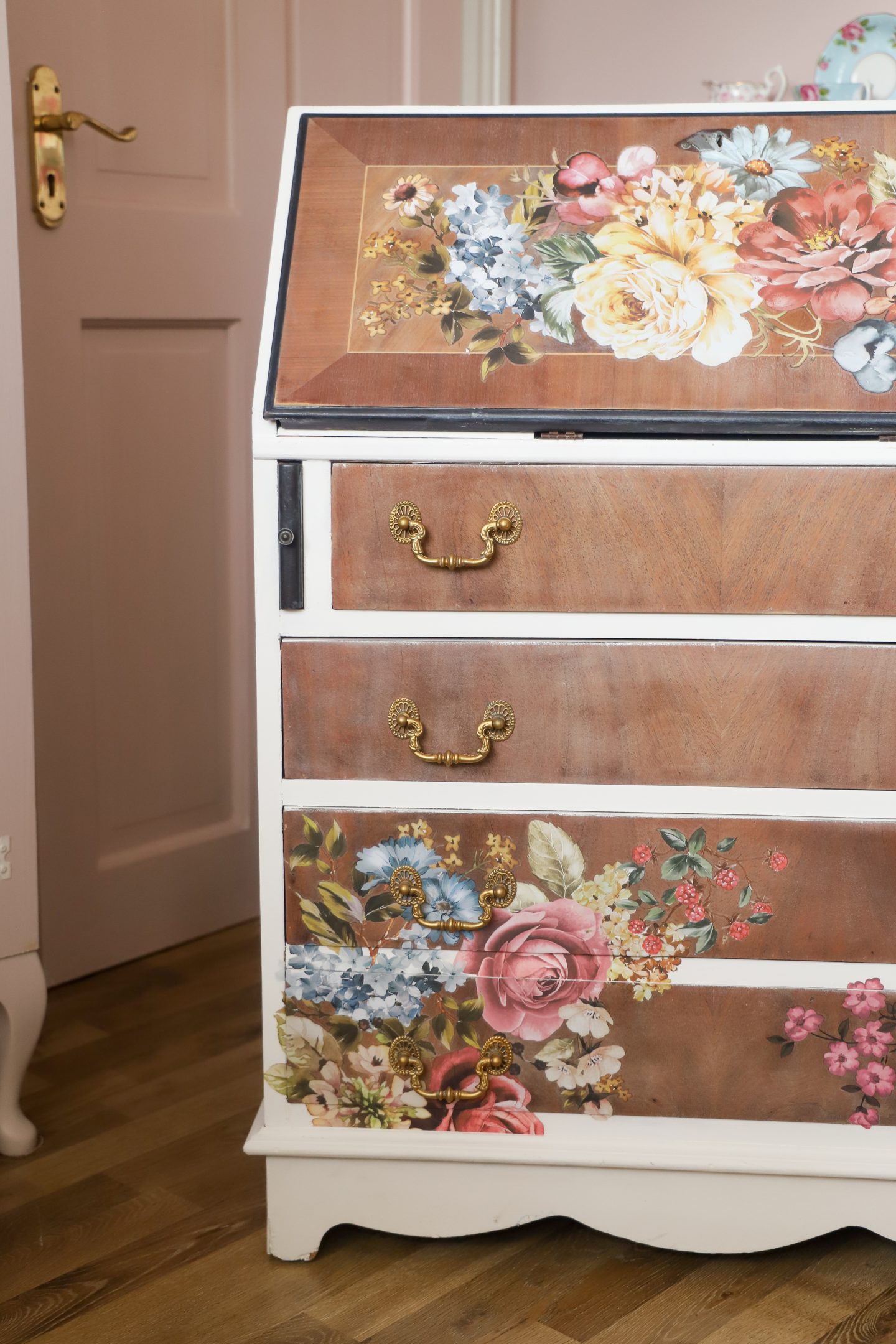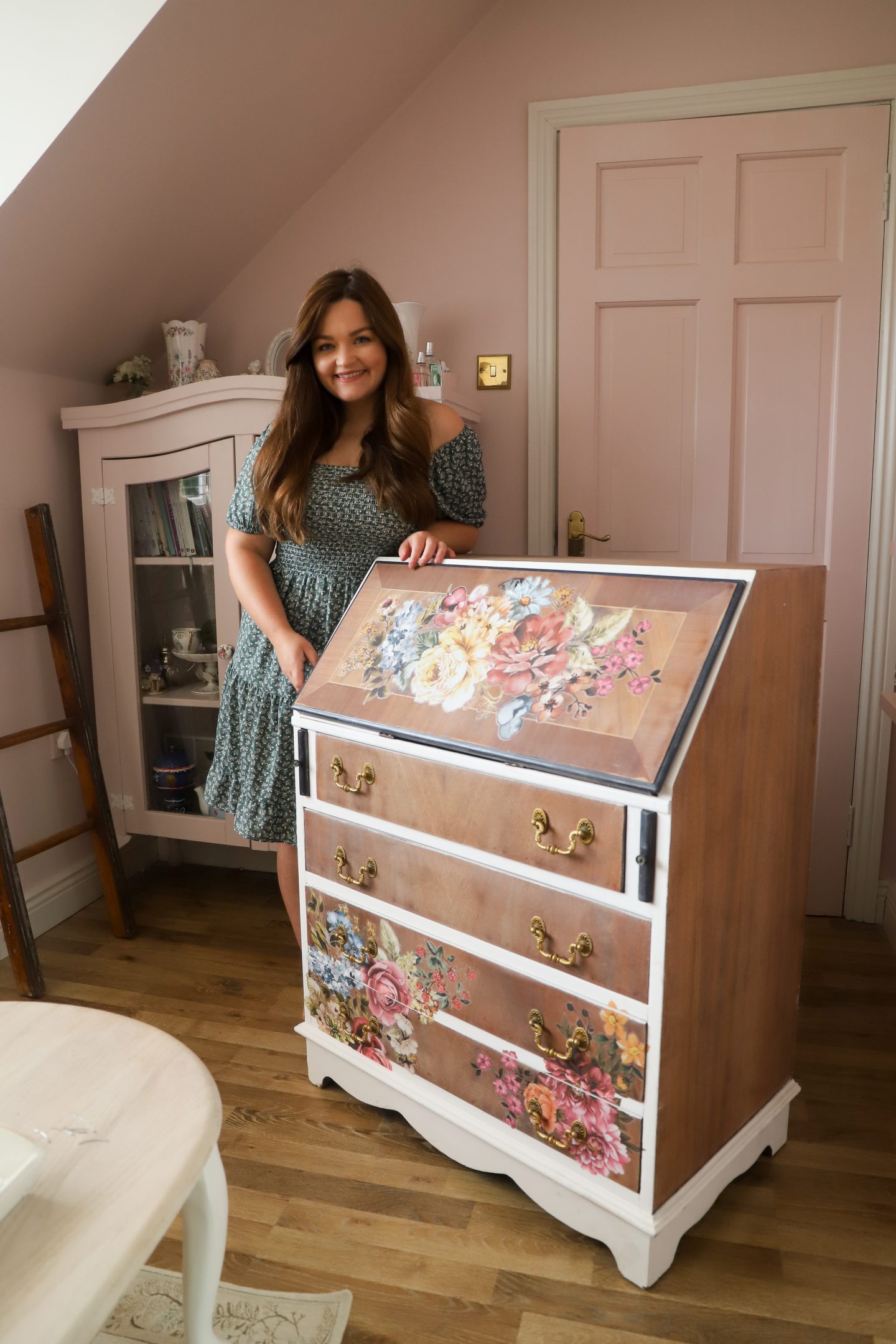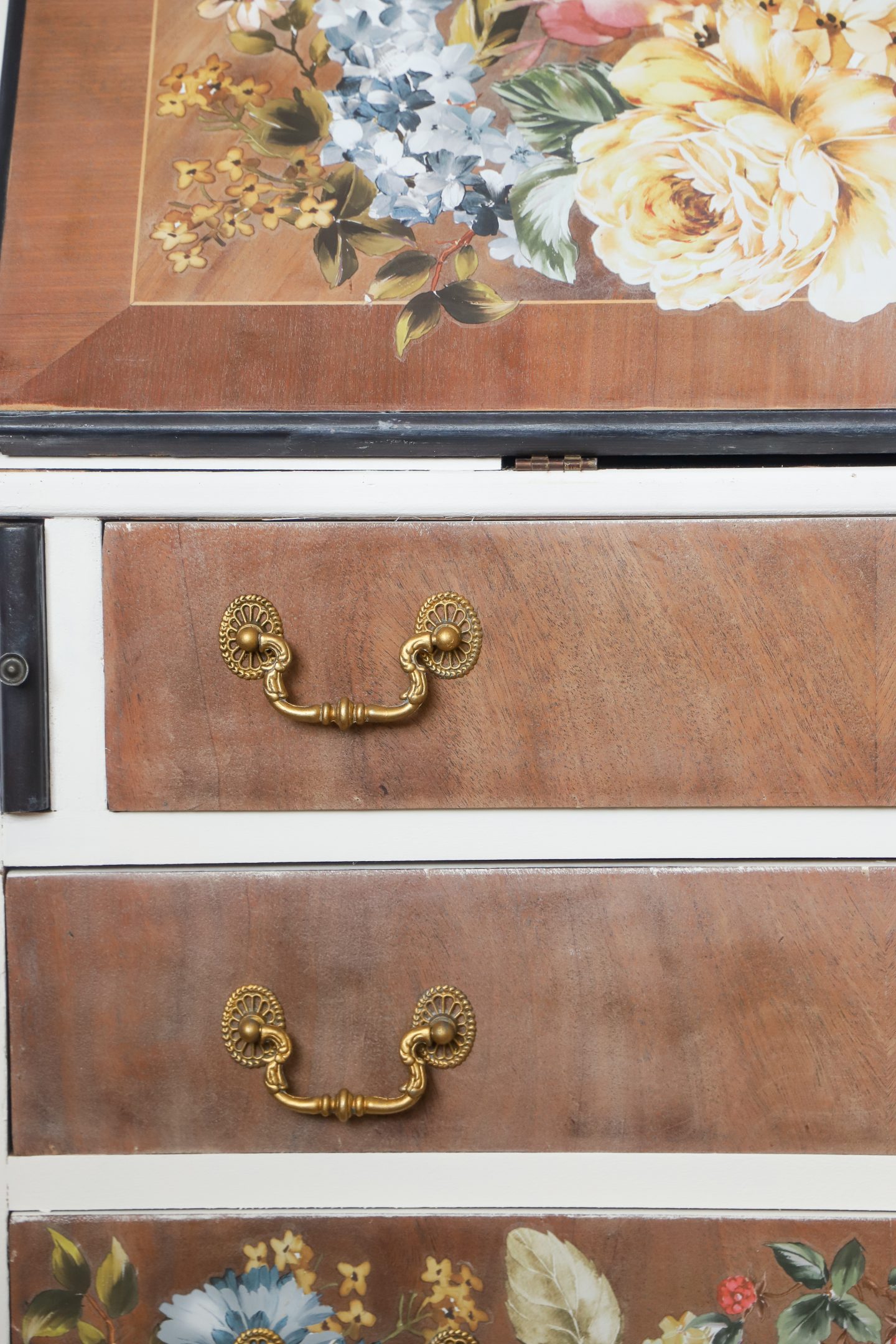 My upcycling writing desk is now sitting proudly in my bedroom, and it is a perfect place for doing my hair and makeup. I love how much extra storage it gives me for my hair tools and beauty products.
Whether you made a mistake or not, I hope this post has encouraged you to give upcycling a try. After all, it's an easy way for everyone to take care of the environment and create something beautiful at the same time!
You can find more information on how to paint furniture here. And dive into the archives and find some projects that inspire you. Click here for more upcycle projects.
Let me know in the comments if you to had an upcycling mishap and what lesson you learnt. Thanks for reading, Chat soon, Catherine.