In this post, let me share how I made this adorable Christmas mitten garland from recycled fabric. Have a rummage through your old clothes and see what you can use to create your very own.
Hands up who has old clothes that no longer fit, but you still love the fabric! Well, I love to use the material from old clothes for DIY projects. You might have seen this post, where I shared how to make a pencil case from an old skirt. Well, I thought it would be cute to recycle fabric for a Christmas DIY.
Last Christmas, I shared this DIY on my YouTube channel, and I never got around to sharing it on the blog. So, I created a shorter video for you, which I will leave below and some pics.
*This post contains affiliate links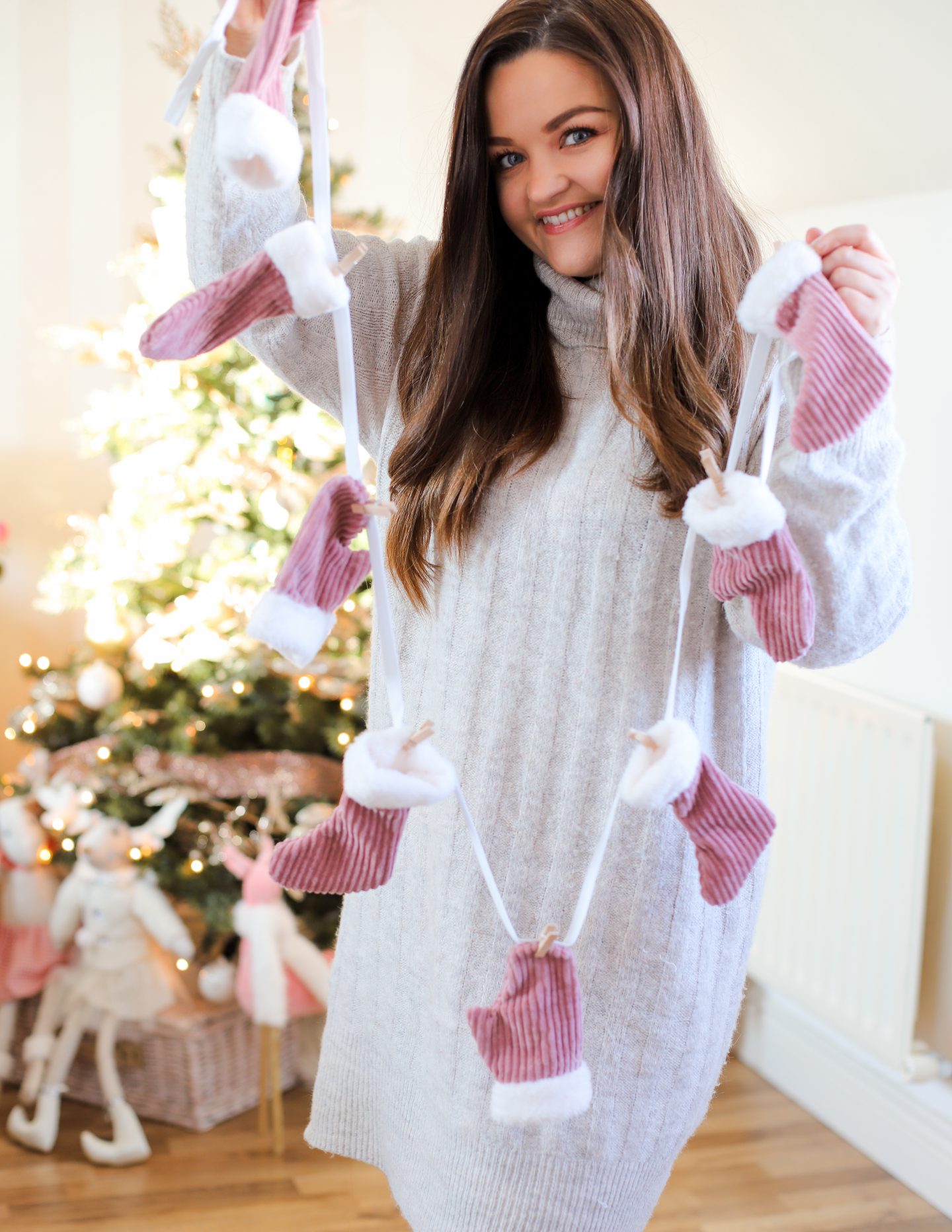 What you will need to create your Christmas mitten garland
Recycled fabric ( see below for what material is best)
Paper to create a template
Choosing recycled fabric for your Christmas DIY
For the mittens, it's best to use recycled fabric that doesn't have much stretch. Denim, corduroy, cotton and poly cotton are perfect. Try to avoid jersey fabrics, silks and satin fabrics.
For my Christmas garland, I used an old pink corduroy skirt that no longer fit me. Fabric from old skirts, dresses and jeans would be perfect.
Create a mitten and sock template
I had a mitten and sock decoration for my tree that I used for a template. You can find loads of mitten templates on Pinterest, or you could trace around a mitten if you have one. I traced my mitten onto some brown paper, and I used this as a guide for cutting my mitten shapes.
Once you are happy with the size and shape of your template, cut out eight sets of mittens with your fabric scissors. Each mitten will have a front and a back piece.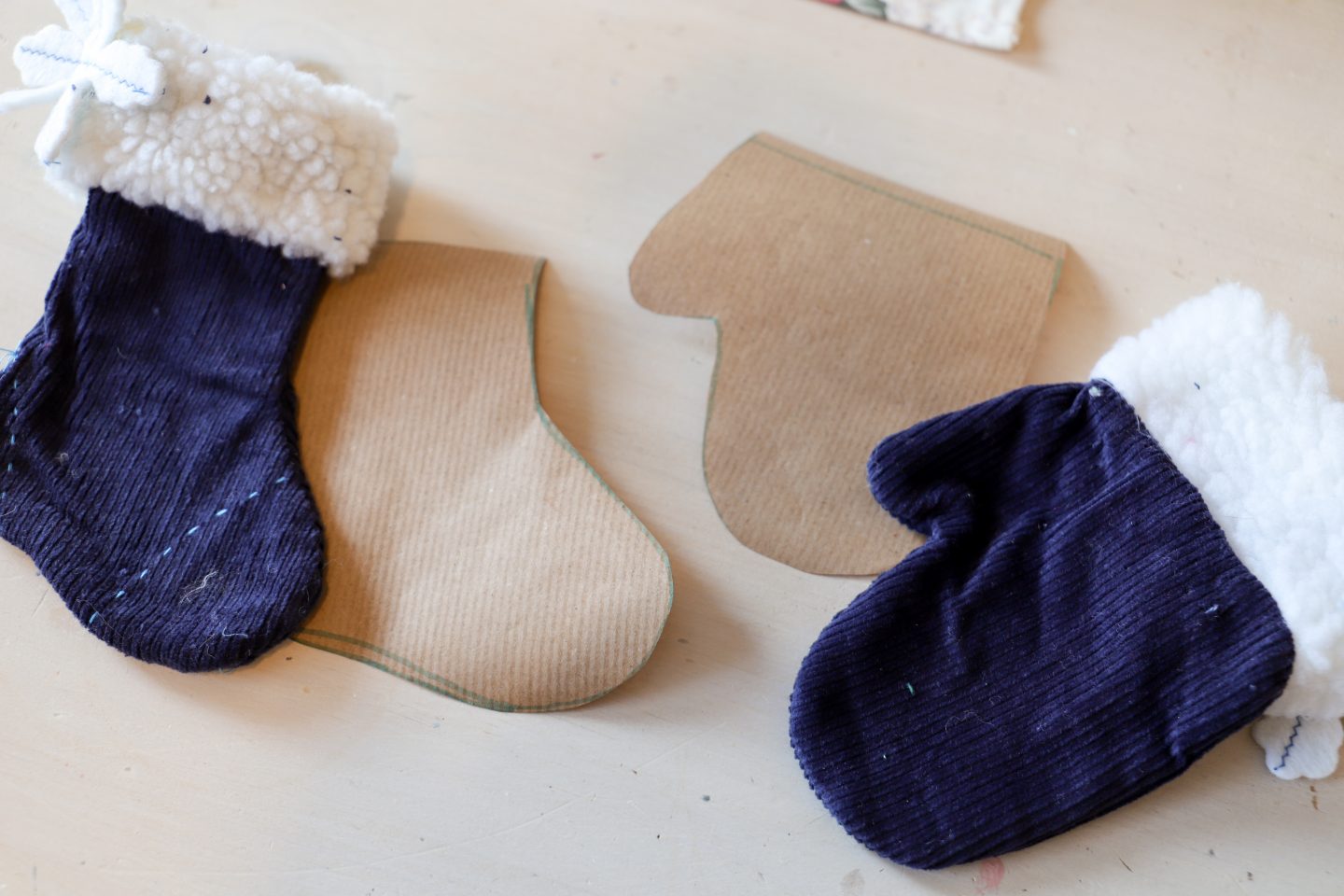 Stitching your mittens and socks
Pin your two pieces of fabric together with the right sides facing each other.
Press play on the video above to see how I added the fur trim to the mitten.
Once you have stitched all of your mittens, you can use either twine, wool or bias binding for your string. I used bias binding, as I find it's perfect for making bunting, but you can use whatever you have.
You can stitch ( or glue) the mittens to your string. Make sure to space them evenly.
I used some mini clothes pegs to add some detail to mine.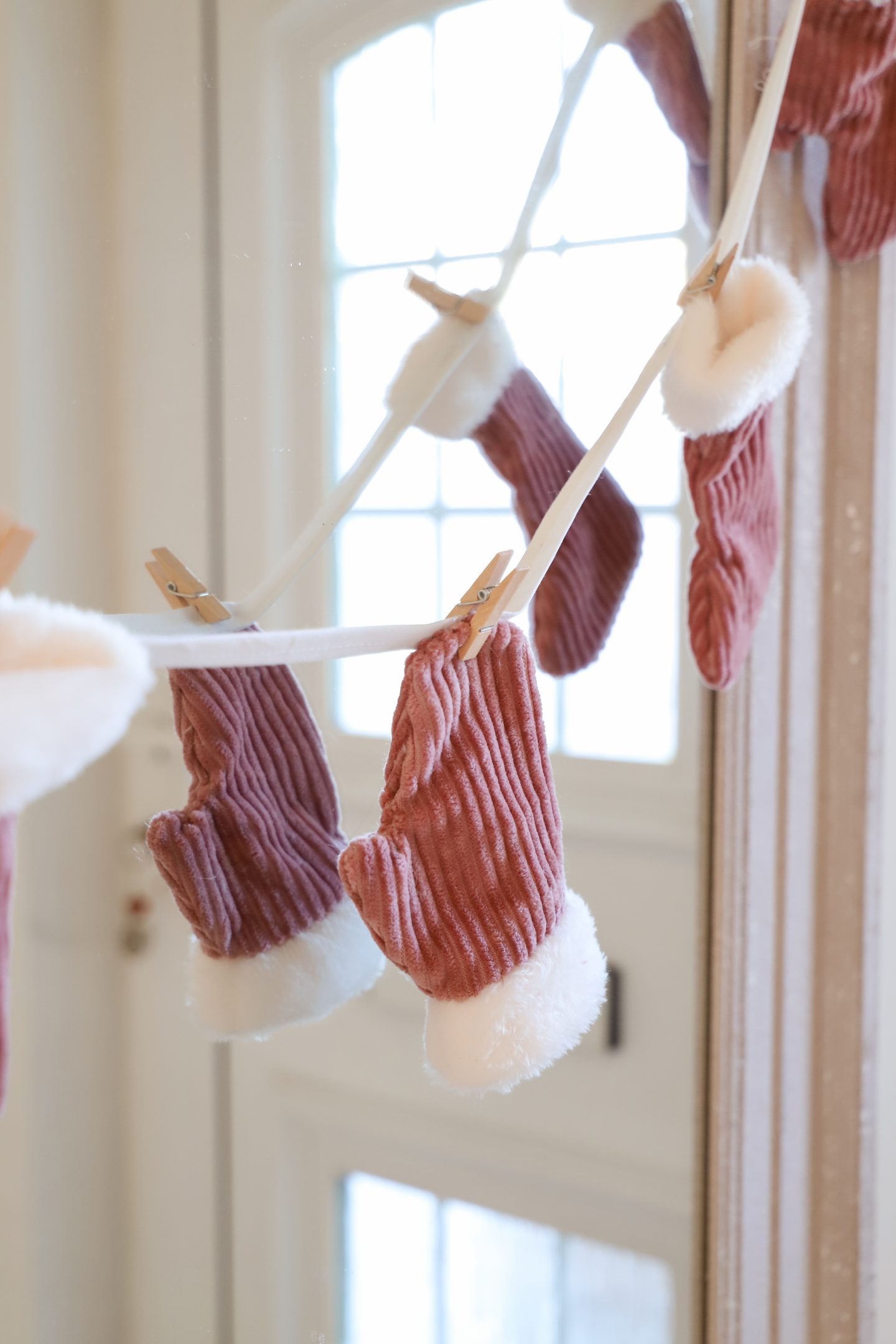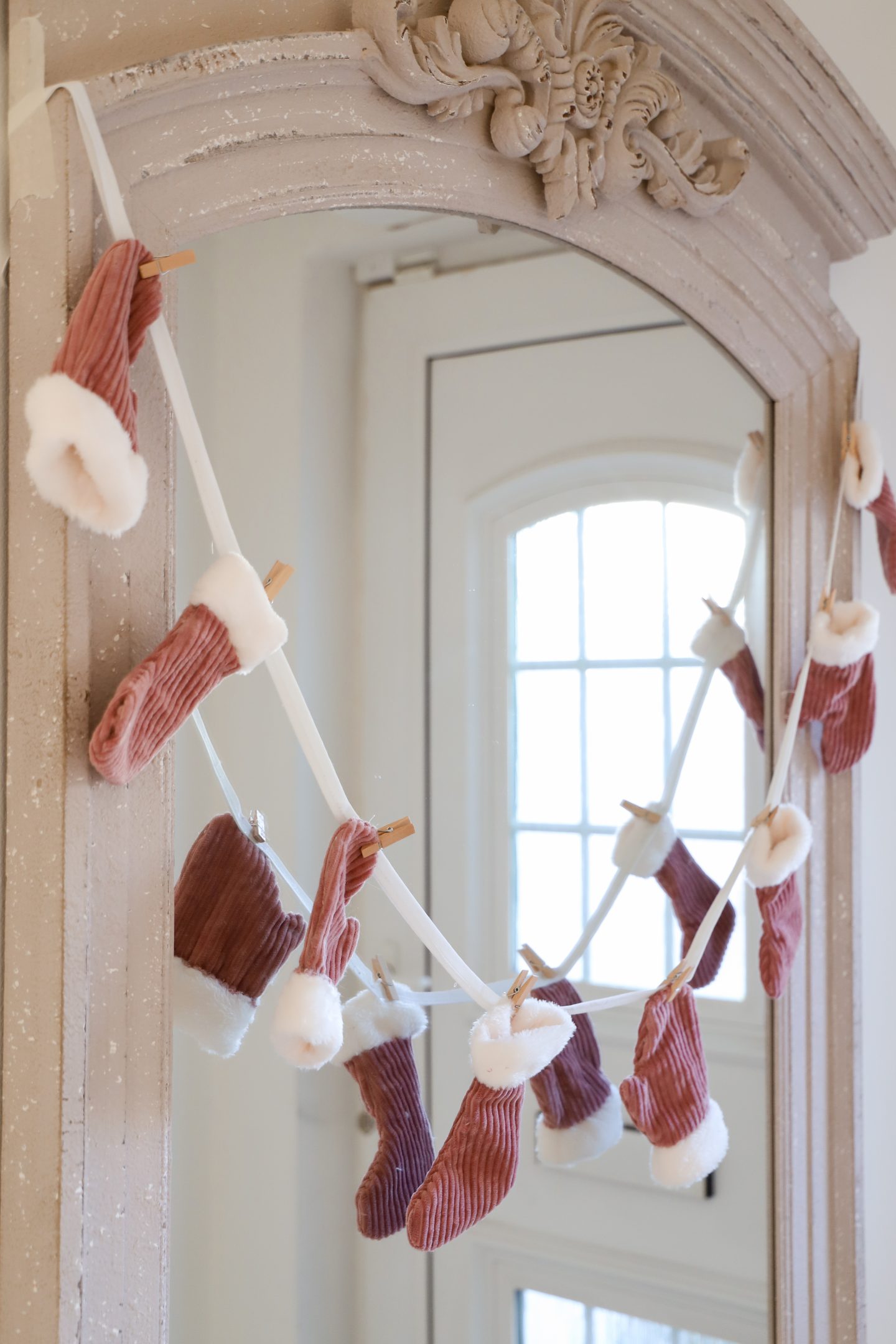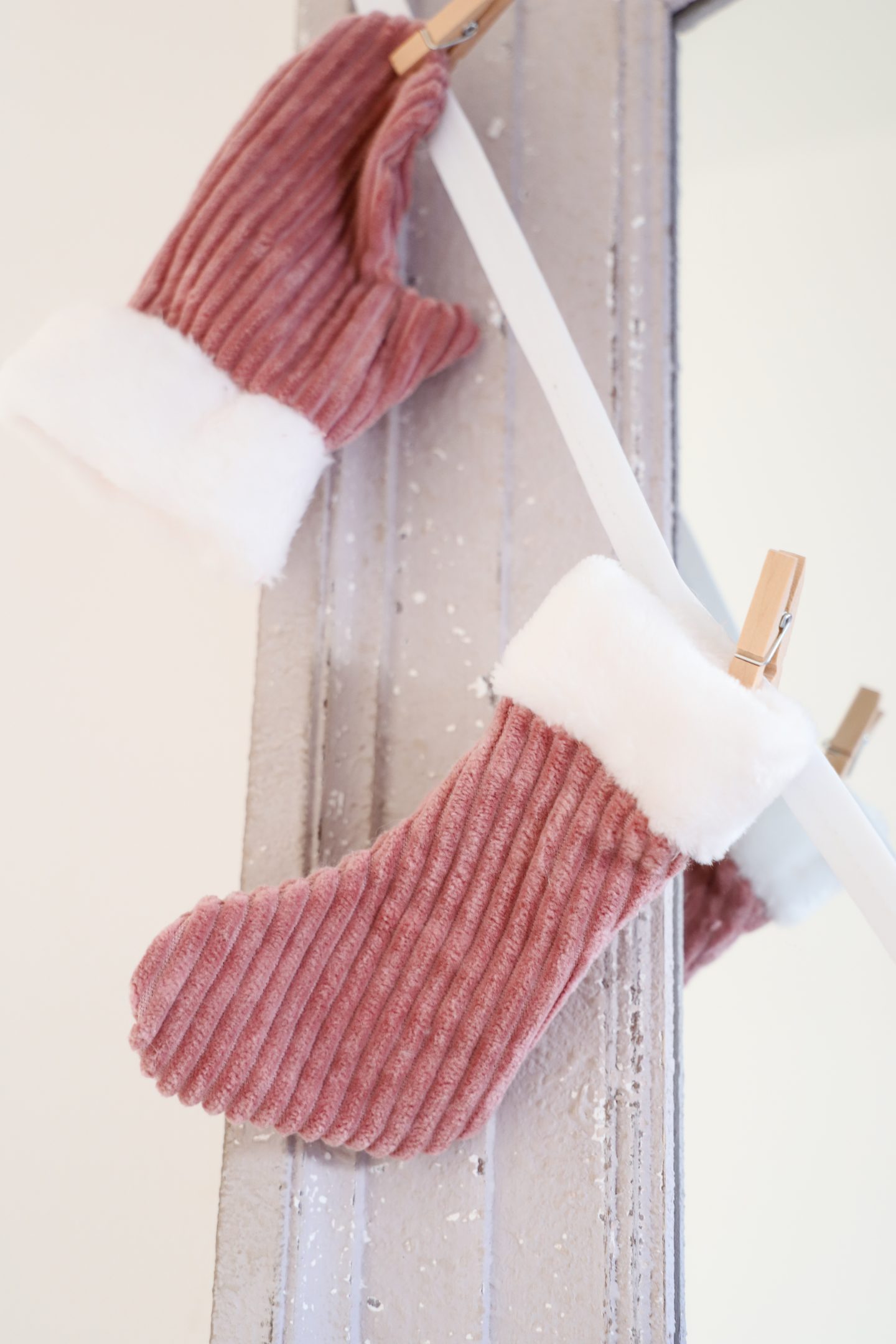 Want more Christmas DIY ideas?
Check out these new DIYs that I have recently uploaded to my YouTube channel. I hope you find some ideas to try out over the Christmas period.
Let me know if you have a shot at making your DIY Christmas mitten garland, as it's a fun way to reuse old fabric and turn it into something new. Also, check out this sewing playlist for more sewing projects.
Thanks for reading, Chat soon, Catherine.