I do love a new crafty gadget, and I got to road test the new Cricut Mug Press that just launched in Ireland and the UK. In this post, I will explain what is a Cricut Mug Press? What can I make with it, and where can I buy one in Ireland?
If you are new to Cricut, you can read more about the brand here. Cricut makes craft cutting machines as well as craft tools. I have both the Cricut Maker and Cricut Joy machines, and you can read more about them here.
*While this blog post is not sponsored by Cricut, there is a link to a YouTube video which is sponsored, and I work with Cricut from time to time.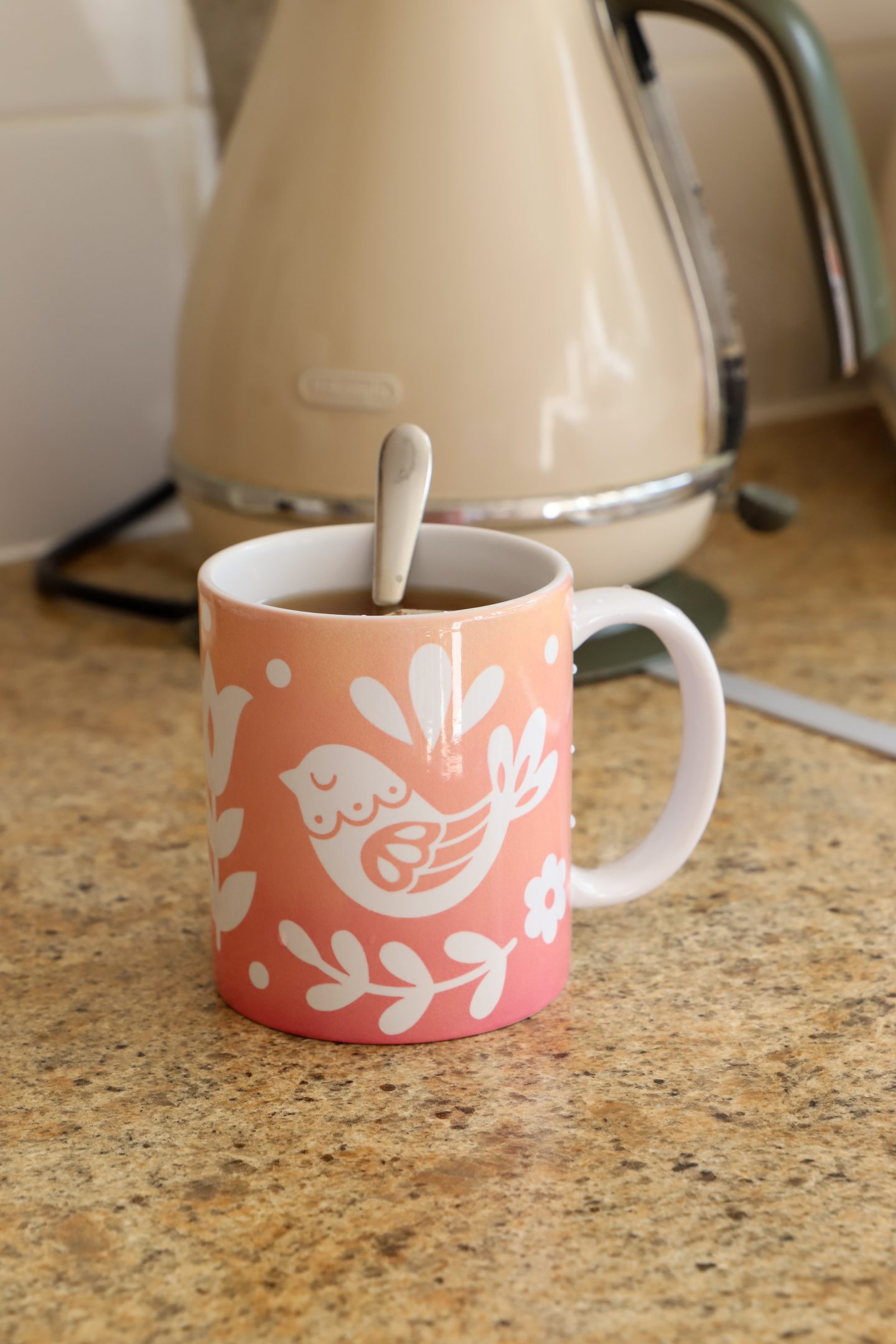 What is a Cricut Mug Press?
The Cricut Mug Press allows you to make professional mugs at home. The Mug Press is a cup-shaped heat press that perfectly applies infusible ink to your cup.
Cricut Mug Press works with Cricut Infusible Ink Transfer Sheets, Pens & Markers and uses the right amount of heat and time to get the perfect finish on your mug.
Upload your design to the design space app and cut the infusible ink sheet with your Cricut machine. Then use heat to infuse the infusible ink design into the mug using the mug press.
Unlike the iron-on or HTV process, where artwork is attached on top of a base material using adhesive, an Infusible Ink transfer becomes one with the cup itself.
The heat plate design applies the right amount of heat and pressure with easy, one-touch settings. One button starts the transfer, LEDs track the progress of your press, and a beep lets you know when it's done.
If you have ever tried to apply heat to a mug when using infusible ink, then you know it can be fiddly. The Mug Press takes away the struggle of knowing if you have the right amount of heat etc. This means fewer messed up mugs.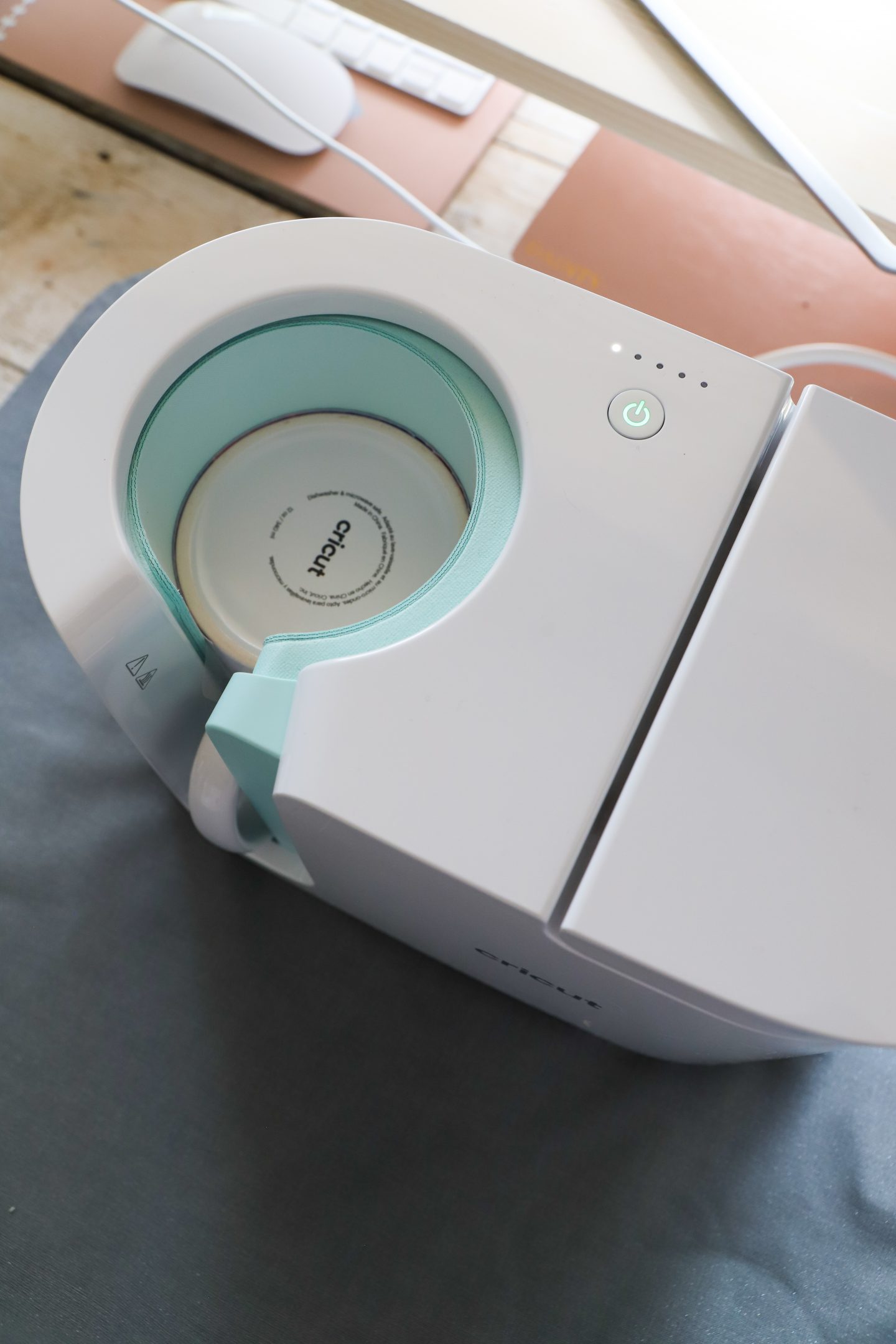 How much is a Mug Press, and will I use it?
In Ireland, the mug press has an RRP of €199 and is exclusively available in Harvey Norman. You may be able to get bundle offers as well.
If you consider getting one, you will also need to buy the infusible ink, heat tape and mugs suitable for use in the machine ( il chat about that later).
Will you use it? If you fancy making mugs to sell, this machine will make your mug business run much smoother.
For Cricut newbies, you can still create custom mugs by using permanent vinyl. However, permanent vinyl sits on top of the surface, but infusible ink sits in the surface.
If you let the dust settle on your Cricut machine, then this will be an expensive toy to make only one mug.
However, If you create to sell or plan on making lots of cups, then the Mug Press will be money well spent, and you will soon make back the cost of the machine.
There are other Mug Press machines on the market. However, the cheaper options do not seem as safe to use as the Cricut Mug Press is. Mug presses give off a lot of heat, so safety is vital when using any mug press machine. The Mug Press also has an auto-off safety feature.
Where can I buy a Cricut Mug Press in Ireland?
At the moment, the Cricut Mug Press is exclusive in Ireland to Harvey Norman. The Mug Press is available in Ireland from the 1st of October 2021.
Be careful when buying a mug press from the US as the voltage is different, and it may not work correctly here. When the machine was released back in March in the US and Canada, some people purchased them here, and there were voltage issues. The difference in power and voltage can damage your Mug Press and void your product warranty.
How long does the Mug Press take to heat up?
If your Mug Press feels like it is taking ages to warm up, don't worry. It takes approx 5-minutes for the Mug Press to warm up.
It won't heat up as quickly as the mini-press or other heat presses from Cricut, as more heat is used for creating the mugs.
Do I have to use Cricut mugs in the press, or can I use any cups?
Yes, you can use non Cricut blanks. However, it must be a sublimation compatible blank. You can source these online and from wholesalers in Ireland.
Please note: You CANNOT use a regular cup from the pound shop in the mug press, as these are already coated and will not work.
When using non-Cricut blanks, look for poly-coated, sublimation-compatible products that meet the specifications below:
The capacity of 11 – 16 oz (350 – 450 ml)
Drinkware with smooth, straight pressing area only; avoid placing the design on curves and textures
Diameter between 3.2 in – 3.4 in (82 – 86 mm)
Maximum height of 4.72 in (120 mm)
How do I use the Mug Press?
I have a quick video sharing how I created this cup below, and I also have a YouTube video sharing how to make a mug in more detail. Click here to watch.
Create your design and upload it to the design space app. You can use the templates in the design space app to get started.
From there, you will cut or draw your design with your Cricut cutting machine using Infusible Ink Transfer Sheets or Markers.
Then, adhere the design to your Cricut mug or a sublimation-compatible cup.
Insert your mug, lower the lever, and let the press do the rest!
When all LEDs in the progress bar are illuminated, and you hear a beep, your mug is ready! Lift the lever to release the heat plate, and carefully remove the cup by the handle. Let your cup cool on a heat-resistant surface before handling.
Did you make any mistakes?
Absolutely! So, listen up and learn from my mistakes and save yourself some mugs.
My first mistake was choosing a design that was too intricate. I cut a pattern that had too much text and was difficult to weed.
My second mistake was not allowing the mug to cool down, and I got some ghosting. Ghosting is when the edges are a bit feathery and not fully applied to the cup. I got too excited to remove the infusible ink too early. Do allow the mug the full amount of time in the machine and to cool down.
My last mistake was not using heat tape to tape my design down, this caused it to shift, and I got some bleeding in the design.
By the time I made my third cup, I had the hang of it, and I got a pro finish from then on.
I am ordering more blanks so I can have fun making personalised mugs and tumblers for my pals.
Nothing makes people smile than a personalised item, and now I have plenty of time to get cracking on my Christmas gifts!
Do let me know in the comments below if you have any further questions about the machine. I am so happy to see that the Cricut Mug Press is now available in Ireland, making it easier to get out hands-on and less online shipping.
Thanks for reading! Chat soon, Catherine.