I have a child-friendly valentine's day DIY to share with you today. A perfect afternoon craft to keep boredom away, and DIY Valentine's day pom pom heart wreath the love too! We are making a Valentine's day pom pom wreath.
Who doesn't love a pom pom DIY? So, I thought it would be fun to make a pom pom love heart wreath for Valentine's day. I picked up a love heart wire wreath last year, and it was sitting in my craft stash. When I was clearing out my craft room, I stumbled across it, and I decided to use it.
I love making pom poms, but I hadn't made any since I made my Pom Pom cushion DIY. So, I decided to make a fun love heart wreath using some chunky red wool. Also, I have a Youtube video where you can check out how I made my Valentine's wreath.
What you will need to make your Valentine's pom pom wreath
Wool, I find chunky wool is better for getting a fuller Pom Pom.
Pom Pom maker or you can make them the old school way like me.
A wire, heart-shaped wreath or you could also use cardboard.
Some scissors to trim your Pom Poms.
Your glue gun.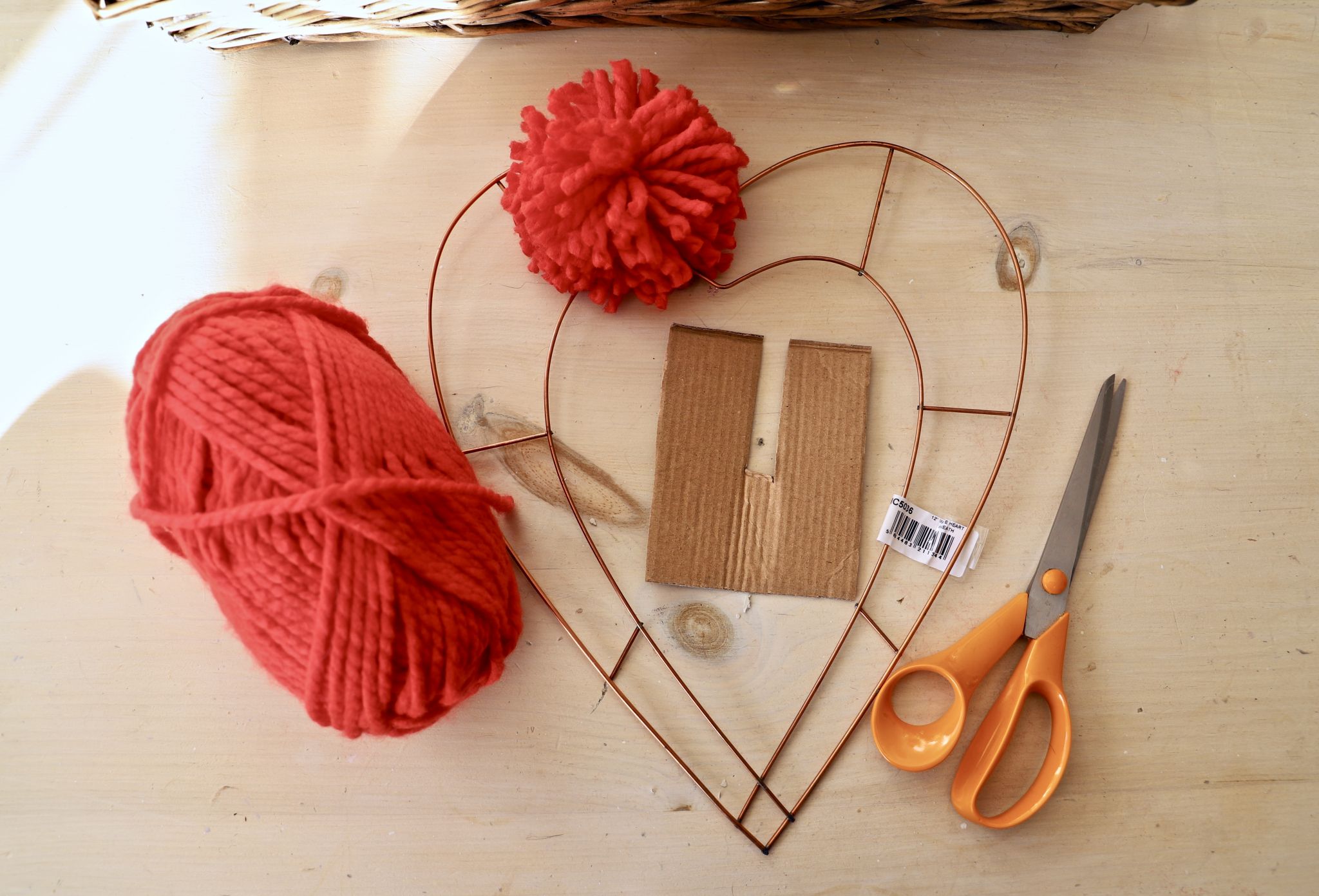 To begin, I started by making my Pom Poms. I decided to make my pom poms the old school way by using a cardboard template. You can see how I made my pom poms in the video below.
I used two balls of wool for this Project. To give my pom poms the perfect round shape, I gave them trim with my fabric scissors. Giving them a trim makes them more fluffy and firm.
Assembling your Valentine's wreath
Once I was happy with my pom-poms, I then placed them on my wreath to make sure I had made enough. I used my glue gun to stick the pom poms to the wire wreath. You could tie them onto the wire wreath, but I found they moved around and fell when I tied them.
Also, if you can't find a wire wreath, don't worry as you could use some cardboard as your base. You could trace a love heart shape onto some cardboard and carefully cut the shape out and glue on your pom-poms.
Have fun getting creative and customising your Valentines's day pom pom wreath. Change up the colours of your wool, and experiment with using different sized pom-poms. You can layer your wreath, so take your time and have fun creating your Valentine's wreath.
Although this Valentine's day wreath DIY is child-friendly, take extra care when using scissors and a glue gun. This DIY Valentine's day wreath will take roughly an afternoon to make, as the pom poms take the longest time.
Do let me know if you give this DIY a try! So, the question is, who will you give your Pom Pom wreath to this Valentine's day?
Thanks for reading, Chat soon, Catherine.
Please pin the image below to your Pinterest boards