How do you know when it is time for a new mattress, and what should I look for when choosing a new one? Just some of the tips I am sharing in this post, as this week I changed my old mattress. I am delighted to collaborate with Emma mattress to chat about all things sleep, from how to dispose of your old mattress to unboxing your new one. So, I hope you get the info and inspo that you need for picking your new mattress.
Now, I love my sleep, and I am early to bed and early to rise kind of person. I love a nap, and I am always looking for that "hotel bed" feeling.
Also, I have a whopping 42% Emma Mattress Ireland discount code for you, so save hundreds on your new mattress by using the code DAINTYSLEEP at the checkout.
** This blog post is sponsored by Emma Mattress Ireland
How often should you change your mattress?
I had a search online, and most sources said anywhere from 7-10 years. However, there is no clear cut way to know for sure, but the general advice was if your mattress is no longer helping you sleep, then it is time for a change.
Also, here are a few factors to consider when thinking of changing your mattress.
Noise – Has the mattress become noisy, or are the springs making a noise during the night.
Sagging – Are parts of the mattress starting to dip or show signs of damage?
Allergies – If you notice an increase in sneezing or allergy symptoms, it may time to change.
Sore muscles – Are you finding you are waking up with sore muscles more often. It may be a sign that your mattress isn't giving you the support you need.
Pets – I am guilty of this one, but pets who like to sneak onto the bed for naps can mean you need to change your mattress sooner. Mainly for hygiene reasons than wear and tear.
Picking the perfect mattress
Investing in your mattress is an investment in your sleep. It can affect the health of your spine and the quality of your sleep. So, take the time to find the right one for you.
When shopping for a mattress, look for generous free trial periods and easy free returns. The Emma mattress I have comes with a 200-night free trial. Also, I didn't realise that it can take up to 6 weeks for your body to adjust to your new mattress.
I decided on the Emma original mattress. There are two types of Emma mattress, the original and the hybrid, and you can read more about them here. I have a small double bed frame and choose the small double Emma mattress to go on my bed.
The main selling factor for me was the top cooling layer, as even in Winter, I find myself waking up sweating. I know it's not a sexy image, but I would wake up in a sweat, with one leg dangling off the bed to cool down.
The Emma Original mattress has a temperature regulating top layer made from special fibres that regulate humidity and keep moisture away. Which is exactly what my sweaty body needs!
Who is Emma Mattress?
Emma has an impressive trophy case of awards and is the most awarded mattress in Europe, and our sleeping needs are at the core of their designs. Also, did you know that they are made in Ireland?
Each Emma Mattress comes with an impressive 10-year guarantee, so you can sleep tight knowing if you have any dents or damage, you are covered.
How easy was it to set up my Emma Mattress?
Now, I was worried about a mattress coming in a box, as my old mattress is heavy. Thankfully, the box wasn't as heavy as I thought, and I was able to lift it upstairs without having to call my brothers for help.
It blows my mind how they can roll up a mattress and stick it in a box!
I removed the mattress from the box and laid it on my bed frame. I then rolled the mattress out so that it was flat on the bed frame, and then I removed all plastic packaging. Inside the box, you get a handy blade tool to open the plastic wrap without damaging the mattress.
The bottom layer of the mattress has hooks, making it easy to move and place on the bed.
I unboxed my mattress first thing in the morning, and once it had fluffed up, I was able to add my mattress protector and bedclothes. ( And maybe had a cheeky well-earned nap). It initially plumped up and then seemed to be fully inflated within an hour.
How can I dispose of my old mattress in Ireland?
So, I did a little research as I now have an old mattress to get rid of, and I found some info on mywaste.ie website. You can bring your old mattress to a civic amenity site or a mattress recycling project.
There are two mattress recycling projects, EcoMattress Recycling and Bounce Back Recycling. You can also bring your mattress to your local recycling centre, which you can find here.
As the old mattress on my bed is only seven years old, I decided to put this on my guest bed and dispose of the old sprung mattress on my guest bed.
A few weeks ago, when I was having building work done on the bathroom, I had to sleep in my guest bedroom, and the old mattress was so bad I couldn't get proper sleep. I remember waking up feeling hungover because the bed was giving me achy muscles. That is not how I want my guests to feel. So, I got a new mattress protector for my old mattress and reused it.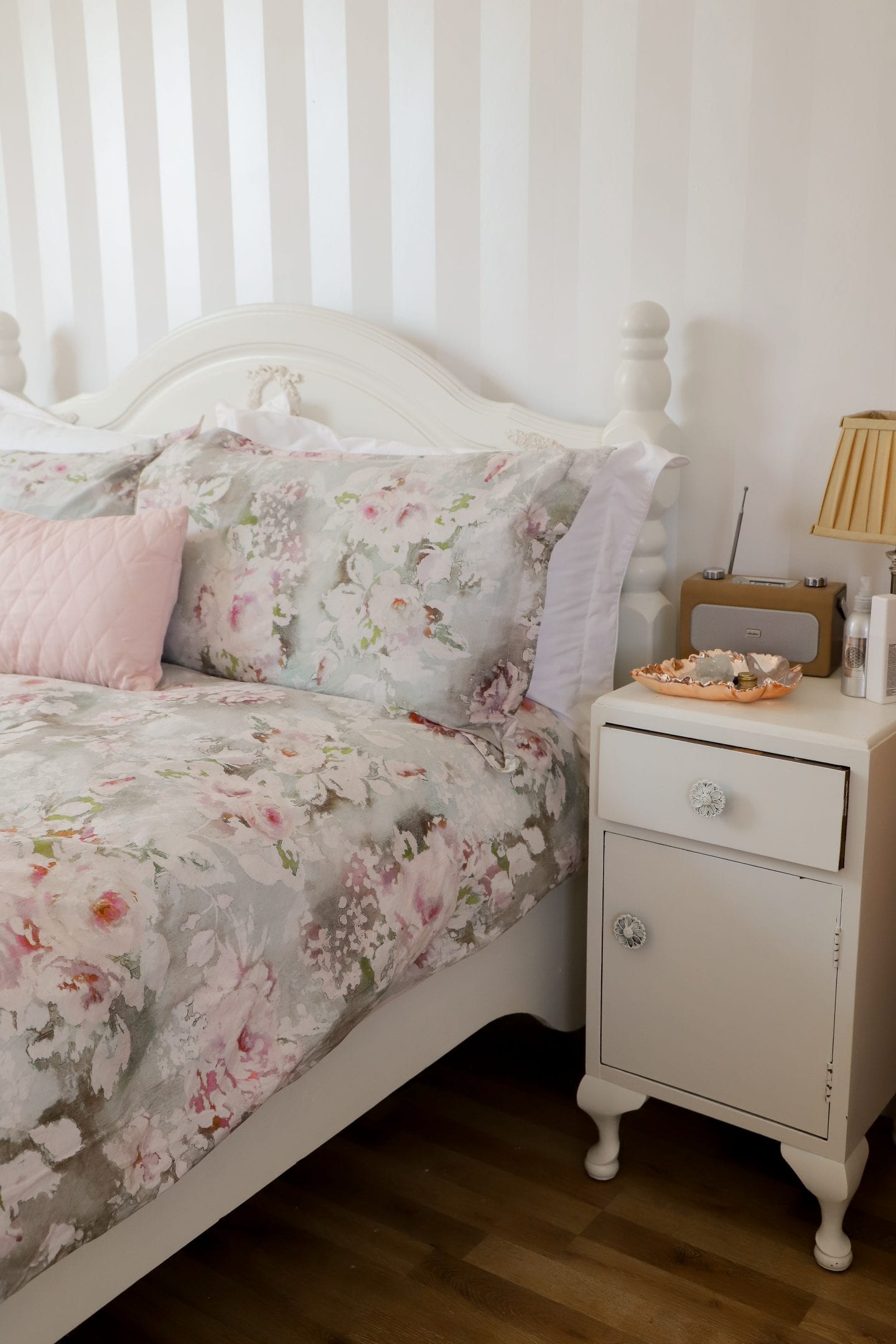 What sort of sleeper are you?
Whether you are a starfish, side or a belly sleeper, the Emma mattress has Visco-elastic memory foam, which contours to your body and distributes pressure evenly, and this means you sleep comfortably in any sleeping position possible.
I am more of a side sleeper, but Blondie has an awful habit of sleeping in the middle of the bed, leaving me falling off the edge. Unfortunately, Emma cannot offer a solution for sleeping with fussy cats.
Emma Mattress Ireland discount code!
To get 42% off your mattress order, use the code DAINTYSLEEP and save money on your order. This Emma Mattress Ireland discount code expires August 15th 2021.
My bed frame was bought second-hand for €50, with a lick of paint, I transformed it. At the time, I wanted to save money on the bed frame and invest in the mattress. So, if you are in the same situation where your budget is small, why not upcycle a bed frame and invest in the mattress.
Let me know if you found this post helpful. I only have my mattress a week, but I am happy to answer any questions you have. You can leave them in the comment section below, and I can update this post and let you know how it is wearing.
Thanks for reading, Catherine.