I am so excited as this week we gave our work kitchen a complete makeover. I am sharing how to paint laminate/MDF kitchen cabinets. This has to be one of the most frequently asked questions on my blog. "How to paint kitchen cabinets?", well, I am going to share some tips with you that will help.
I painted my own kitchen presses roughly three years ago and they are still going strong with no chips. As always, I have put together a fun Youtube video as I find it is nice to see in a video how I achieved the end result. I will also share links and details to the items I used below.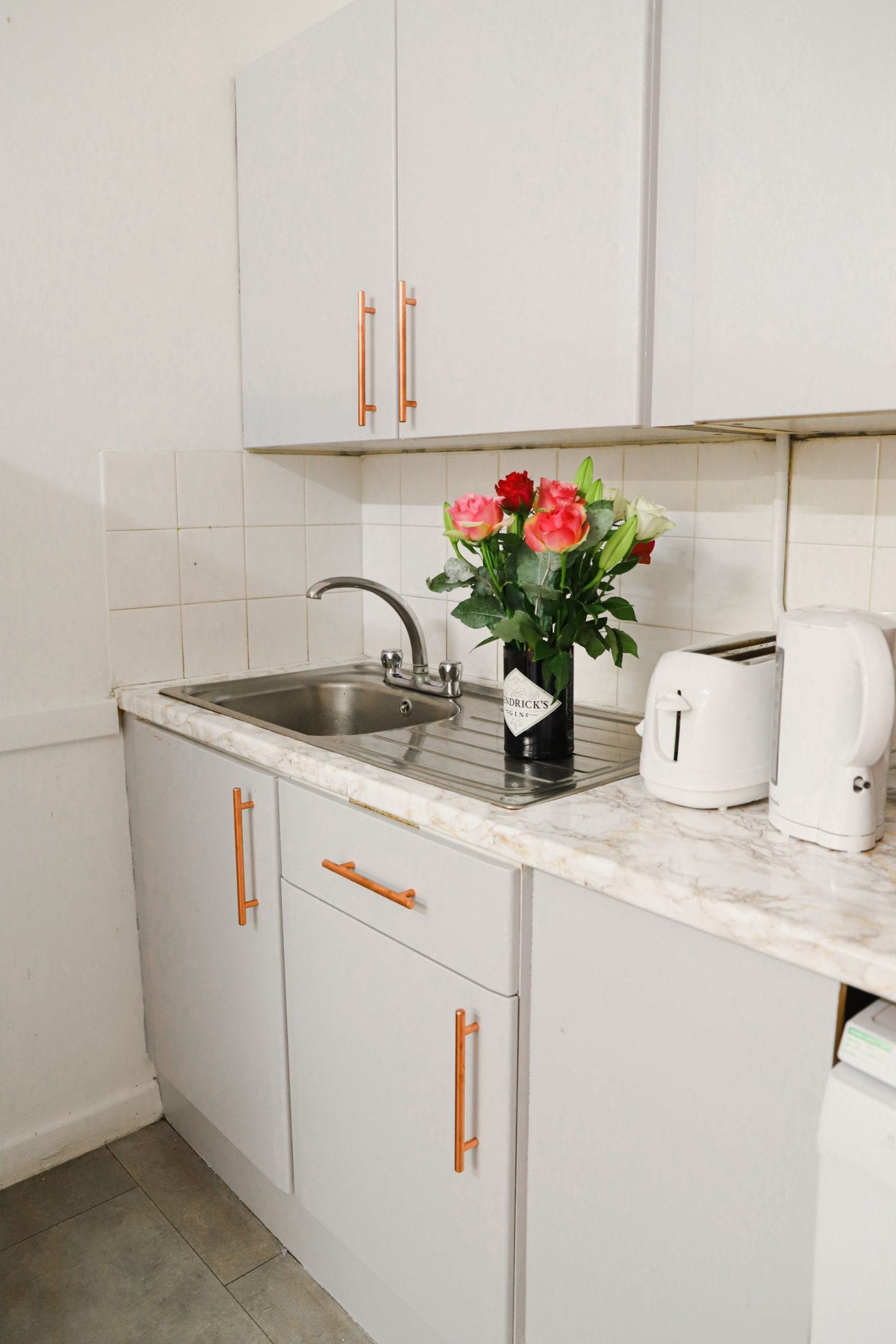 Prep, Prime and Paint
If you are a regular reader of my blog then you will know my three golden P's for painting projects. Prep, Prime and then Paint.
Start prepping your cabinets by using warm soapy water to remove all the built-up grime from your cabinets. You can also use sugar soap or Krud Kutter to remove the build-up of dirt.
Very lightly sand each cabinet door, you do not have to sand it back bare. You just have to scratch or key it so your paint has something to grip onto. I used my electric sander as it is just so much easier but don't worry, you can use a sanding block if you do not have a sander.
Priming Your Laminate Cabinets
Apply one or two coats of primer to your cabinets and follow the drying time for each coat. It is tempting to recoat soon after but always allow for the paint to fully dry.
Once the primer is dry you can apply your topcoat. You can use either an eggshell paint or satinwood paint. Apply two coats. Allow the paint to dry. For this project, I used the Autentico Versante eggshell paint in the shade Gris. I also used the Autentico primer.
You do not need to apply a sealer with eggshell paint. This paint will dry with a sheen and once it cures it is durable.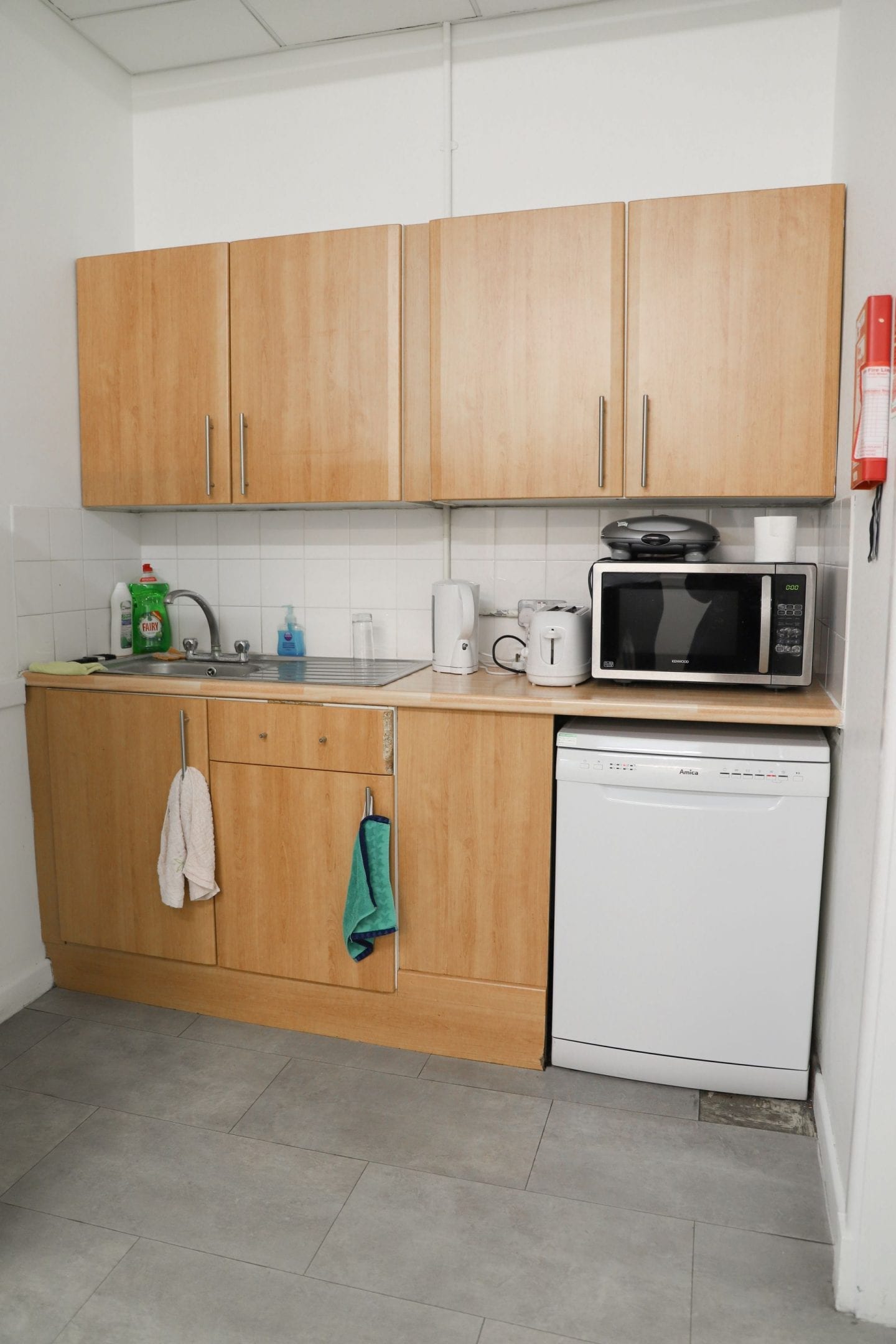 I highly recommend using an eggshell or satinwood paint in areas that get a lot of traffic. We have a large team in work and our kitchen gets used a lot, so, I really wanted to use a paint that is durable and will stand the test of time.
If you want to try the Autentico eggshell paint then use my affiliate discount code on their website. Use the code DAINTY10 for 10% off your order. I used the shade Gris for this project and on my own kitchen, I used the shade "Frozen Fountain".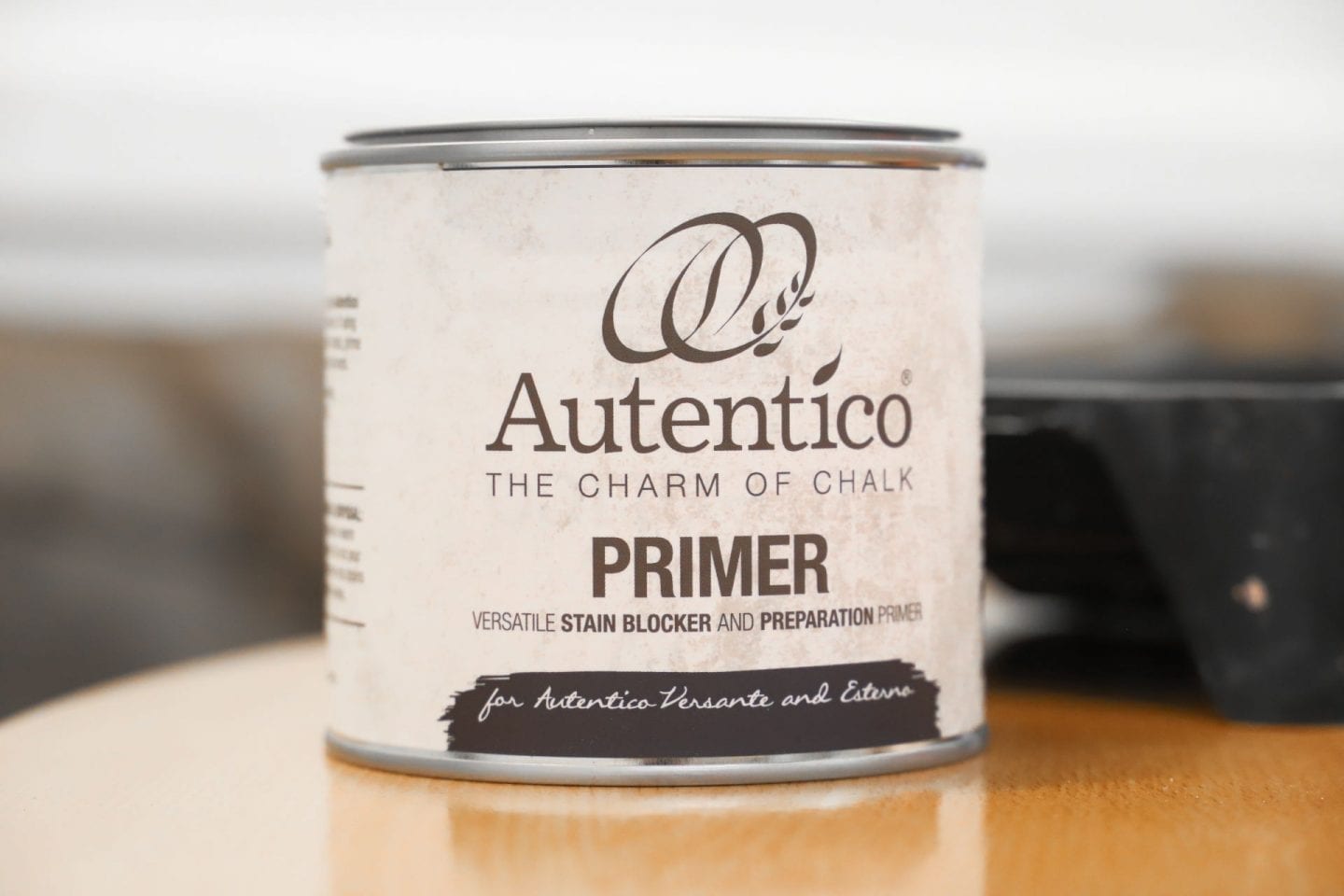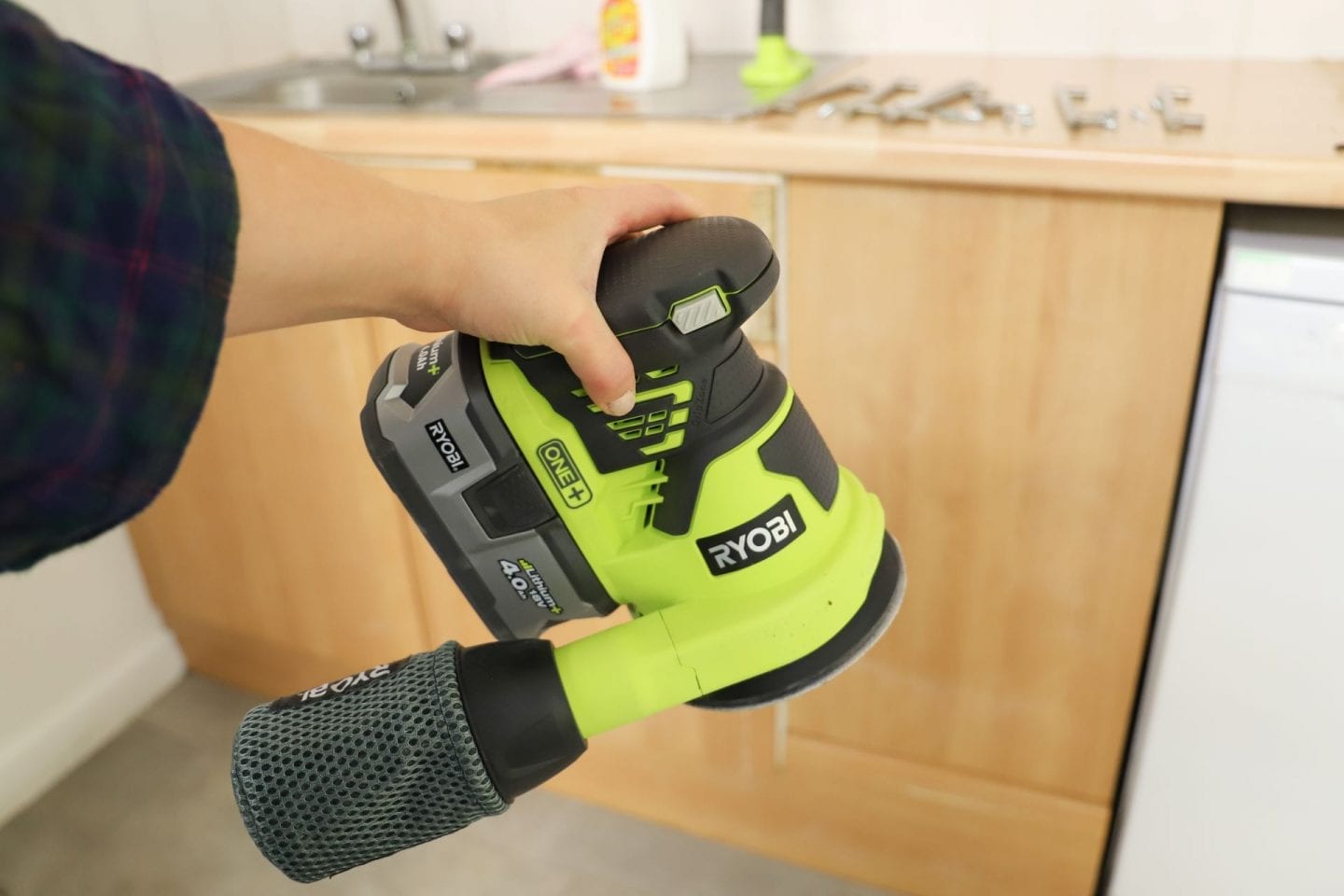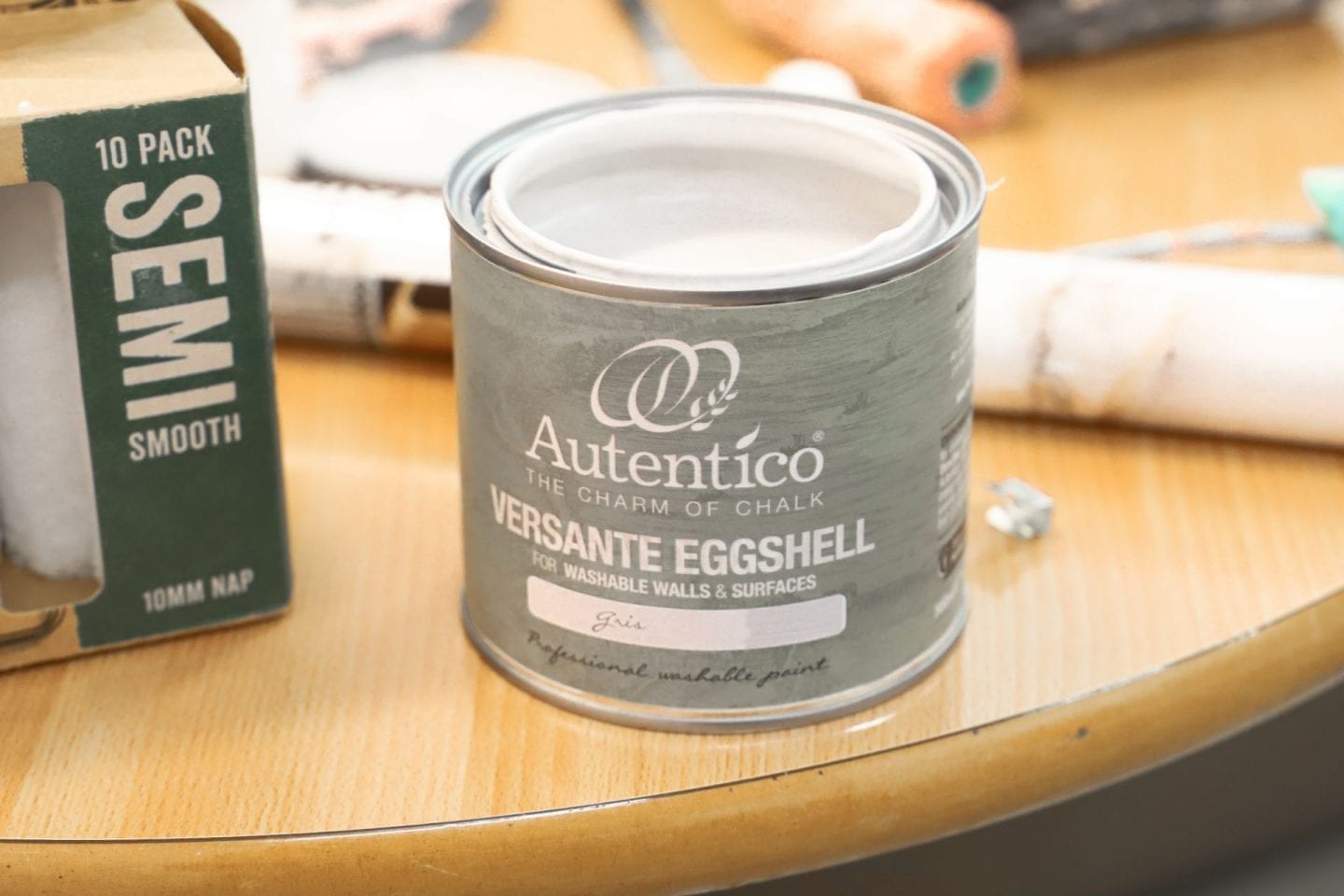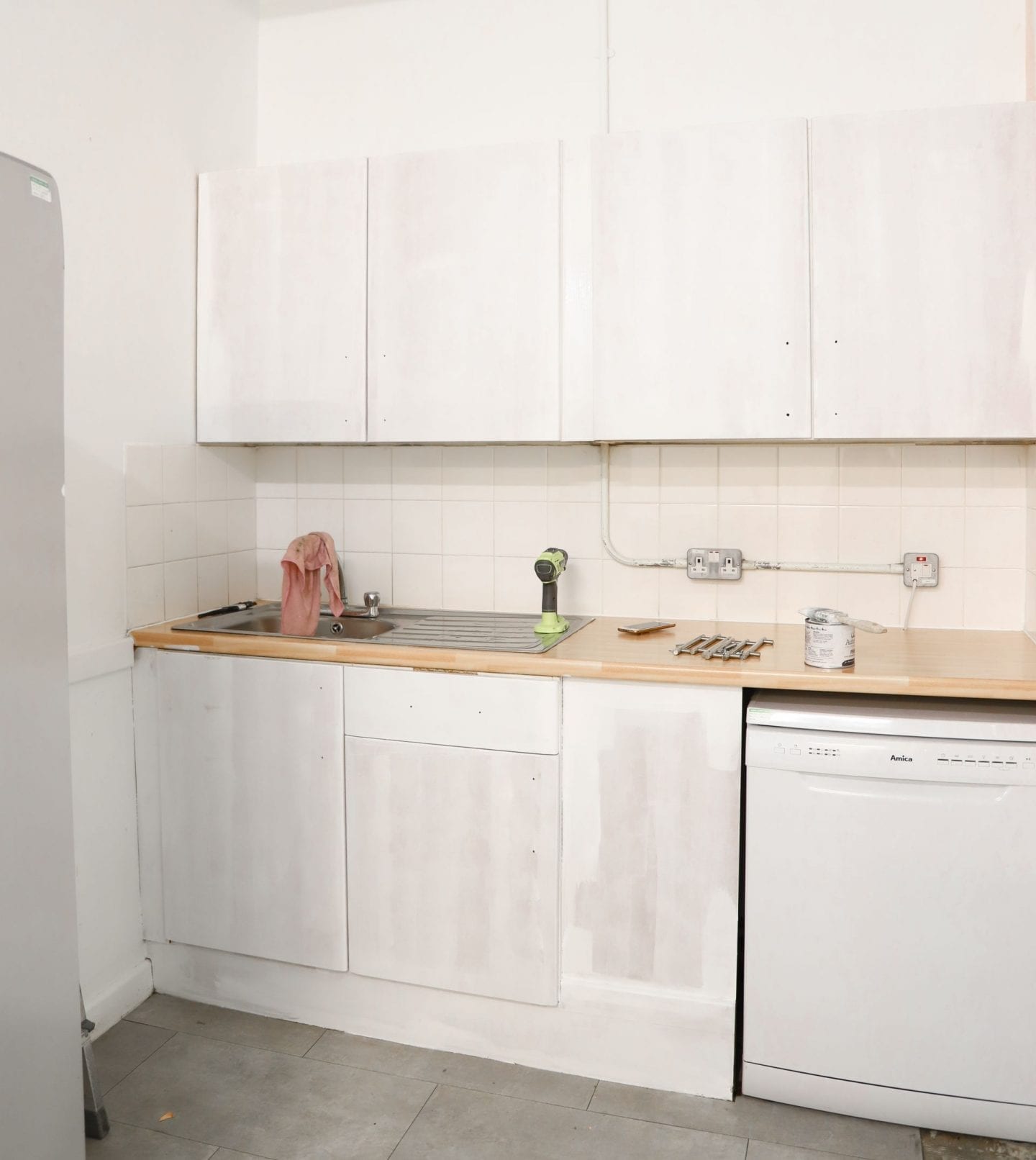 The Marble Contact Paper
I knew when I painted the cabinets the countertop wouldn't match, so, I decided to use some contact paper on the counter to transform it. This is really simple to apply but I would recommend getting a helper if you are doing a larger surface.
I bought the contact paper in Woodies but I have found the same paper on Amazon.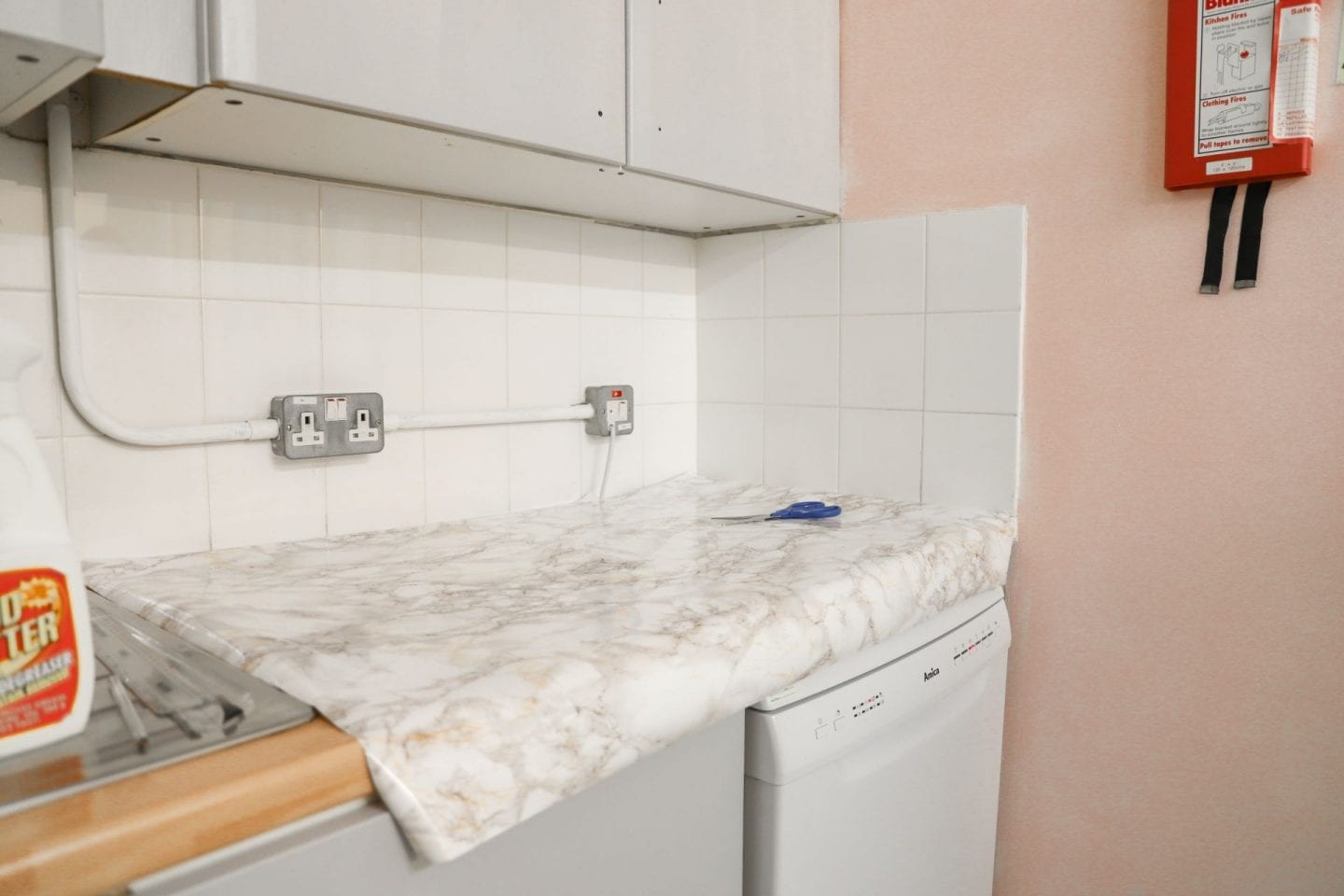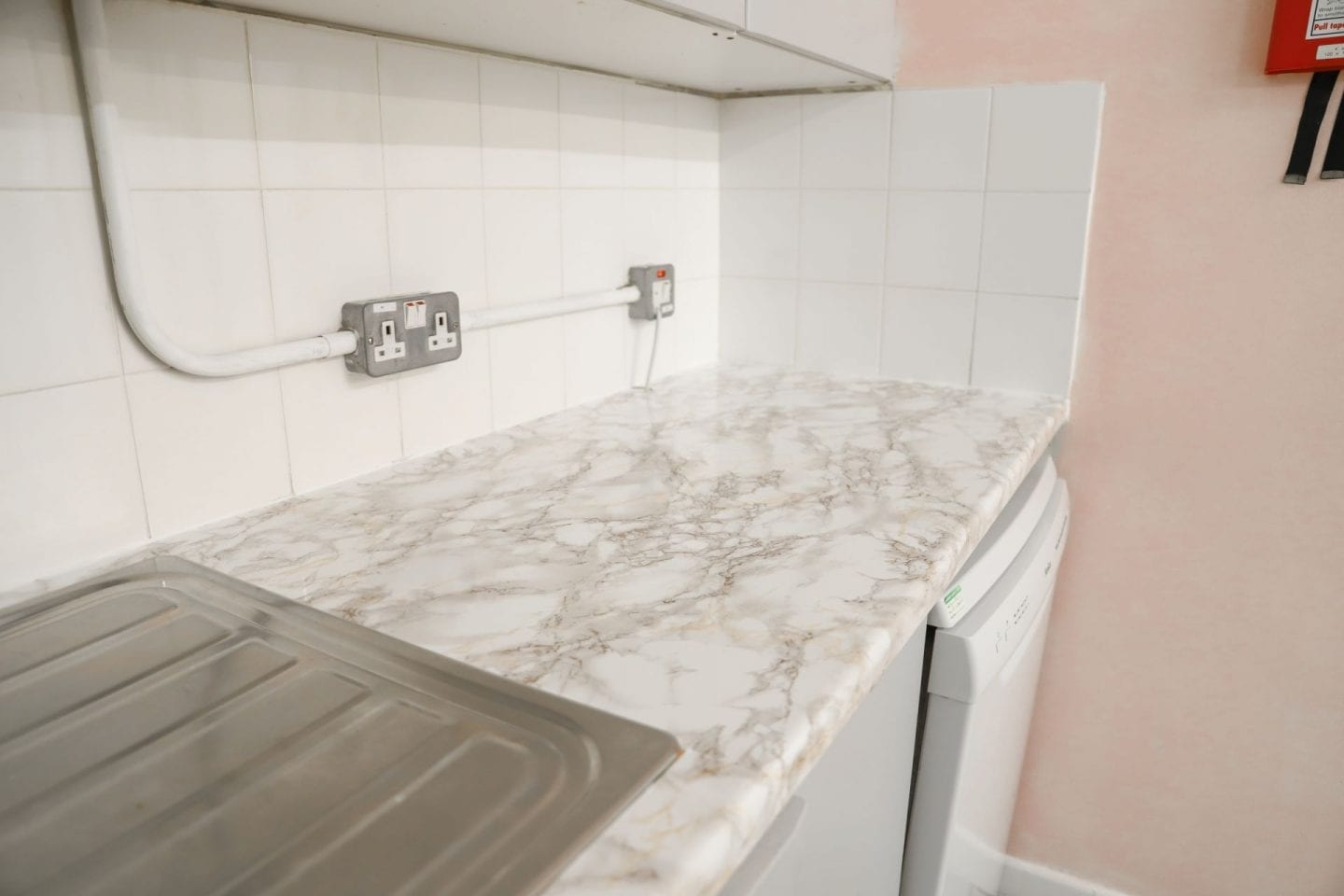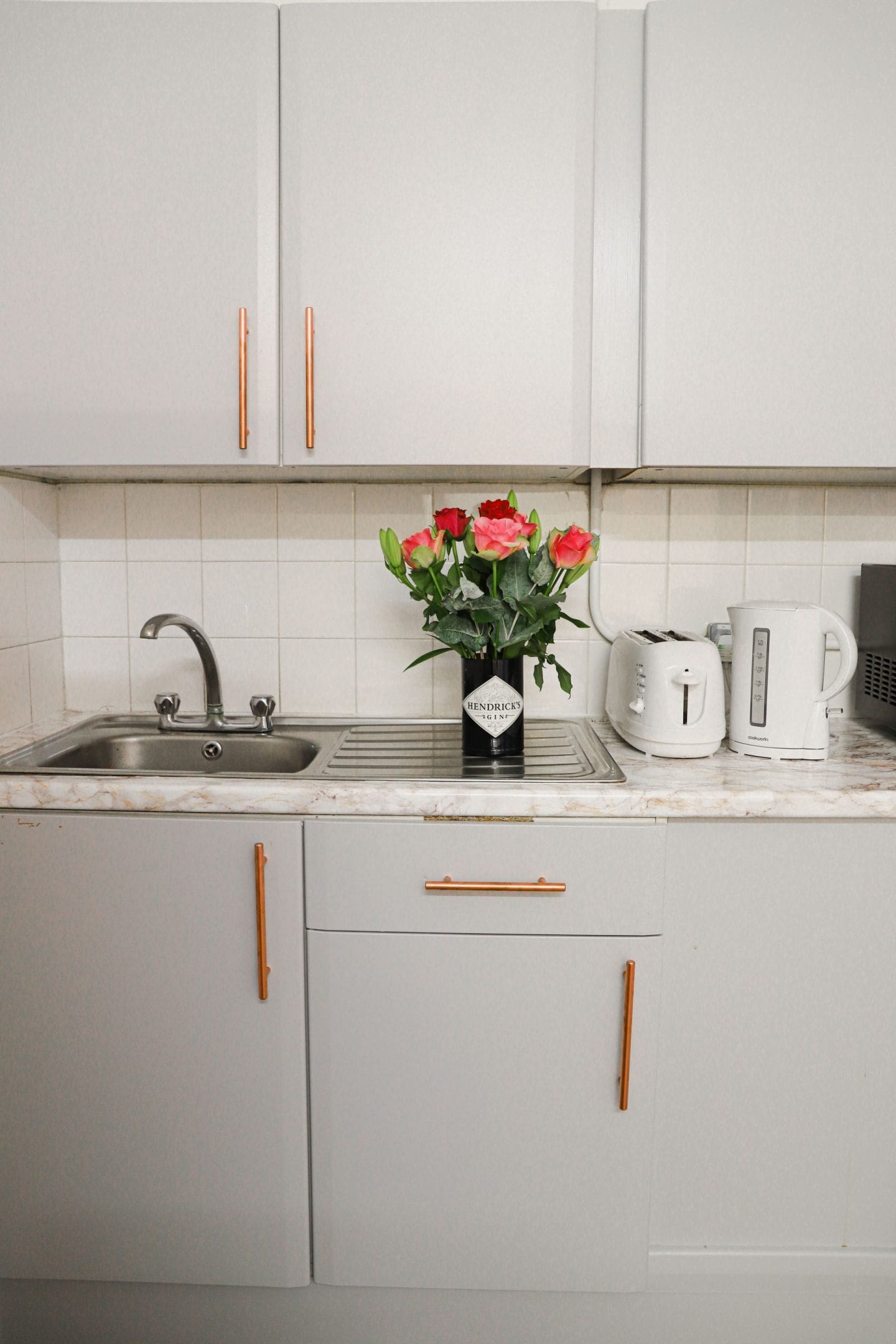 I did order some peel and stick tiles for the kitchen, however, I initially didn't order enough of them and when I ordered the second batch they were the wrong shade. The peel and stick tiles I ordered were actually good quality but I found them fiddly to apply.
They are a good idea for a small space but I would actually prefer to learn to tile and re-tile an area than use them. I will link to them below as I do think they are a good idea but do bear in mind that I would only use these for a small space as I think it would be better to retile a large area.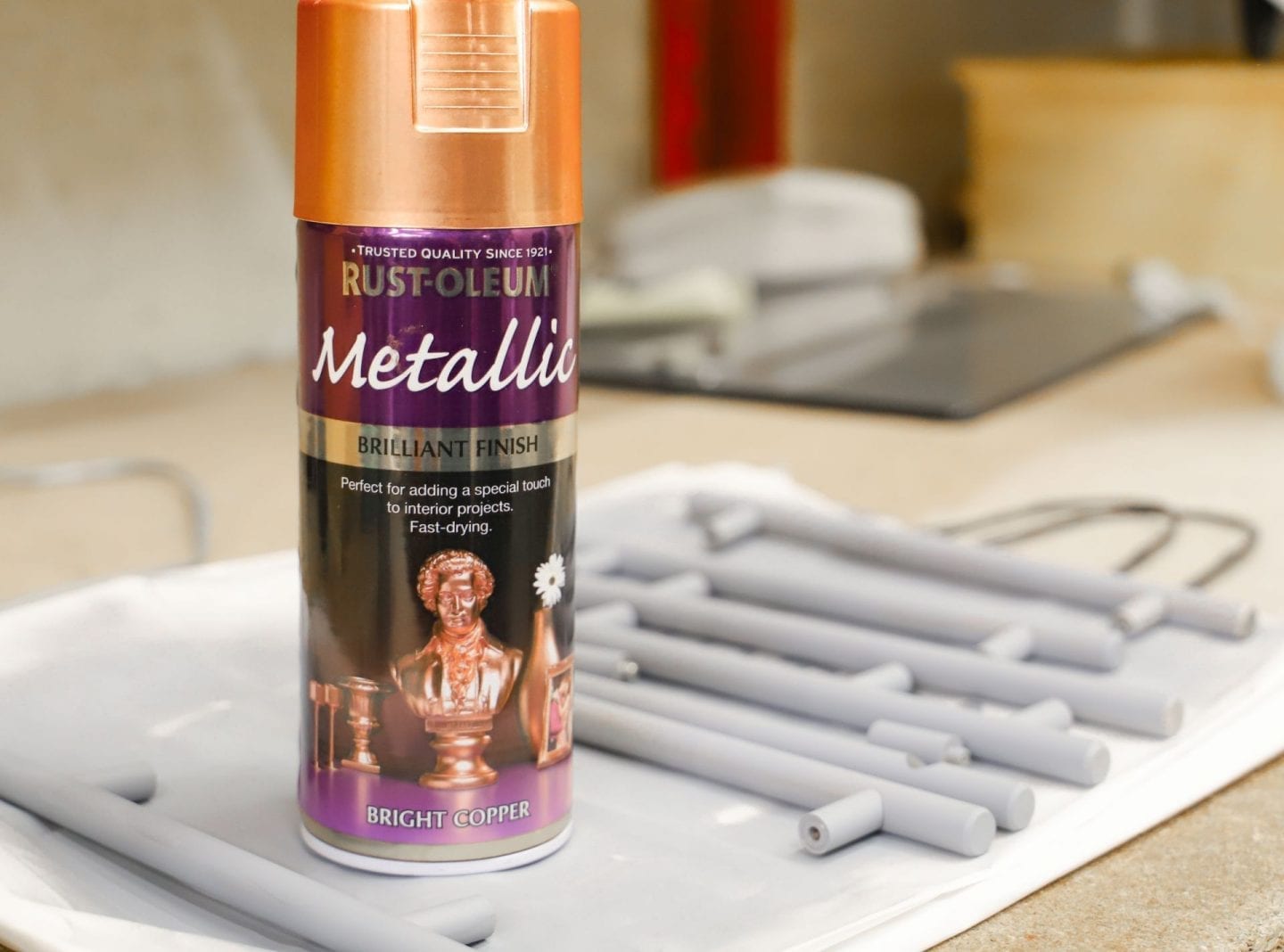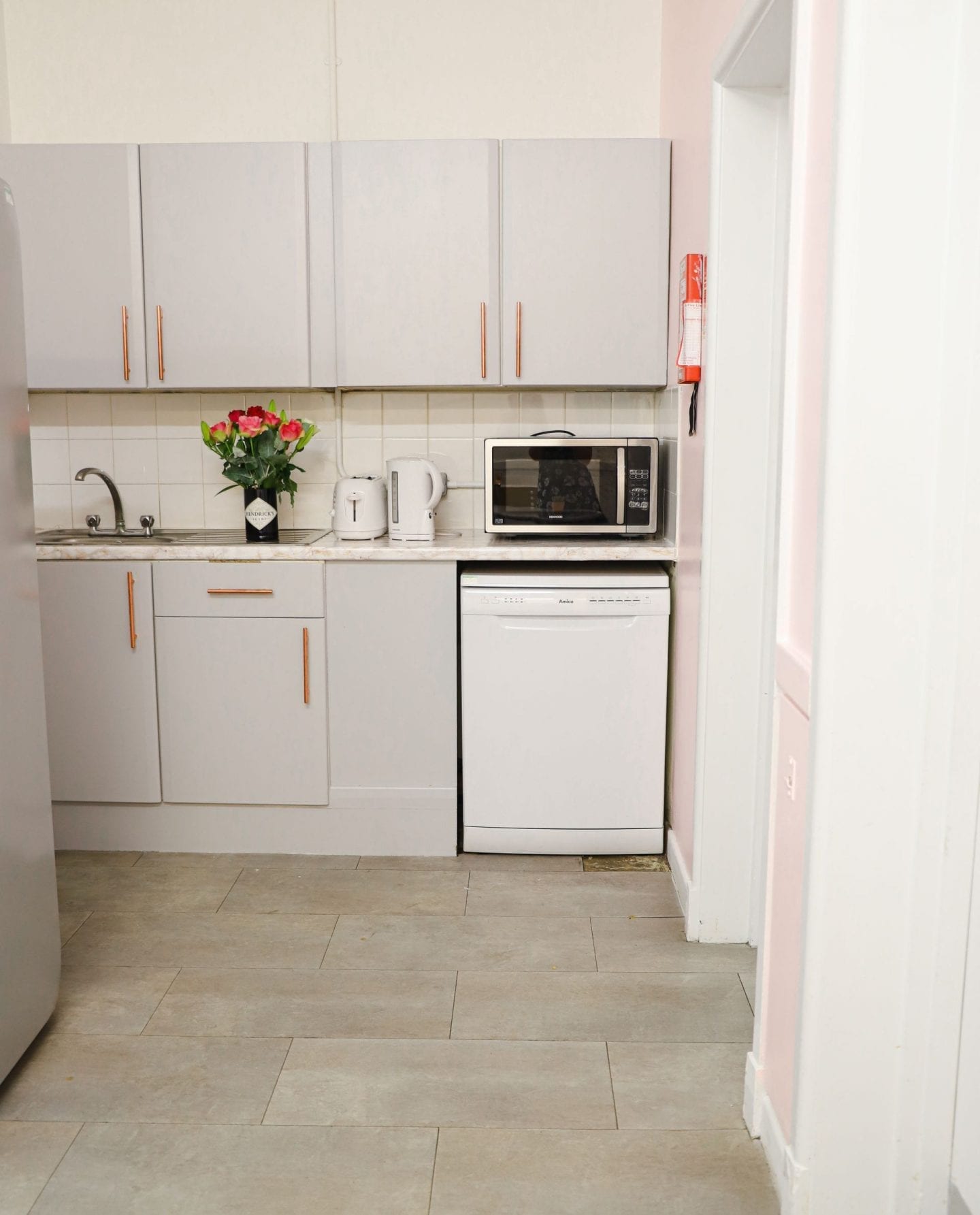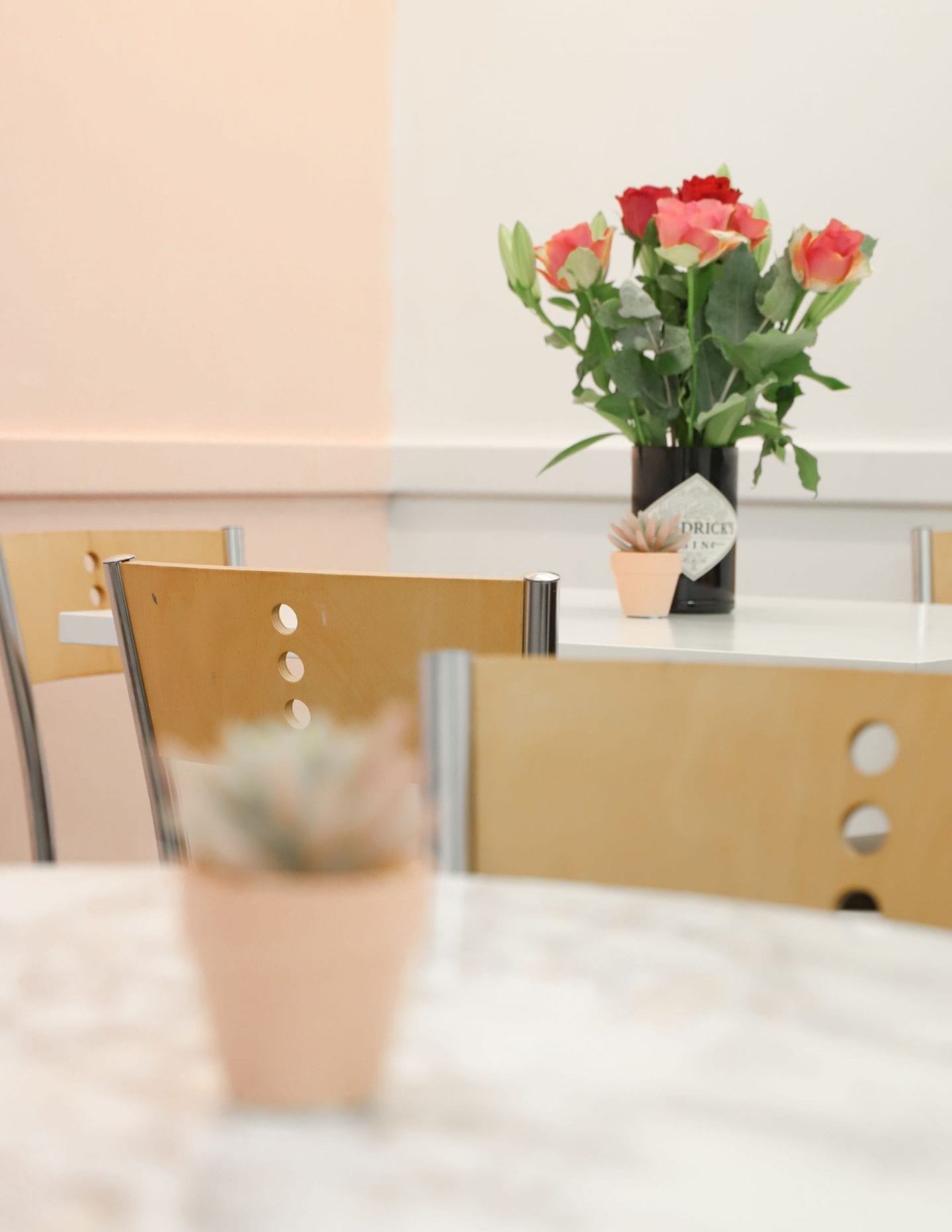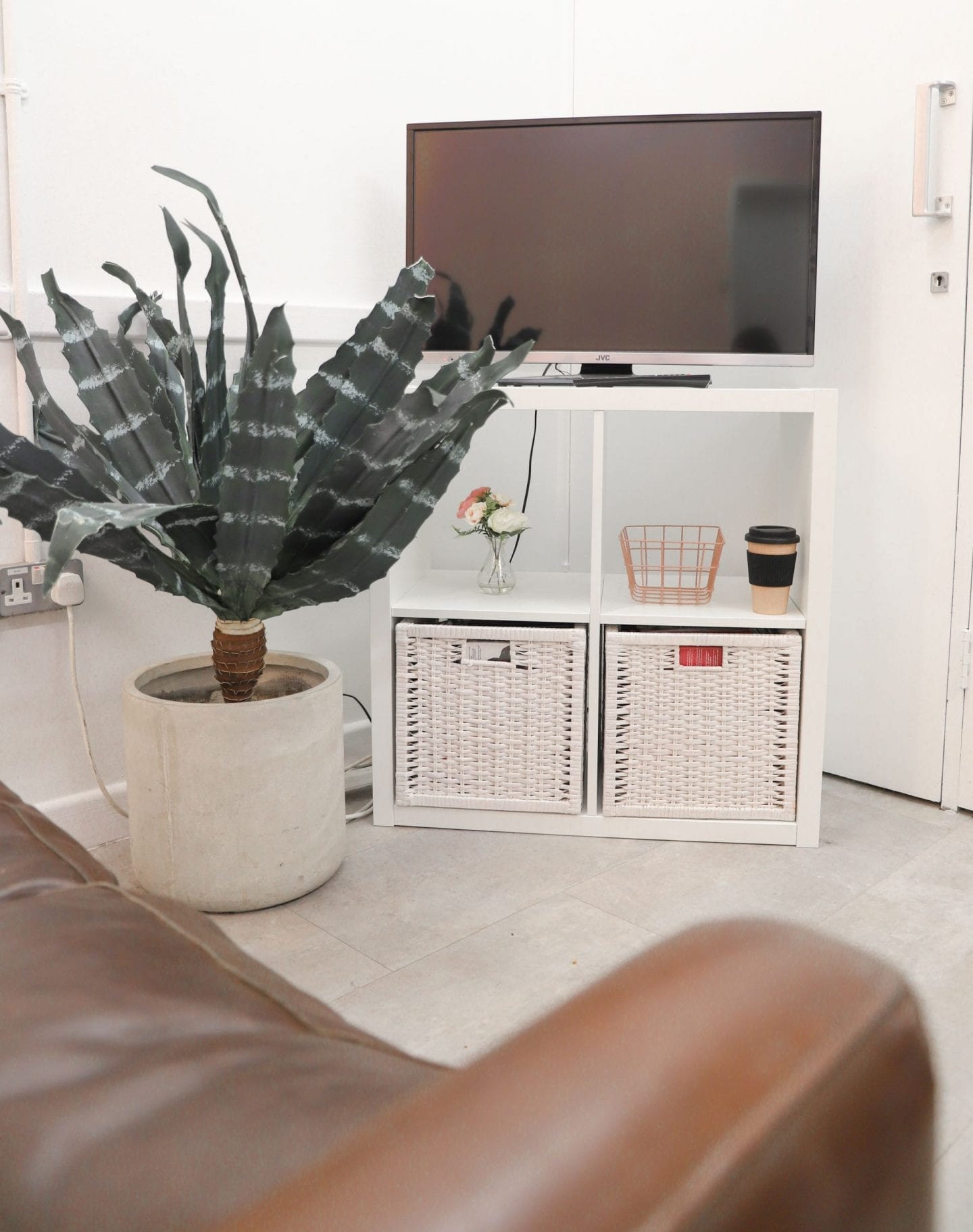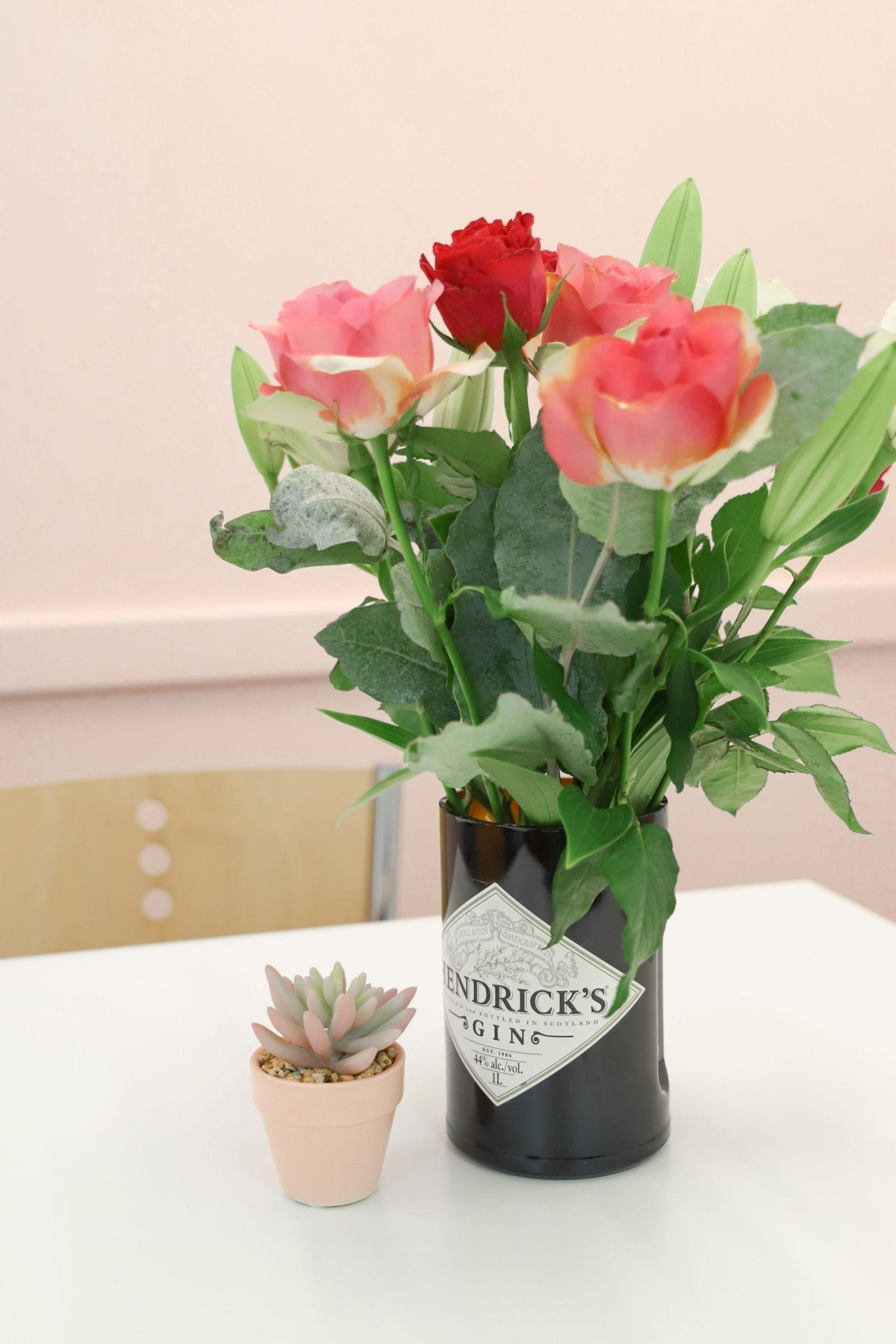 I hope you got some value from this week's post. Tackling your kitchen cabinets can be scary but it can make such a huge difference to your kitchen. It is also so much cheaper to do yourself compared to getting a whole new kitchen. Do leave any questions in the comments below and I can get back to you.
Let me know if you have painted your kitchen! If you want more painting tips then check out this post here for more details. Don't forget to check out my Youtube video below and subscribe to my channel if you found it helpful. Thanks so much for reading, Chat soon, Catherine.
Please share to your Pinterest boards