Winter in Ireland is long, and we Irish love to escape to get some Winter Sun. This week, I got my fill of vitamin D and headed to the Spanish island of Tenerife. In this post, I will share my trip highlights. I visited the Mount Teide volcano, a jeep safari on the island of La Gomera and saw some cute villages like Masca and Vilaflor.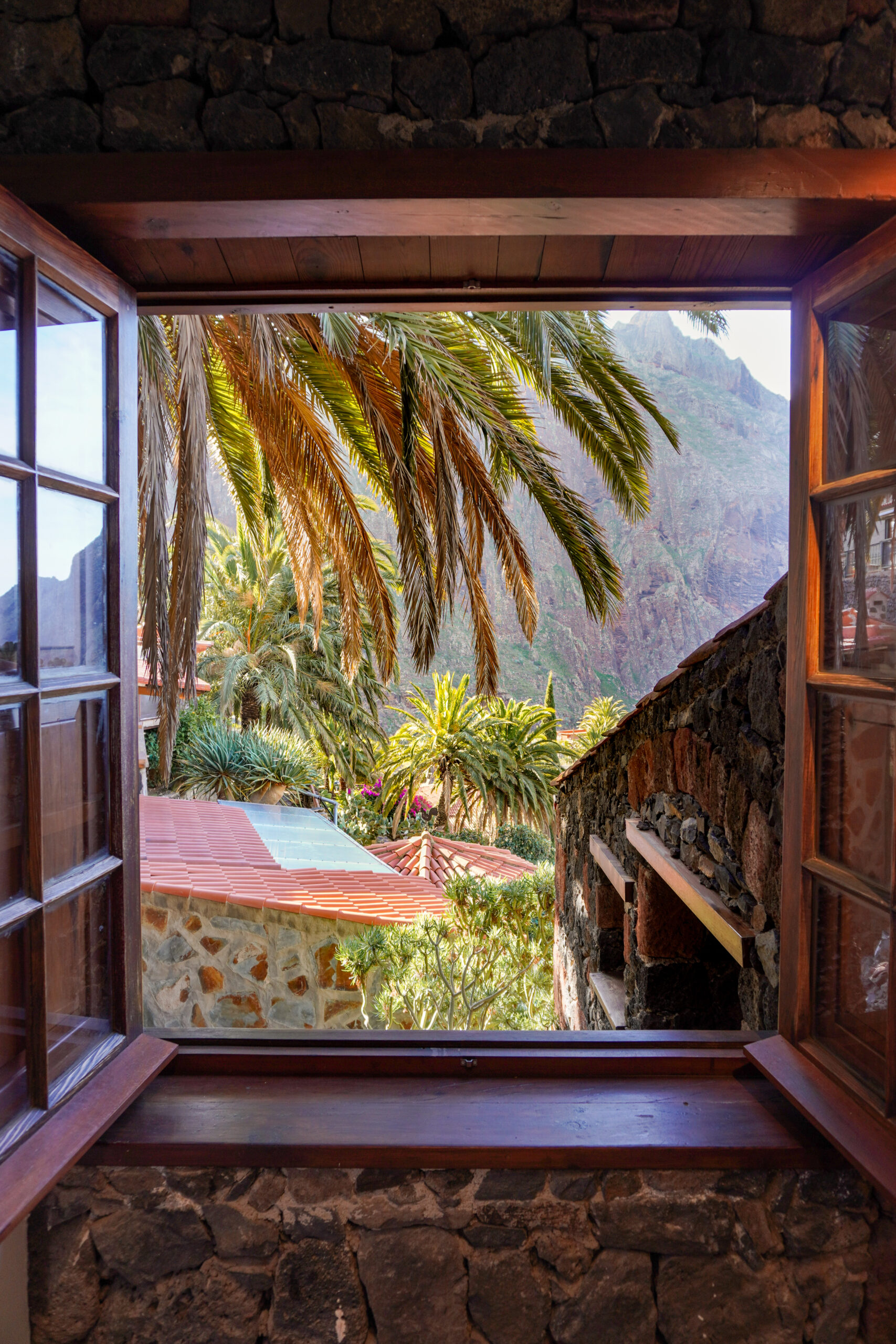 What is the weather like in Tenerife in January?
Tenerife is known as "the island of eternal spring", and during the seven nights I stayed, I experienced pleasant weather. However, I did have some afternoons where it rained, but thankfully, the rain was not as gloomy as Irish rain, and showers soon returned to blue skies. Temperatures were around 19 to 22 degrees whilst I was there.
When flying into the island of Tenerife, I noticed snow on top of Mount Teide. On my day tour to Mount Teide, the temperature had dropped to 3 degrees, although it felt warmer because it was sunny.
My advice is to pack a jacket for the cooler evenings and something heavier if you plan to hike in the national parks.
Where I stayed, the Bahia Principe Fantasia Hotel Tenerife
The most popular areas for travellers to stay in are Las Americas, Costa Adeje and Los Cristianos. I stayed in the Golf del Sur area in the Bahia Principe Fantasia hotel and resort.
I chose this area because it was close to the airport and buses, and it was in a quiet spot. As I was solo travelling, I wasn't looking for nightlife, and it was more of a rest I was after. I wanted somewhere quiet but also a perfect base to go rambling.
If I was to stay again, I think I would stay in Los Cristianos. I drove through here to get the ferry to la Gomera, and it seemed like a nice area. When I was flying home, the lady on the plane had stayed in this area and said it was full of locals, had a fun nightlife but wasn't as busy as Las Americas.
Visiting Mount Teide
If you love hiking, then you will have fun rambling through the trails in Mount Teide national park. As I am not confident driving on the opposite side of the road, I settled for a bus tour.
Renting a car is the best way to get around the island. However, there are loads of bus routes and day trips if you are like me and not a confident driver.
I chose to do a day tour that brought me to some villages as well as Mount Teide park. You will find loads of different tour packages online, and I booked my trip through my hotel. Viatour and Tamaran are popular sites to book day trips and experiences.
We had to wear face masks for the duration of our day tour, and the group was a small one. I was collected from my hotel at 8 am and arrived back at 4 pm, so it's a long day of rambling but so worth it as you get to see so much.
Also, some roads are very narrow, bendy and not for the faint-hearted. So, just beware if you are afraid of heights.
The village of Masca
Masca is a stunning small mountain village, and it was the first stop on my day trip. The roads leading up to this area are very high, narrow and windy, but our bus driver handled them tight corners like a boss.
As it was a quiet time of year, there wasn't as much traffic on the way to Masca, but our driver did say that during peak season, there can be traffic delays along the narrow roads to Masca.
I got to spend half an hour in this gorgeous village. The village of Masca is small, and the pathway through the small town is cobbled and steep. However, it is well worth the walk.
The village has a small visitors centre and some restaurants. I grabbed a coffee and took a few snaps before heading to the next location.
You can hike the famous Masca canyon, but public transport to this area is infrequent, so I recommend getting a car or taking a guided hike around the village of Masca.
Mount Teide national park
After a quick pee stop, we were on our way to Mount Teide national park. This mountain area is vast, and I can see how it's easy to get lost. Teide covers an area of 47,000 acres, and Unesco named it a world heritage site.
Mount Teide volcano is the highest point in Spain, and its summit measures 3,715 m. The volcano is still active, and its last eruption was in 1909.
I got to spend an hour up at Mount Teide, and there is a cable car that will bring you up and back. However, because of the windy weather, it wasn't working when I visited.
While there are loads of hiking trails in Mount Teide park, if you want to get to the summit, you will need to obtain a permit to climb to the Mount Teide peak on your own.
The Winter months are a popular time for people to hike, as the temperatures are not as hot as Summer. In Summer, some trails can be closed because of the heat and dry weather and the risk of forest fires.
Vilaflor
Vilaflor is the cutest town and the highest village on the island. On the drive to Vilaflor, we passed pine forests and the infamous Pino Gordo pine tree, one of the oldest pine trees in the world.
I got to ramble around Vilaflor and visited the two churches. The streets are quaint and full of flowers, and a herb garden sits in front of the main church.
Most people overlook this village on the way to visiting Teide, but it is worth stopping in and having a coffee. You will find restaurants and some hotels, which are popular with walkers and cyclists.
Visting La Gomera island from Tenerife on a jeep safari
When you fly into Tenerife, you might notice a small island beside it, and this is the volcanic island of La Gomera. A nature lovers paradise!
The island of La Gomera is the second smallest island in the Canaries. La Gomera does have a small airport. However, there are no direct flights from Dublin, but it is easily accessed by ferry. The ferry from Los Cristianos to San Sebastian de la Gomera takes approx 40 minutes.
Feeling adventurous, I decided to do the jeep safari tour of La Gomera island with Tamaran.
I was picked up around 7:45 from my hotel in a land rover jeep and brought to a pickup point. Each jeep held 6-7 people, and there were 7 people in my jeep. Spain was in level 4 Covid restrictions when I visited, so face masks had to be worn at all times.
We boarded the ferry around 10 am and headed to La Gomera. If you suffer from travel sickness, then beware that the roads are up and down, narrow, and the jeeps go fast at times. It can be a bumpy ride!
Our first stop was at an aloe vera plantation, where we got a demo on how to cut and extract the aloe from the plant. It was so interesting to see the aloe plants growing outside, as in Ireland, they are indoor plants.
We then drove up the mountains stopping at various beauty spots to take pictures.
Silbo Gomero, the whistle language
We had lunch in our groups in a local restaurant. At lunch, locals gave us a demonstration of Silbo Gomero, the whistle language of La Gomera.
The aboriginal population used whistle language to share messages across the deep valleys. Because a whistle can be heard from longer distances, it was way more effective than shouting. When La Gomera was colonized by Spanish settlers, the whistle language was adapted to Spanish, and it has survived until today. Silbo Gomero is now taught at every school on the island to ensure that future generations still remember it and use it.
Check out my YouTube video, where you can check out a demo of the whistle language and see more of the island of La Gomera.
After rambling up the mountains of la Gomera, we had an hour in the colourful streets of San Sebastian de la Gomera. Here you will find lots of restaurants, a church and colourful houses. There are also beautiful beaches next to the harbour.
While the jeep safari was a long day, it was one of my favourite excursions I have ever done.
Is Tenerife safe for solo travelling?
Absolutely yes. I am an experienced solo rambler and, I found the people of Tenerife to be so friendly. As always, exercise caution in public places and be aware of pickpockets.
I made friends with fellow travellers on my day trips, and there are lots of different group tours and activities to do.
If you want more travel inspo, check out my other adventures. If you are planning a trip this year, I hope you get some inspiration. Let me know in the comments below where you plan to visit.
Thanks for reading, Chat soon, Catherine.