This week I tackled the dining area and gave it an update. I also painted my chippy chairs. You may have seen I sanded back my kitchen table last month, you can catch that post here. I originally bought this set of table and chairs from a second-hand site for €50, an absolute bargain! I had painted my chairs and table a few years ago, however, the paint I used did not last and chipped over time. The paint also went a yellow tone, so, I decided to give these an update to freshen up the dining space. I spend a lot of time at my kitchen table, it really is the heart of my home. I would be embarrassed at how wrecked my table would be when people would come over for tea. Instead of chucking out my old table set I decided to strip them back and start again.
Tips for painting over the chippy chairs
There are many reasons for paint chipping, from a poor prep to gone off paint, the list is endless. I originally painted my chairs in Dulux satinwood, within a few weeks of painting I noticed the paint was chipping easily. Here are some tips for prepping chipped chairs.
I prepped the chairs by scrubbing off any dirt and grime with some Krud Kutter.
I then scraped off any flakey paint and sanded these areas smooth.
I applied one coat of Colortrend prime 2 to my chairs. I used a roller to apply the primer.
I then applied my topcoat. I applied two coats of Tumbled Marble in an eggshell finish.
I found using a roller was the quickest way to paint my chairs and I used a small brush to get to any hard to reach areas.
You can also strip your chairs back if you want to. I find the best way to strip is to use a heat gun, scraper and sander. I find chemical based strippers to be really stinky. There are some eco-friendly strippers on the market but I haven't tried many. I used one on one of the chairs, I found it really hard to get the residue off. decided to clean the chair and white wax it. So, I have one "feature chair". A happy accident lol.

Cure Time
One of the things people overlook when painting furniture is the cure time. So, drying time is different to cure time. Your piece will be dry in roughly 4-6 hrs however it takes time for a piece to cure. It can take up to 30 days for latex paint to cure. What I suggest is protecting your newly painted piece for the first month. I noticed that the chairs were prone to chipping in the areas that moved the most. So, just where the back pieces of wood met the seat part of the chair. You can cover them with a sheet for 2-3 weeks or just be extra gentle with them.
The printed dining plates are Paul Costello from Dunnes Stores, the pink larger plate is from Dealz and the pom-pom placemats are from Next. All of the other decor items are older and I shopped from my house and rummaged through my decor press for items to style my table.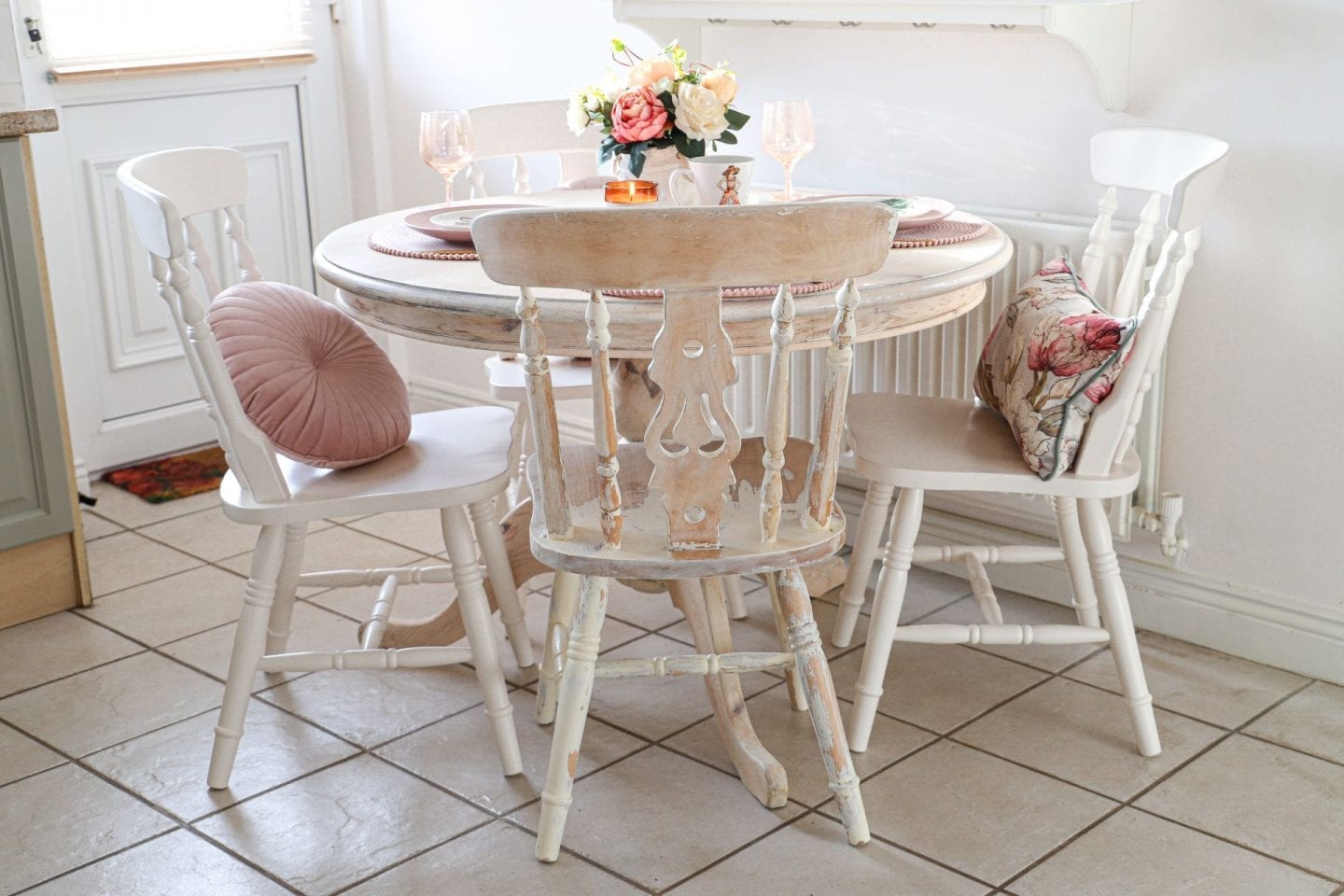 I have popped up a YouTube video sharing my new dining area. I hope it gives you some inspiration to recycle something you already have and breath new life into it. You can catch the video here, and I will pop it down below. Please hit the subscribe button and give it a thumbs up if you enjoy it. You can also use the hashtag #doingadainty if you share any of your projects on social media so I can keep up to date with what you guys are creating.
Thanks so much for reading,
Chat soon,
Catherine.