This week I headed to Amsterdam for a solo adventure and in today's post, I will share everything from where I stayed and visited and share all the pictures from my solo Amsterdam adventure. If you are thinking of heading to Amsterdam solo I would highly recommend it. The city itself has loads to explore and it is a perfect base to explore the surrounding countryside. I was in Amsterdam for three days, there are lots of things to see and I wasn't able to squeeze it all in but I did manage to do loads while I was there. My main reason for being in Amsterdam was to see the tulip fields and visit the Keukenhof flower show. I have been waiting all year for the spring bulbs to be in bloom so I could fly over and see them. It was definitely worth the wait! One of my days I spent exploring the countryside and my other days I explored the city of Amsterdam. I will share all the details and links to any tours etc below.
Getting There & Where I Stayed
I flew from Dublin to Amsterdam Schipol airport with Aerlingus. When I added up the price for my bag etc it worked out cheaper to fly Aerlingus compared to my usual Ryanair. It is a short flight and only takes roughly 1hr 30 mins to get over from Dublin. When I arrived at the airport I took the train to Amsterdam central train station. The train was €5.50 one way and it leaves you in the centre of Amsterdam. I then walked to my hotel as it was only a 5-minute stroll from the train station. There is also the metro and buses in Amsterdam if you need to catch one of them to your hostel, hotel or Air BnB.
The hotel I stayed in was The Hendrick's hotel. I left it until last minute to search for a hotel or Air BnB but I got lucky as The Hendricks's hotel had one room left and it was a fancy room too! I did search on Air BnB but I left it too late to research which places were safe etc so I went with a hotel for this stay. As I went at a peak time with lots of people visiting for the flowers I did pay more than usual. So, just bear this in mind when booking. Also, Amsterdam is similar if not dearer to Dublin for prices. It is an expensive city to stay in but you can hunt out some bargains. Late March until Mid May is a peak time for people visiting to see the flowers. My hotel was situated within walking distance of the Amsterdam central train station and it was only a five-minute walk from the train station. It was a really nice quiet area within walking distance to most places. When I visit a city, I like to stay in a quieter area and away from the hustle and bustle. I would recommend this hotel for its location if you are like me and like to walk most places instead of using public transport. Some of the rooms in the hotel face the canal and some face the rear of the hotel. If you saw my Insta Stories or Youtube video you would have seen my amazing view, not all rooms come with that view so just double check you have a canal view when booking.
Where I explored
As I was mainly in Amsterdam to explore the Keukenhof festival I will start with my trip to the Dutch countryside and then I will share the places I visited in the city. I think my favourite day of my trip has to be the day I explored the villages in the Dutch countryside. I booked my trip through Viator and here is the link to the exact tour I purchased. I was out for the whole day with this tour, I started at 8:30 am and got back to Amsterdam around 8 pm. I squeezed in so much in one day with this tour. If there is a large group of you then you could rent a car and it would be much cheaper. If you are like me and solo travelling or a couple then this could be of good value for you. We left Amsterdam and headed to the village of Zaanse Schans, this was roughly a twenty-minute drive from Amsterdam. Once we arrived we had over an hour to explore the quaint village of Zannse Schans. I got to explore inside an actual windmill before rambling around the village before heading back to the bus for our next destination. The village itself is small but it has so much to offer. There are the cutest little shops and mini-museums with lots to see. I was blessed with gorgeous weather on the day but if you are visiting around April then bear in mind that the weather is still cool in temperature. The Dutch climate is similar to Irelands so don't expect it to be warm in April and May and make sure to wrap up. I recommend you visit this village as early as possible as during peak times it gets extremely busy. We arrived at 10 am and hardly anyone was there.
Volendam
Hands down, this is my favourite fishing village ever. This was like something from a movie! When we visited Volendam we went to a cheese factory. They gave us a demonstration of how they made their different kinds of cheeses and then we got to taste them. This village has the most adorable houses and shops which you will see from the pictures below. It was also lovely and quiet and the perfect spot to stop and have lunch. I had my lunch in Volendam and as it was a fishing village I opted to try their cod. It was delicious! I highly recommend getting the cod and chips, it was so fresh! In Volendam, we got the ferry and crossed over into the island of Marken. Marken used to be an island before they built a dyke in 1957 connecting it to the mainland. In the small town of Marken, we visited a clog making factory where we got a demonstration on how to make clogs. I loved this! I would have loved to spend more time in the small town of Marken. It was more residential than the other towns. The houses were adorable! I would have loved to explore more of this mini town.
Keukenhof Garden's
Each Spring the Keukenhof gardens come alive with stunning Spring bulbs. Apparently, over 7 million flower bulbs are planted each year for the gardens. Keukenhof is also known as the garden of Europe. I spent the afternoon rambling around the gardens and I could have stayed there for longer. The gardens are only open for 8 weeks each year so if you want to go and see them this year then you will have to be quick as they will close on the 19th of May 2019. It was last year that I learned about the Keukenhof's gardens and I have been waiting all year to go and see them. If you are a garden lover then you will love this garden show. This year the theme was "Flower Power" and there were some amazing displays inside the exhibition halls. Lots of inspiration if you are a fellow creative and looking for ideas. If you are visiting the gardens my best advice is to head straight to the windmill when you arrive and go to the top to get the stunning view of the surrounding flower fields. The windmill is to the right of the park and I would start there and then explore the rest of the gardens. There is also a large indoor exhibition hall with the most stunning tulips you'll ever see, so many different varieties and colours! It really is a treat for the senses. Visiting the Keukenhof garden's was part of my day trip but if you want to save money then head back to Amsterdam Schipol airport by train and get the special Keukenhof bus which works out cheaper.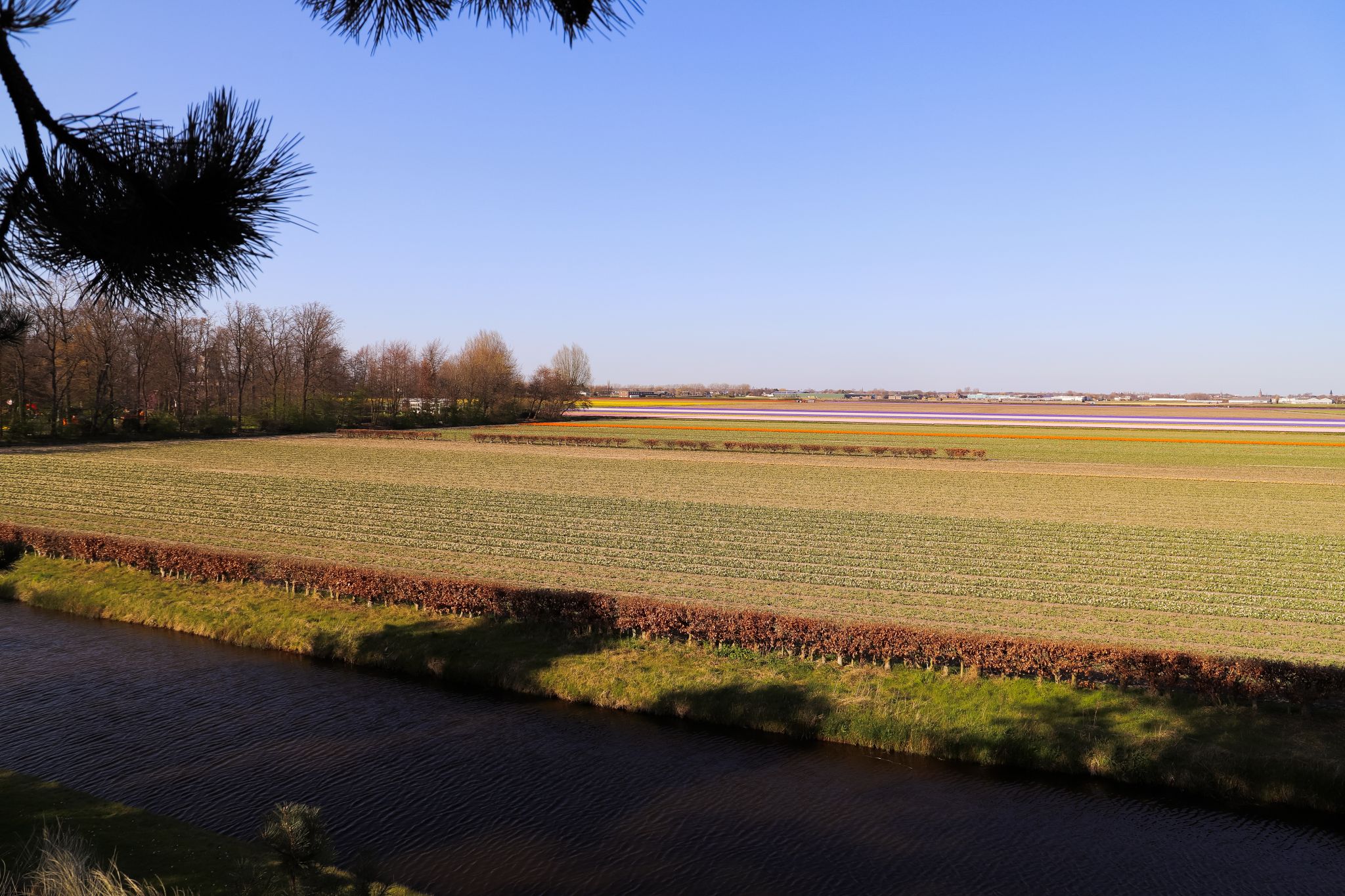 The flower fields
So, you've seen the girls on Instagram posing in flower fields and you want to take the same picture. You cannot access a flower field from the Keukenhof gardens, however, you can rent a bike and you can cycle through the Dutch countryside and cycle pass the gorgeous Spring fields. If you do access a flower field just be mindful that you are on private property and to ask the farmer for permission to access the field and take a picture. The Dutch people are really friendly but always be respectful and ask for permission. Also, it goes without saying but please don't trample on or steal any of the flowers from a farmers field. Unfortunately, this does happen so please be mindful when taking pictures. Also, don't forget to stop and take in the smells and beauty of the Dutch countryside, don't just do it for the 'Gram.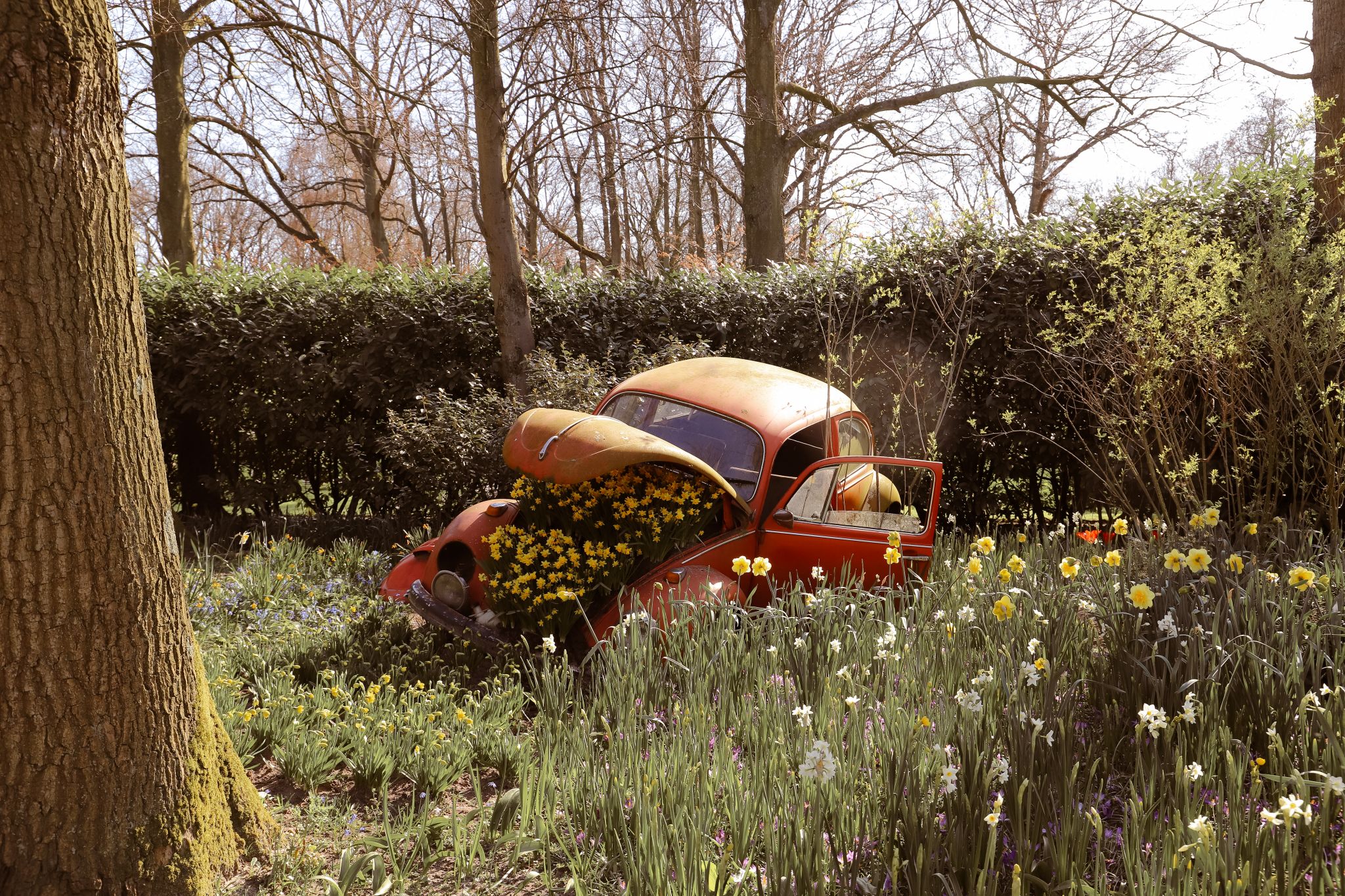 Amsterdam
There is so much to see and do in Amsterdam city. I was there for three days so I couldn't squeeze it all in but I did manage to see visit some pretty cool places. The first thing I did when I got there was to just wander. The streets are stunning, old cobbled streets that run alongside canals, canal boats, bikes and pretty buildings, it was a treat to walk around the city. My favourite area was Jordaan, this area was older and more picturesque. It also had loads of art shops, museums and quirky coffee shops and spots for lunch. You can also walk through Jordaan into the museum area of the city. If you keep walking you will find the Van Gogh museum, Rijksmuseum and many more. A perfect area to explore if it starts raining as you can spend the whole day exploring the museums and stay dry.
If you want to visit the Anne Frank house and museum then please be aware of the long waiting list. You will need to book your ticket online for almost two months in advance! Yes, you heard me. They release extra tickets every morning at 9 am for that day if you want to try and get tickets, however, I wasn't successful in getting a ticket. Also, I recommend booking a Van Gogh museum ticket a day or two in advance as you have to select a time slot and they normally sell out the day before.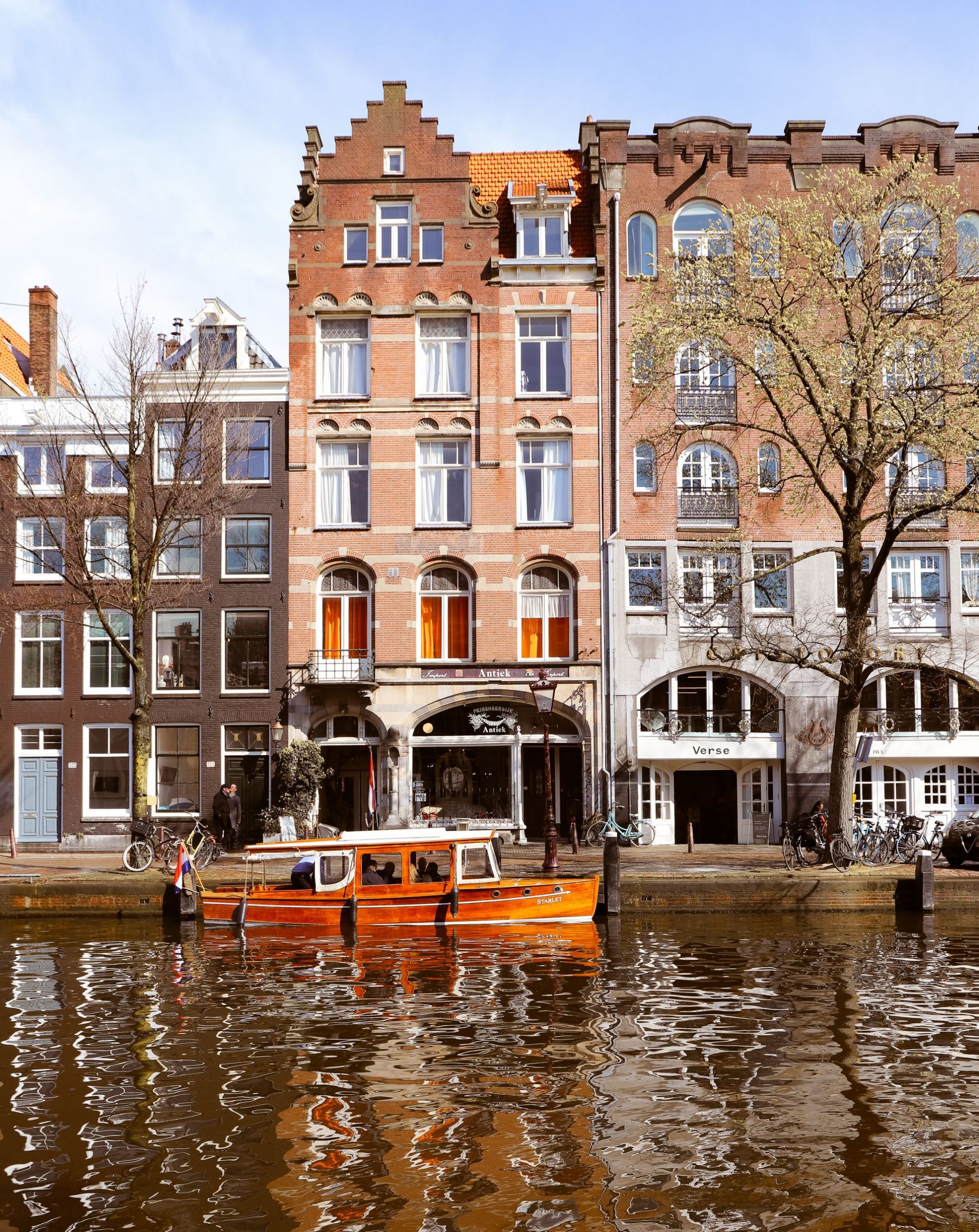 A'Dam Lookout
Want to see Amsterdam from above? The highest spot is the A'Dam tower and lookout deck. This is where you will find the infamous red swings that swing out over the edge! You can get the free ferry from the train station that will bring you over to the other side of the canal. There is a bar at the top where you can relax and take in the view and they also serve food if you want to stop for lunch. I went in the morning and it was nice and quiet but I would recommend coming in the evening to try and catch the golden hour here.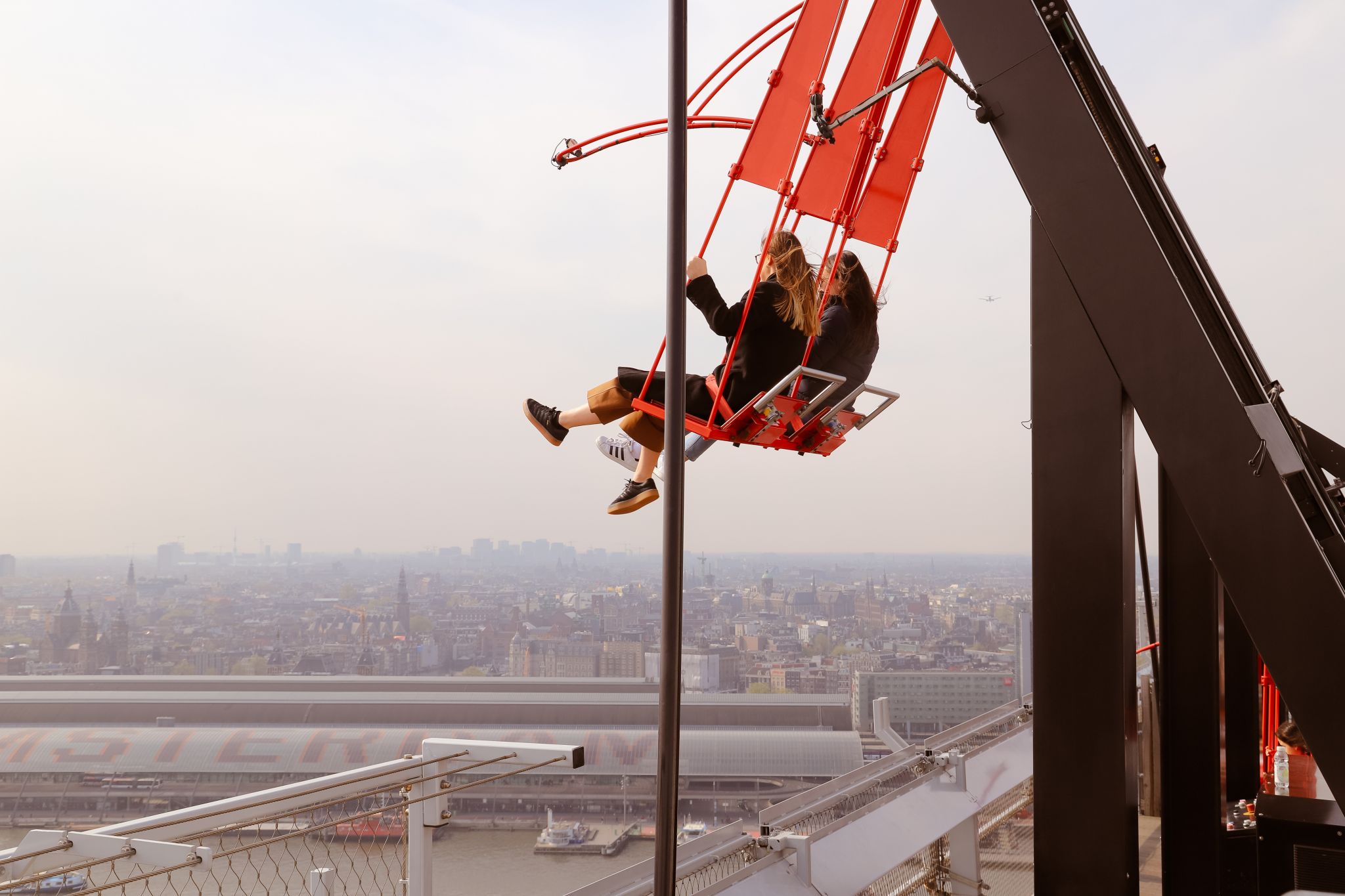 The Heineken Experience
I could have easily skipped this! This was my least favourite thing in Amsterdam. For €21 you walk around a glorified Heineken AD and get two miserable half-pints of Heineken at the end. The best thing about this place is that there is an Irish bar behind it that serves a half-decent pint of Guinness. The Heineken experience is pure dirt! If by any chance you are headed to Bruges from Amsterdam then I recommend visiting the little brewery in Bruges. That is a proper brewery tour with an informative guide and a delicious pint of Belgian beer at the end. My advice, save your €21 and skip the Heineken experience, you are missing nothing!
The Cat Museum And The Handbag Museum
My favourite thing about Amsterdam was there was a museum or place for everyone. I went to some museums that you wouldn't necessarily see in most peoples travel blogs and I found these museums to be the most fascinating. One of my favourite museums, of course, was Katten Kabinet a cat art museum which has paintings by Picasso and Rembrandt and many more. There is also little shop inside selling loads of cat-themed books. Whilst browsing the bookshop I found a cat cuddled up in a ball asleep on a pile of books. This was my favourite museum in Amsterdam! Another underrated museum is the museum of bags and purses. If you are a fan of fashion and history then you will really enjoy the huge collection of handbags in this museum. I found the history of the bags really fascinating and how Victorian women used them back in the day. There is also a tea room here with stunning interiors, I stopped here for a coffee to take in all their was to see.
Also, Amsterdam is known for its pub cats. I stopped for breakfast in one of the bars and I had the pleasure of sitting beside a pub cat. I loved that the city embraced the cats and allowed them to chill inside the bars and cafes. The cats were so friendly as well! A massive difference compared to the cats I had seen in Morrocco.
Bloemenmarket, Flower Market
If you want to see some pretty flowers then head down to the flower market in Singel. You can buy some bulbs, freshly cut flowers or even some wooden flowers. Most of the stalls are selling the same souvenirs but it is a nice area to stroll through. After strolling through Bloemenmarket I hopped on one of the canal boats for a tour of the city on the canal.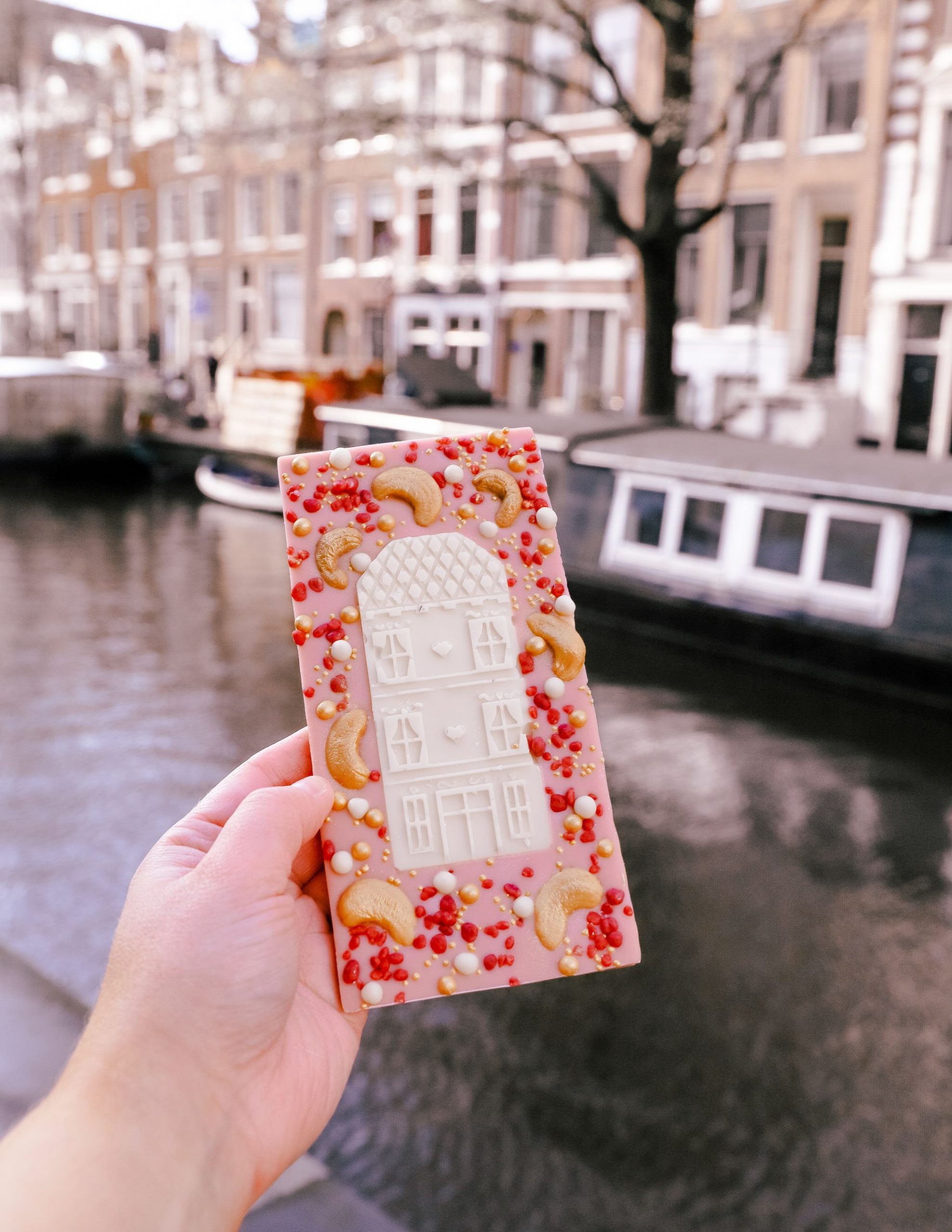 The Red Light District
Amsterdam is more than the red light district and coffee shops selling weed. Out of curiosity, I did explore the darker side of Amsterdam. I ventured to the red light district and went to the Red Light Secrets Museum. This is a small museum and it gives you an insight into the history of the sex trade in the Netherlands. I did find the museum interesting, however, I did not like the vibe of the overall area of the red light district. I never felt unsafe, I just didn't like the energy or vibe of the overall area. Personally, it felt a bit seedy, the local bars were full of drunken leary tourists and it wasn't my scene at all. I will say that the red light district is easily avoided, it is only a small area and you can easily avoid it y walking around it and not through it. One place I did visit was the sex museum. For €5 you can have a wander around the sex museum which was actually interesting! I was expecting it to be tacky and seedy but it wasn't. There was lots of old naughty artwork and "objects" to see. For €5 it is worth seeing and you will get a laugh.
One thing you will notice in Amsterdam is the smell of weed from some of the coffee shops. Yes, there are specialty coffee shops where you can sit and enjoy a joint, a magic mushroom or maybe even a brownie. You can also buy some for personal use from some tobacco shops. I was expecting people to be "out of their bins" but actually it was quite the opposite, I didn't see any hassle or antisocial behaviour around the coffee shops or areas where people were smoking.
Is Amsterdam safe for solo female travellers?
Absolutely! Just like with all places you need to practise caution, be aware of your surroundings and listen to your gut. Overall Amsterdam had a lovely energy about it, the Dutch people are some of the friendliest I have met. If I am being honest, the areas with tourists were my least favourite areas. I prefer being around the locals and I adored the countryside. Public transport and trains are easy to navigate also. I actually noticed a lot of solo travellers when I was exploring, especially on my day trip and I got chatting to some fellow solo travellers. If you are new to solo travelling then check out my video here about solo travelling and this blog post about travelling with anxiety. You can also check out some other places I visited to get some inspiration.
I hope you found this blog post useful. I know it is a long post but I wanted to squeeze in as much information as possible on the places I visited. If you have been to Amsterdam and explored some other areas then please share the details in the comment section below. You can also catch my Youtube vlog of Amsterdam below, don't forget to subscribe to my channel if you enjoyed the video. Please share this blog post if you found it useful!
Thanks so much for reading,
Chat soon,
Catherine.