In today's post, I have a DIY furniture makeover. I am a lover of a DIY furniture flip. I had this old cabinet in my master bedroom since last year. I got this piece for free as it was being thrown out. I decided to take it with the intention of painting it to fit in with my style of decor. I finally got around to painting it and I transformed it into a cute cottage style cabinet that sits in perfectly with my master bedroom. I had forgotten how fun painting furniture was as my last painting project was my china cabinet from last year. You can have a read below and see how I painted my cabinet and I also have a Youtube video sharing all the details.
Furniture Makeover, The Before
This was an unbranded piece of mahogany furniture. The back of the cabinet was made with cheaper plywood which leads me to believe it is a reproduction. I did check it before painting just in case the piece was worth money. If you do get your hands on an old piece of furniture it's always worth checking to see if it is branded or try and find out there the year before painting as it could be worth money. Overall this piece was in really good condition and had no signs of woodworm.
Prep, Prime and Paint
My three golden rules for painting furniture is prep, prime and paint. You can read my furniture painting guide for more tips on painting furniture. I lightly sanded my piece before cleaning it down with some Krud Kutter. Krud Kutter is really good at removing wax, tar and grime. Regardless of what paint you are using, I would always recommend prepping your piece and giving it a good clean. You wouldn't put makeup on a dirty face and it should be the same for painting furniture. Once my piece was all clean I applied one coat of Colourtrend undercoat. I allowed my piece to fully dry before I applied my satin paint.
I decided to use two different colours for my project. I used the Colourtrend Satin paint in the shade Aged Vellum for the outside of my piece and I used the shade Cuckoo Call in satin on the inside of the cabinet and inside the drawers. I love the contrast of these two colours. There actually really similar to the colours I use on my website. I took my time when painting this piece and I applied two coats of the satin paint. I allowed for a day in between coats. I applied another coat in the evening after work and I had forgotten how relaxing painting furniture can me. A little bit of DIY after a long day definitely helps me to relax.

Revamping the handles
I actually really liked the handles that came with this cabinet. I wanted them to be more of a vibrant gold colour so I used some Rub n' Buff in the shade gold leaf to make these handles brighter. This was my first time to use the Rub n' Buff properly. I was really pleased with it. The only downside was the smell, it did smell a little strong but the scent didn't linger.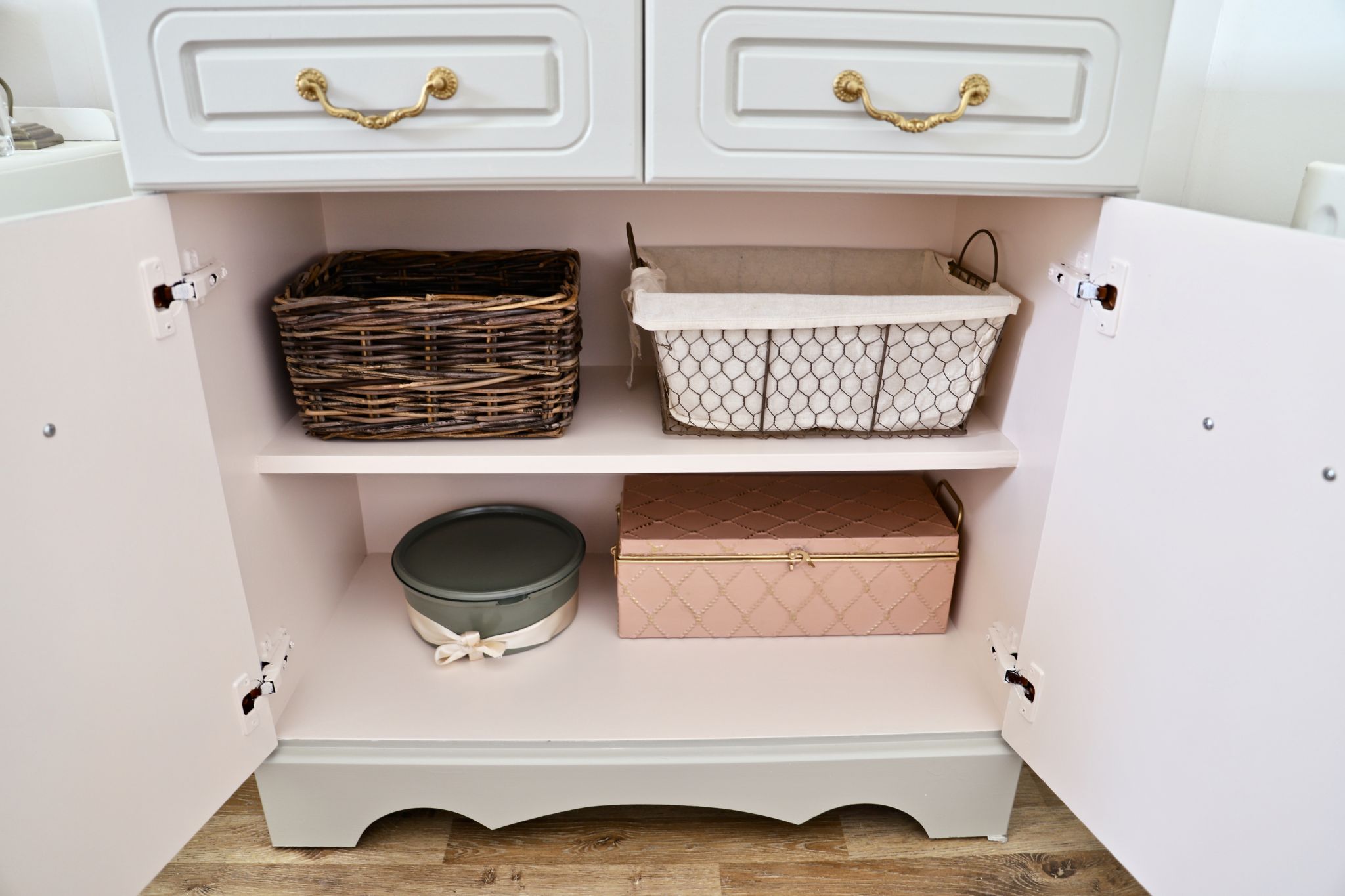 Cure Time
One of the things people overlook when painting furniture is cure time. So, drying time is different to cure time. Your piece will be dry in roughly 4-6 hrs however it takes time for a piece to cure. It can take up to 30 days for latex paint to cure. What I suggest is protecting your newly painted piece for the first month. I styled my cabinet for my Youtube video and for photos however I removed these afterwards so they wouldn't stick or mark the piece while it cures. If you have painted something like a kitchen table then you can cover it with a sheet or just take extra care when using for the first month.
I am thrilled with my new cabinet and I am delighted that this piece didn't end up in a landfill. Old furniture is well built and normally made from really good quality wood. If you are shopping for furniture then please do consider taking a second-hand piece and put your own stamp on it. Whether you restore it to its former glory or completely change it you can save a piece form going to the dump. Don't forget to check out my Youtube video below. Let me know if you have upcycled any pieces in your home recently. Comment below or tag me over on Instagram.
Thanks for reading,
Chat soon,
Catherine.
Please add this image to your Pinterest boards